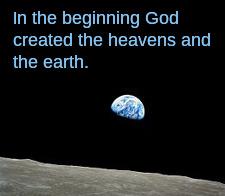 From an introductory lecture in the Telos Course "The Doctrine of Man and Sin."
When I look at your heavens, the work of your fingers, the moon and the stars, which you have set in place, what is man that you are mindful of him, and the son of man that you care for him? Yet you have made him a little lower than the heavenly beings and crowned him with glory and honor. You have given him dominion over the works of your hands; you have put all things under his feet. (Psalm 8:3-6)
According to the Bible, man, here meaning male and female (Gen. 1:27), is a very special part of God's creation. According to the scientific establishment we are nothing more than advanced animals, newly arrived upon the scene of earth history, without any more significance than a trilobite or a sea-horse.
Most of us are familiar with naturalistic evolution. This is what I was taught from a young child growing up in England all the way through high school. And when I attended college I was taught it there too, even though it wasn't really part of the business degree I was earning.
I wasn't a Christian until I was 25, and was not from a particularly religious household, so I believed more or less in evolution, although always in the back of my mind I could not quite understand how life came from non-life. Neither could I grasp how the marvelous beauty and order that we see in life could be accounted for by random unguided particles banging together.
Neither could I quite understand how the theory of evolution could account for the significance that we find in our own lives. We write poetry, we write love songs, we listen to music of one sort or another that expresses our inner emotions, and what we feel about ourselves, and how important we think certain things are to the world and to life itself. We do this all the time; it's natural for the human being to do it, and I just could not understand how this sense of significance could be part of an evolutionary process.
Why did we evolve to see our own significance and reflect upon it? Why try to better it, critique it, and eulogize it? So there were these things that the "science" did not fully explain to me.
I have listened to and read many evolutionists. I believe that at a fundamental level, Evolution is the creation myth of the secularist, of the unbeliever.
They don't want to believe in the Creator. They don't want to believe that there is a God whom they have to face. Therefore, as theologian Millard Erickson tells us in his Christian Theology, (2nd ed. 501 ff.), they have a group of processes into which they pour their faith, which, superficially at least, produce and explain everything that is, including all the diversity of life. All that is needed is "a combination of atoms, motion, time, and chance." As Erickson says, no attempt is made to account for these givens; they are simply there, the basis of everything else.
Now this is certainly true. Anybody who believes in evolution will not even try to think behind the ramifications of what they're saying, and will not try to give an explanation for the processes that they say delivered up to us "reality" (which they can scarcely define), as we presently experience it. It is just there they say. It all could have been any other way, but it just happened to be this way.
One famous scientist said that the reason that the world is the way it is, is because it was the way that it is. In other words, just things are the way that they are and there's no real reason behind it; no personality, no Creator to guide it or to give it any further significance than just accidental occurrences. All of the matter and energy in the universe, and all of the different combinations of it came from a Big Bang, and the far future scenarios for the universe are either freeze or fry. We're either going to just freeze, as entropy completely disintegrates, or we're going to fry as the whole thing burns up.
In between the Big Bang and the big freeze there is no significance or meaning other than what we can find in and of ourselves. We make it all up. There is no great explanation, there is no providential plan. Life came from non-life by lightning hitting a mud pond. Scientific laws weren't laws until after these things conveniently came together. We should not see ourselves as anything more significant than temporary cosmic accidents.
Seven basic (silly) assumptions
"The basic assumptions of evolution are:

Inorganic chemicals gave rise to life (belief in spontaneous generation).
Spontaneous generation only happened once. (They believe it only happened once because it is such an astronomically absurdly impossible thing to even postulate).
All living organisms are therefore related
Single celled organisms [protozoa] gave rise to multi-celled organisms [metazoa]
Invertebrates are all related
Invertebrates gave rise to vertebrates
From fish we get amphibians, reptiles, birds, and mammals."

(G.A. Kerkut, Implications of Evolution.)
(One wonders if Kerkut really thought through the "implications"!)
Those are the seven basic assumptions that evolutionist make about evolution. Other assumptions are made about reality. For example, that morals, or the laws of thought are culturally-conditioned; that there is a correlation between what is in man's mind and what is outside of man's mind, and that correlation can be studied, analyzed, and mathematically predicted in terms of art, architecture, and technology. Or that there is an amazing fine-tuning in the universe whereby the universe itself seems to be particularly the way it is so that life can exist upon this planet. These and other presuppositions that evolutionists have, they don't really try to see the convenience of at all. Let alone the significance. They just try to ignore them and then move on with their dogmatic assertions on the basis of what they've taken for granted.
It boils down to this:
Incoherence evolved into coherence, yet the explanations of coherence devolve into incoherence.
16570 reads