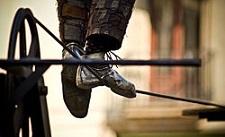 From Voice, Mar/Apr 2014. Used by permission.
Recently I read an article which began with these words:
Some time ago a man said to me, "I drink beer in the pub in my spare time. Some guys I know go out chasing women. So what's the difference? Your hobby is Christianity." To think that a man could look at me and say that Christianity was just a pleasant spare time occupation like collecting stamps or yachting. Is that my definition of Christianity? Do I put it second, or do I put it first?
This quotation points out the fact that if our faith does not change our lives, even the world questions the genuineness of our profession.
Separation, fuzziness and fear
We want to consider in this article the subject of biblical separation, particularly the thought of being wholly dedicated unto God. No issues become more clouded than those that surround the doctrine of separation. And I believe the fuzziness and fear that surround this subject are brought about by Satan for at least four reasons.
First, God in His program, by His very nature, is calling men and women out of the world, out of darkness and sin and guilt, into the Kingdom of God's dear Son which is the kingdom of light and holiness and blessing. That is separation. This is the work of God; therefore, Satan hates it.
Second, the whole program of Satan revolves around confusion, mixture, syncretism. Every plan of Satan involves mixing evil with good. The way he puts people in bondage is by means of this unholy mixture.
Third, Satan seeks to convince the Christian that there is a realm of satisfaction and happiness out there in the world. He seeks to glamorize the world system controlled by Satan and to make Christians feel they are missing much unless they get involved in his system.
Fourth, Satan seeks to convince the Christian of the lie that if they yield themselves to God, it will mean frustration and unhappiness rather than freedom, blessing, and joy.
Three keywords to understand
There are three words that must come into focus when considering this subject. The first is the word "holiness," a crucial word that seems to frighten some believers. God is a holy God, a God of perfect righteousness. He says, "Be ye holy, for I am holy" (1 Peter 1:16). It is God's aim and ambition to conform us to the image of Himself, to make us like Himself. Holiness is God's directive for us.
The second word is "world," or a similar form of the word, "worldliness." This embraces all that Satan offers, the whole enticement of the devil to keep us from holiness. So on the one hand we have holiness, on the other hand we have that which is contrary to it: the world's system, the devil's program to keep men from being what God wants them to be.
The third word, which falls in between, is "separation." This word portrays the concept that God urges us to be separate unto Himself and to be separate from Satan's kingdom. Separation is always unto God first (Romans 12:1, "I beseech you therefore, brethren, by the mercies of God, that ye present your bodies a living sacrifice.") That is positive and must be done first. 1 Thessalonians 1:9 expresses it beautifully: "and how you turned to God from idols, to serve the living and true God." Notice that movement. They did not turn from idols first. They first turned to God to receive Jesus Christ, to give their lives to Him. That automatically cut them off from idols and idolatry and idol worship. Separation is not merely turning away from something; it is also turning to Someone, and that One is God.
Caution: avoid extremes
People have gone to extremes on the subject of separation. By extreme I mean that people tend to go beyond Scripture, or stress one phase while ignoring another. It is just as harmful to go beyond what God says as it is to fall short.
There are people who believe concerning this subject that the harshest attitude is always the best one. But that is not always true. The disciples James and John, seeing some opposition to our Lord, said in Luke 9:54, "Lord, do you want us to command fire to come down from heaven and consume them, even as Elijah did?" In other words, "Lord, these people are opposed to you. Would it not be good that they should be destroyed by fire immediately?" The Lord's answer indicated that their extreme position was out of keeping with the spirit of Jesus (Luke 9:55-56): "But he turned and rebuked them, and said, 'You do not know what manner of spirit you are of. For the Son of Man did not come to destroy men's lives but to save them.'"
On the other extreme, there are some who feel that the attitude of extreme toleration of sin is the correct attitude for Christians. But note that the Corinthian church was rebuked by the apostle Paul for a failure to deal with sin. Paul said in 1 Corinthians 5:2 concerning sin that was in their midst, "And you are puffed up, and have not rather mourned, that he that has done this deed might be taken away from among you." The apostle ordered that the offender be separated from them.
The balance is perfectly demonstrated in the life of Jesus. The Bible says concerning Jesus that He was full of grace and truth (John 1:14); grace representing tenderness, mercy, love; truth representing righteousness, severity, firmness. These qualities do not contradict one another but must be kept in perfect balance. They were in perfect balance in the person Jesus Christ, our Lord. So it must be for us as we draw conclusions on separation. We must keep a perfect balance as to what the Scriptures say.
One of the problems we confront in discussing separation is the temptation to lose an objective stance and to begin thinking in terms of personalities or organizations. Often proponents of names and movements and organizations assail other Christians and say, "Unless you take my position and associate with me and with my movement, you are a worldly brother and are not separated unto God." At times their tone sounds a bit like that of John in Luke 9:49 when he said, "Master, we saw one casting out demons in Your name, and we forbade him, because he does not follow with us." By His answer Jesus indicated there is a difference between following Christ and following us. Not everyone who follows Christ follows you or me. The important thing is that we follow Christ, obey the Scriptures, do the will of God. I am not concerned about movements or names. I am not concerned with judging you or with you judging me. I am concerned that all of us understand what the Bible says about separation that we might be wholly given over to almighty God.
Too often some preacher, wildly acclaiming ecclesiastical separation, has run off with another man's wife or been caught embezzling church funds. His separation was only a facade. On the other hand, many preachers shun liquor and tobacco and certain amusements but enter gladly into worship with a Bible rejecting, Christ-denying liberal who is the enemy of God. His separation is non-existent. May God help us to be Scriptural and to be free from hypocrisy and false motives while at the same time pursuing biblical separation unto God.
(Next, "Worldliness" defined.)
7749 reads