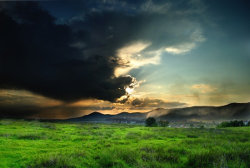 The congregation kept singing, but I couldn't. I just stood there alone in my row and shook with sobs I could only barely keep from being audible. I was alone because my family had stayed home that Sunday fighting head colds. I was sobbing because truth was hitting me in a very sensitive, yet very hungry, place. Fear can be a sin, and if we've been committing that sin in a big way, the moments that bring us to awareness tend also to be moments of overwhelming comfort. The conviction-comfort combo can just about knock you down.
At the time, I was a good five months into the most painful and terrifying period of my life (so far). Painful because, among other reasons, I was walking away not only from the pastorate I'd held for thirteen years but also from pastoral ministry in general (for the foreseeable future). Terrifying because time was running out on the (very generous!) severance pay and housing, and months of job-hunting and literally hundreds of job applications had produced no good leads. The job openings I was finding were mostly inadequate to provide what I knew we'd need for rent. But even these low-wage opportunities were failing to reach the interview stage.
I was so afraid some days, I could literally taste it. If you've been there you know what I mean! If you haven't, there's no way I can describe it. I often felt like I had an invisible bag of rocks sitting on my chest. Were we going to end up in some one-bedroom (or zero-bedroom) hole living on unemployment and food stamps?
It seems a bit silly now, but many of you know how fear, if you let it loose, picks you up and carries you down a dark and irrational road of worst case scenarios—or pseudo-worst-case scenarios. (Many things are worse than moving into a dumpy shack and living on welfare for a while. It just felt like the worst case scenario.)
We'd had a whole lot of help during this trial. God gave us a pastor during the transition and this shepherd had our family memorizing passages like Matthew 6:34. Extended family and friends were supportive and praying. And then there were the songs at church: songs about grace, songs about God's sovereign wisdom, songs about His faithfulness. Romans 8:28 and Proverbs 3:5-6, and a host of other promises, were close at hand and often front of mind.
But despite all this encouraging support and potent truth, I had—without realizing it—begun to seriously doubt. It's at this point in our struggles that fear becomes sin.
Fear, doubt and sin
I didn't doubt that God was good or wise or in control. I didn't doubt that whatever He brought to pass would ultimately be for good and His glory, though it could be quite unpleasant in the short run. What I doubted was that I was personally and warmly loved and cared about. I had begun to believe, or at least feel pretty deeply, that I was forsaken.
When we indulge improper fear, some kind of doubt is always the underlying error. We are saying, in effect, "I and those I love might have to suffer a whole lot soon and I don't think I can handle this." To put it another way, we're saying, "If I had the Creator and Sustainer of the universe holding my hand through this as a dear Father, I wouldn't be frightened at all, of course, but I'm just not feeling confident that He's all that close."
So behind the fear there is a failure of faith. The failure does not lie in the attitude that says, "God might not solve this problem and bless me in the way I'd like." That attitude is no failure at all; it's a triumph of faith, because we are called to believe God will allow us to suffer (1 Pet. 1:6-7, James 1:2-4). No, the failure underlying sinful fear is doubt that in the struggle He is, and will be, not only gracious and sufficient but also warmly and personally present—even moved with compassion.
The song that opened my eyes that Sunday exposed my doubt and fear even as it began to heal it. As we sang of God's loving, up-close care for His own, I felt as though God was speaking directly to me, that the song was His message to me at that moment, not as a special revelation but as an already-revealed biblical truth selected out of the thousands and wrapped around me as a personal delivery.
The message was simple, basically just, "Hey, it's going to be OK. I really am right here."
You were reaching through the storm,
Walking on the water,
Even when I could not see.
In the middle of it all,
When I thought You were a thousand miles away,
Not for a moment did You forsake me;
Not for a moment did You forsake me.

After all You are constant;
After all You are only good;
After all You are sovereign.
Not for a moment will You forsake me;
Not for a moment will You forsake me.

You were singing in the dark,
Whispering Your promise.
Even when I could not hear,
I was held in Your arms,
Carried for a thousand miles to show
Not for a moment did You forsake me.

And every step, every breath, you are there—
Every tear, every cry, every prayer.
In my hurt, at my worst,
When my world falls down,
Not for a moment did You forsake me;
Not for a moment will You forsake me.

Even in the dark,
Even when it's hard,
You will never leave me
After all.
I've since heard this song performed on the radio in a style that doesn't work for me at all. But that Sunday, we didn't perform it. We just sang it—well, the congregation sang it. They bore witness to me through it. On the comfort side, the truth they echoed was "Behold, I am with you always, to the end of the age." On the correction side, the truth was this:
Therefore I tell you, do not be anxious about your life, what you will eat or what you will drink, nor about your body, what you will put on. Is not life more than food, and the body more than clothing? Look at the birds of the air: they neither sow nor reap nor gather into barns, and yet your heavenly Father feeds them. Are you not of more value than they? … Therefore do not be anxious about tomorrow, for tomorrow will be anxious for itself. Sufficient for the day is its own trouble. (Matt. 6:25-26, 34)
I have continued to lapse into sinful fear at times, but God continues His gracious correction. He continues to rebuke me with comfort. Slowly, I'm learning.
[node:bio/aaron-blumer body]
3732 reads