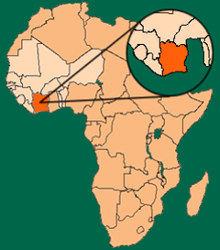 Mark and Nancy Sheppard began missionary service in the nation of Liberia, but God had an agenda of personal transformation neither of them expected. Nancy has written about that experience in her recent book, Confessions of a Transformed Heart. We asked Nancy to tell us a bit about her experience in Africa and her aims in writing the book.
What led you to Ivory Coast and work among the refugees?
After a wonderful first term of ministry in Liberia (1986-89), we were in the States for our one-year home assignment when the Liberian Civil War began. We hoped very much that it would end quickly and we would be able to resume the life and ministries we loved. Sadly, it dragged on and on. In 1991 we returned to Africa, this time to Liberia's neighboring country, the Ivory Coast, where we began to minister among the Liberian war refugees.
After the missionaries evacuated from Liberia, Baptist Mid-Missions made a policy that no families with children still in the home could live inside Liberia. We had three young children at the time. It was our strong desire to continue work among the Liberians that caused us to make the decision to enter refugee work in the Ivory Coast rather than begin work among an entirely different people group.
However, we were in for a shock. Our first term of service had been among English-speaking people in challenging, but pleasant ministries. Our second term, now in refugee work in the French-speaking Ivory Coast, was also challenging, but it was anything but pleasant.
What was especially challenging about refugee work?  Did anything about that really surprise you?
Absolutely everything about our work among the war refugees was challenging and, to be honest, it came as a big surprise that God would ask something so difficult of me.
God used the first year of our work among war refugees, in all its drama and awfulness, to show me who I really was. My mask fell off and, oh my, was I ugly! God then began a totally unexpected work in my life where He revealed to me one by one the sins that were at the root of my problems. The challenge then became that of living a surrendered life—one that accepted the chastening discipleship of God rather than resisting it.
Why did you decide to write a book?
For several years before I began writing Confessions I had been jotting down some of the more memorable things God was teaching me through our very tough time in refugee work. Many of the things I was learning I had known theoretically for a long time, but not experientially. Through my trials I found God in all His goodness and wonder and He become real to me like never before. I had a deep longing to share that wonder with others.
Among the stories and ideas the book conveys, is there one that stands out in your mind as especially important?
Our first term of missionary service in Liberia had been very exciting and relatively easy—especially when compared to the demands of work among war refugees. I was unprepared for the demands and fell apart physically, emotionally and spiritually within weeks.
In the book I say,
[In Toulépleu], people came to our house constantly. The sheer volume of demands on our time, resources and emotional energy was staggering. We couldn't possibly do all we were asked to do. I hated the visits that included complaints we weren't doing enough and that what we were doing was being done poorly or for the wrong people. I hated the requests riddled with obvious lies. Most of all I hated all the expectations. If no one was presently at the door asking for something, I panicked thinking about those who were no doubt on their way.

A toxic mixture of fear, resentment, self-pity and depression haunted me. I was saying I loved the Liberian people—I was a missionary, after all—yet deep down I hated them. Not each individual, of course, but I absolutely hated the pressure I felt to satisfy a group of people with insatiable needs. I thought of missionaries scattered throughout the world not suffering for Christ. I was jealous of them all. I thought of my twin sister living her simple, idyllic life in rural Tennessee. How could both of us be in God's will? It wasn't fair!
God in His mercy and love used that first year of refugee work to show me who I really was. And then He gave me a desire and the strength, through the power of the Holy Spirit, to be changed more and more into His likeness.
If readers walk away with just one thing from the book, what would you hope it would be?
One by one God took away the many "idols" I was worshipping—security, friendship, affirmation, ministry, comfort, control, etc. etc. etc. All I had left was Christ. I believe He did so for a grand purpose. He wanted me to know—and tell others—that He is enough. If you lose everything, God is enough.
3875 reads