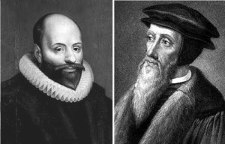 Read the series so far.
The Calvinism/Arminianism debate considers three essential issues: (1) The degree of God's activity in human salvation, (2) the degree of human culpability, and (3) the degree of human activity in salvation. Historically Calvin placed strongest emphasis on God's activity in salvation, whereas Arminius tended towards emphasizing human volition over God's volition. Ultimately the two theological traditions are trying to resolve the apparent conflict between God's sovereignty and human responsibility, and they both attempt resolution by means of extra-biblical rationalistic constructs. I suggest it is due to the artificial nature of these arguments that there has been no historical resolution to the debate. Because the base of authority for both sides is subjective (rationalistic theology) rather than objective (exegesis), neither side can, in my estimation, claim the full authority of Scripture. Hence, the longstanding and unresolved debate.
In 1 Corinthians 4:6, Paul expresses his desire that the Corinthians "learn not to exceed what is written, so that no one of you will become arrogant in behalf of one against the other." In order to maintain the proper humility (and to ensure the highest degree of accuracy), it is best when dealing with the mysteries of God (1 Cor 4:1) not to expand their definitions beyond what God has revealed. This is an important principle broadly applicable throughout the Christian life, and certainly in resolving any theological difficulty.
Therefore, preferring an exegetical approach to a strictly rationalistic one, I am willing to endure some uncertainly in theological conclusions insofar as the Bible does not address certain details, rather than to build a theological construct that answers every detailed inquiry but which is not grounded on the certainty of revelation. In other words, where the Bible is silent, I prefer to be silent rather than trying to extrapolate a theological system that can't be exegetically defended. Still we are left with the question: if neither Calvinism nor Arminianism is sufficient explanatory devices, then how can we explain the biblical data? Answering that question is the task of parts 4 and 5 in this series. A simple series of biblical assertions is sufficient to accomplish that task.
Assertions #1 and #2 provide foundational data to address the questions.
Assertion #3 answers the Calvinistic concept of total depravity.
Assertion #4 answers the Calvinistic concept of unconditional election and the Arminian concept of conditional predestination.
Assertion #5 answers the Calvinistic concept of limited atonement and the Arminian concepts of universal atonement and saving faith.
Assertion #6 answers the Calvinistic concepts of irresistible grace and perseverance of saints, and the Arminian concepts of resistible grace and uncertainty of perseverance.
Assertion #7 answers the rationalistic premise underlying the entire Calvinism/Arminianism debate.
#1 The Biblical God Exists, and He is Holy
In the beginning God… (Genesis 1:1)
In the beginning was the Word, and the Word was with God, and the Word was God. He was in the beginning with God. All things came into being through Him, and apart from Him nothing came into being that has come into being. (John 1:1-3)
and the Spirit of God was moving over the surface of the waters. (Genesis 1:3)
Listen to Me, O Jacob, even Israel whom I called; I am He, I am the first, I am also the last…And now the Lord God has sent Me, and His Spirit." (Isaiah 48:11, 16)
"Holy, Holy, Holy, is the Lord of hosts, The whole earth is full of His glory." (Isaiah 6:3)
"Holy, holy, holy is the Lord God, the Almighty, who was and who is and who is to come." (Revelation 4:7)
#2 He Has Revealed Himself Authoritatively
Then God said … (Genesis 1:3)
that which is known about God is evident within them; for God made it evident to them. For since the creation of the world His invisible attributes, His eternal power and divine nature, have been clearly seen, being understood through what has been made, so that they are without excuse. (Romans 1:19-20)
God, after He spoke long ago to the fathers in the prophets in many portions and in many ways, in these last days has spoken to us in His Son, whom He appointed heir of all things, through whom also He made the world. (Hebrews 1:1-2)
No one has seen God at any time; the only begotten one (monogenes) who is God, in the bosom of the Father, He has explained Him. (John 1:18)
All Scripture is inspired by God and profitable for teaching, for reproof, for correction, for training in righteousness; so that the man of God may be adequate, equipped for every good work. (2 Timothy 3:16-17)
But know this first of all, that no prophecy of Scripture is a matter of one's own interpretation, for no prophecy was ever made by an act of human will, but men moved by the Holy Spirit spoke from God. (2 Peter 1:20-21)
For I am not ashamed of the gospel, for it is the power of God for salvation to everyone who believes, to the Jew first and also to the Greek. For in it the righteousness of God is revealed from faith to faith; as it is written, "But the righteous man shall live by faith." (Romans 1:16-17)
#3 He Has Described the Human Condition as Universally Fallen
The descendants of Adam did not choose to be born, and yet we are all held accountable for his sin—we are all condemned. The human condition was not chosen by anyone after Adam, yet we prove we are in Adam's likeness and image by adding our own sin.
for in the day that you eat from it you will surely die. (Genesis 2:17)
she took from its fruit and ate; and she gave also to her husband with her, and he ate. (Genesis 3:6)
When Adam had lived one hundred and thirty years, he became the father of a son in his own likeness, according to his image… (Genesis 5:3)
Then the Lord saw that the wickedness of man was great on the earth, and that every intent of the thoughts of his heart was only evil continually. (Genesis 6:5)
through one man sin entered into the world, and death through sin, and so death spread to all men, because all sinned…by the transgression of the one the many died…through one transgression there resulted condemnation to all men… (Romans 5:12, 15, 18)
For all of us have become like one who is unclean, And all our righteous deeds are like a filthy garment; And all of us wither like a leaf, And our iniquities, like the wind, take us away. (Isaiah 64:6)
both Jews and Greeks are all under sin… as it is written, There is none righteous, not even one; There is none who understands, There is none who seeks for God; All have turned aside, together they have become useless; There is none who does good, There is not even one." (Romans 3:9-12)
(Next, Assertions 4-7)
11165 reads