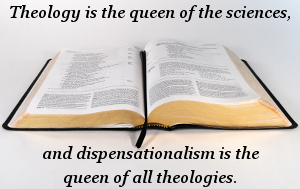 I was reared in a conservative Lutheran church and school where dispensationalism was a term of derision and began life as a most unlikely candidate to become a teacher of dispensational theology. Today, however, I am deeply committed to classical dispensationalism and feel so strongly about this position that it affects every aspect of my belief and practice. Why am I now a dispensationalist? I offer seven introductory reasons.
1.  Dispensationalism understands the relevance of the entirety of Scripture.
Teachers in the denomination I grew up in employed several catch phrases when they came to difficult prophetic sections of Scripture. They would speak of "closing the Book" or talk of passages like Daniel 7-12 or Revelation 4-20 being "filled with mystery." Preterists and other non-dispensationalists also cloud such portions of Scripture by speaking of them in terms of "apocalyptic language" which is incapable of clear, systematic interpretation (especially futurist) and fulfillment.
Dispensationalists recognize that the symbols in these difficult passages are actually meant to shed light on real people and events (see Rev. 22:10; cf. Deut. 29:29, Prov. 25:2) in the same way inspired writers used devices to communicate in non-prophetic writing . Dispensationalists relish unearthing the meaning of obscure passages which may be understood only in the light of clearer (often later) revelation.
The dispensationalism I have known is not given to wild sensationalism, but rather compels the student to master the Scriptures (in their original languages, if possible) so that he or she may fully develop all that the Scriptures contain. From the dispensationalist's vantage point, the task will never be complete this side of glory.
2. Dispensationalism employs consistent literal interpretation.
Seeing distinctions between the church and Israel, dispensationalism rightly promotes a glorious future for both. Confusing these two peoples of God has resulted in much mischief throughout church history. Conversely, when the church is understood as a New Testament mystery (Eph. 3:1-12) which began at Pentecost, the free church model and the Baptist distinctives become plainly evident.
The distinction between the church and Israel is one of the firstfruits of literal interpretation. This coincides with a proper understanding of progressive revelation, normally interpreting later revelation on the basis of that which came earlier.
In Michael Vlach's words,
Dispensationalists want to maintain a reference point in the Old Testament. They desire to give justice to the original authorial intent of the Old Testament writers in accord with historical-grammatical hermeneutics (Vlach 17).
Ronald Diprose contrasts the alternative:
The logic of replacement theology required that much of the Old Testament be allegorized. Only in this way could the Church be made the subject of passages in which the nation of Israel is addressed. This led to the virtual abandonment of the Hebrew world view and concept of God and the adoption of a framework of thought which had its roots in Greek philosophy (Diprose 169-170).
Literal interpretation involves the idea that there is no allowance for interpreting a text on the basis of any subjective influence, including the meaning of metaphors or images in a non-parallel passage. In my opinion, the consistent use of literal interpretation has been modeled best by dispensationalists.
3. Dispensationalism provides a comprehensive framework for understanding all of history.
The flow of history is obvious and logical when it is expounded through the seven dispensations of traditional dispensationalism. The God Who created all things in six days will work within history to fulfill the plan He has revealed—bringing His kingdom to earth for 1,000 years as history's culmination.
The Bible makes it clear that in the future—as in the past—history will be marked by definite events and that the significance of these events is certain and knowable. Christ said, "When these things begin to happen, look up and lift up your heads, because your redemption draws near" (Luke 21:28, NKJV).
Above all others, dispensationalists have done well in explaining the significance of the flow of history and its signal and distinctive events. The attempt to use the system to analyze specific signs of the times is a byproduct of dispensationalism rather than its driving force.
4. Dispensationalism emphasizes the glory of God.
Though not exclusive in this regard, dispensationalists clearly proclaim that the glory of God is the purpose behind His working in history—from creation to the final judgment at the Great White Throne. With each new dispensation, God's glory is declared in a new and fresh way, through the advance of special revelation and the additional resources which He provides, so that men might more fully reflect His glory.
In the present age, believers enjoy the indwelling presence of the Holy Spirit (John 14:17) and even the very mind of Christ (1 Cor. 2:16)—and yet these blessings pale when compared to those which still await us (1 John 3:2).
5. Dispensationalism brings the ministry of Christ into clear focus.
If one begins with the Old Testament and works forward, it becomes clear that Israel's Messiah came offering the Kingdom which they had expected since the days of Abraham (cf. Gen. 17:6). Bible scholar extraordinaire Alva J. McClain summarized as follows:
The Kingdom announced by our Lord and offered to the nation of Israel at His first coming was identical with the Mediatorial Kingdom of Old Testament prophecy, and will be established on earth at the second coming of the King. This…is supported by the material in both Testaments taken at its normal or face value (McClain 275-276).
On the basis of this understanding, one can fit together many passages in the gospels which would otherwise remain puzzling. The work of Christ—past and future (cf. Acts 1:6, 7)—may also be set in its complete context.
6. Dispensationalism is the fulfillment of Reformational truth.
Though he would be horrified at the thought (as Dr. Myron Houghton, my theology teacher, once said), Luther taught me dispensationalism in seed form in my Lutheran grade school religion classes. His emphasis on the distinction between Law and Grace is truly the basis for understanding the Bible dispensationally. It reveals the truth that God has dealt with mankind on the basis of different stewardship responsibilities at different times in history without providing different ways of salvation.
The charge that dispensationalism cannot be correct because of the recentness of its development is impossible to reconcile with either history or theology, as the progressive refinement of the understanding of truth during the church age demonstrates. Ultimately, I do not view dispensational theology as a betrayal of my strong Lutheran upbringing, but rather, a fulfillment of it.
Dr. Thomas Ice, executive director of the Pre-Trib Research Center, introduced this concept to me during a conversation which I had with him while in seminary. In short, he explained that dispensationalism flourished—beginning in the 19th century—as a result of the literal interpretation and verse-by-verse teaching which had been re-introduced by the forces of the Reformation. Theology is the queen of the sciences, and dispensationalism is the queen of all theologies.
7. Godly dispensational teachers have modeled this theology for me.
God has given me the indescribable privilege of receiving dispensational theology directly from some of its greatest teachers. Among them have been Dr. Rolland McCune, Dr. Charles Ryrie, Dr. Renald Showers, Dr. John Whitcomb and the late Dr. John Walvoord.
I have found that dispensationalism is not a distraction for such men, nor does it deter them from teaching "the weightier matters of the law" (Matt. 23:23, NKJV). Rather, it drives them to perfect their understanding in all areas of theology so that they might build upon the foundation offered by historic, orthodox Christianity with the surpassing glory of dispensational truth.
A new generation of "faithful men" (2 Tim. 2:2) is committed to carrying these teachings forward. Efforts such as the Pre-Trib Study Group (with its annual conferences) and Baptist Bible Seminary's Council on Dispensational Hermeneutics evidence new energy which will continue to drive serious study and advance within dispensationalism for many years to come, should Christ tarry. By His grace and for His glory, I hope to be in the center of that movement.
Works Cited
Diprose, Ronald E. Israel and the Church: The Origin and Effects of Replacement Theology. Waynesboro, GA: Authentic Media, 2004.
McClain, Alva J. The Greatness of the Kingdom. Winona Lake, IN: BMH Books, 1974.
Vlach, Michael J. Dispensationalism: Essential Beliefs and Common Myths. Los Angeles: Theological Studies Press, 2008.
---

Paul J. Scharf is a graduate of
Maranatha Baptist Bible College
(Watertown, WI) and
Faith Baptist Theological Seminary
(Ankeny, IA). He is the editor of the
Columbus Journal
in Columbus, Wis., an associate with IMI/SOS International in Hudsonville, Mich., and a ministry assistant for Whitcomb Ministries, Inc. in Indianapolis, Ind. Scharf served as a pastor for seven years and has taught the Bible on the elementary, secondary and college levels. He is a contributor to
Coming to Grips with Genesis: Biblical Authority and the Age of the Earth
(Master Books, 2008) and has written numerous articles for Gospel Herald and The Sunday School Times. He is a member of the Pre-Trib Study Group. Paul is married to Lynnette, and the couple resides near Columbus, WI.
25732 reads