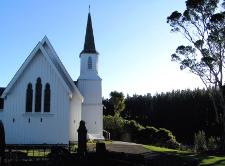 Over the last several years we've seen steadily-increasing attention to the problem of sexual abuse in independent Baptist (or baptistic) churches and ministries. The Fort Worth Star-Telegram investigation into independent fundamental Baptist churches last December was big news. The Houston Chronicle series on Southern Baptist Convention (SBC) churches two weeks ago was huge.
Given that the problem can no longer be ignored, how should independent churches respond?
1. They should not cease to be independent.
Independent churches are free of denominational control for a reason, and it isn't because they want to get away with poor ethics or because they see no value in connecting with other churches and ministries. At some point in time—though possibly long, long ago—each of these congregations examined the Scriptures and came to the conclusion that they must retain the power to govern their own affairs and control their own relationships with other entities. I've written previously on why churches believe the New Testament requires this kind of autonomy.
Agree or disagree, this is not a matter for casual dismissal or vague disparaging of churches' motives. It's a matter of conscience and conviction.
Of course, churches can easily overvalue self-reliance and operational elbow room. They can lose sight of the biblical attitudes of independence and embrace a cranky contrarianism in its place, shunning ties to external ministries and services that would enhance their congregational health and effectiveness.
In dealing with the sexual misconduct and abuse problem, there are ways to enhance accountability without surrendering autonomy to some denominational body.
2. They should educate themselves in ethical best practices.
A number of ideas are in circulation for helping mitigate or end sexual abuse in independent churches and ministries. The SBC is considering some kind of misconduct database churches may report to when dealing with personnel problems and consult when looking for new leaders. It's also looking at standards and procedures for removing churches from the Convention that show disregard for known sexual abuse problems in their ministries.
I've suggested some kind of certification that would allow independent congregations and church leaders to be credentialed after meeting standards. I'm sure I'm not the first to voice that approach, and perhaps there is already an organization formed to serve that purpose. Could a body with a slightly different purpose, such as the Evangelical Council for Financial Accountability, expand its scope to include a separate sexual ethics certification?
Or maybe someone should form an "Evangelical Council for Ethical Accountability."
3. They should require seminaries to improve pastoral training.
"Require" may seem too strong, but it isn't. Independent churches view the seminaries as existing for the purpose of serving local churches. In most cases, the seminaries also represent themselves as an extension of the local church mandate to prepare "faithful men, who will be able to teach others also" (ESV, 2 Tim. 2:2).
If enough churches communicate to ministry-training institutions that they want to see an enhanced, comprehensive training in ministry ethics—especially as it relates to preventing and responding to sexual abuse—they can make it happen.
I'm persuaded that churches should go further than that, however. Pastors, lay leaders, and perhaps entire congregations, should send letters to the seminaries they draw personnel from encouraging them to partner with one another to establish a basic ethical standards and procedures curriculum-certifying body. Along the lines of the ministry-certifying entity described above, this body would evaluate the sexual ethics training programs of participating schools and confer some kind of approval or rating.
Again, maybe something like this is already happening. If so, let us know in the comments section.
I've heard from various naysayers that a collaborative effort of this kind can't be done. Maybe so. But "can't be done" is often just a way saying, "It would be hard." The better question is whether it should or shouldn't be done. If it should be done, it probably can be. I accept that it would be difficult.
4. They should correct and clarify their own beliefs and attitudes.
When church leaders become aware that a sex crime has occurred then choose not to report it to authorities, what are they thinking? I have no personal experience with this. I've never been on the inside of that kind of response to known sin or crime. As far as I know, there has also been no study of what motivates this.
I also can't say with any authority why churches fail to do criminal background checks on potential pastors and youth/children's workers, or why they would think it's a good idea for youth and children's workers to be alone with kids behind locked doors, or doors without windows (if they must be alone with them at all).
What I can do is combine some clues I've observed with some imagination, then make a few informed guesses. Here's a short list of likely culprits:
Naivete/innocence: To good people who haven't encountered this kind of behavior, it tends to be unthinkable. It seems unreal. As well, there's the attitude that people who do really good things can't possibly also do really bad things.
Procedural randomness: Due to lack of knowledge of ethical best practices and legal requirements, procedures are invented ad hoc. Sometimes they work OK. Sometimes they are a disaster.
Reputational panic: Leaders feel that if word of serious misconduct gets out, the ministry's standing with the community (and donors) will be harmed and it will lose effectiveness—better to deal with it quietly.
Pastorolatry: A pastor is a higher order of human being and has a special calling that puts him above criticism; he's a "man of God" to be obeyed without question, accountable only to God.
Most of these errors are part bad theology, part human nature, and part cultural influence. I hope to share some analysis and potential remedies for each in a future post. In the mean time, look tomorrow for a post on resources for preventing and responding to sexual abuse.
We're never going to see a day when 100% of independent churches are properly diligent and wise in their handling of sexual abuse—any more than we're going to see a day when 100% of them have their teaching straight or their finances in order. But independent churches can certainly do more to collaborate and coordinate, helping one another adopt better beliefs, better practices, and better-prepared leaders.
---
Aaron Blumer is a Michigan native and graduate of Bob Jones University and Central Baptist Theological Seminary (Plymouth, MN). He and his family live in small-town western Wisconsin, not far from where he pastored Grace Baptist Church for thirteen years. In his full time job, he is content manager for a law-enforcement digital library service.
2515 reads
7413 reads