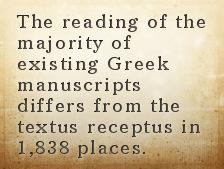 Reprinted with permission from As I See It, which is available free by writing to the editor at dkutilek@juno.com.
Note: This study was first composed in 1996 and published that year by Interdisciplinary Biblical Research Institute as research report no. 45, a thirteen-page booklet (ISBN 0-944788-45-9). It was an attempt to clarify issues in the "Bible texts and translations controversy" by carefully defining and explaining terms which are often bandied about by those who seem to have limited understanding as to their actual meaning. It has not previously appeared in As I See It and is presented here with minor alterations. It is supplied with extensive notes, which should be read.
The New Testament was inspired by God, and came from the pens of its writers or their amanuenses in infallible form, free from any defect of any sort, including scribal mistakes. However, it is evident from the facts of history that God in His providence did not choose to protect that infallible original text from alterations and corruptions in the copying and printing process. Scribes, and later printers, made both accidental (usually) and deliberate (occasionally) changes in the Greek text as they copied and propagated it. As a result, the surviving manuscript copies (as well as printed editions) of the New Testament differ among themselves in numerous though usually trivial details.
Many attempts have been made (even as early as the second century A.D.) to sort through the manuscripts of the New Testament and weed out the errors and mistakes of copyists, in order to restore the text to its original apostolic form. Those who have made such attempts through the centuries have differed one from another in the resources at their disposal, their own personal abilities as text editors, and the principles followed in seeking to restore the original text of the New Testament.
The two most famous such efforts at restoring the original text of the New Testament are the Textus Receptus, dating from the Reformation and post-Reformation era, and the Greek text of B. F. Westcott and F. J. A. Hort, first published in 1881. These two texts were based on differing collections of manuscripts, following differing textual principles, at different stages in the on-going process of the discovery and evaluation of surviving New Testament manuscripts, and, not surprisingly, with often differing results.1 There is much dispute today about which of these texts is a more faithful representation of the original form of the Greek New Testament, and it is this question which will be addressed in this study: Which is the superior Greek New Testament, the Textus Receptus / "Received Text" or the "Critical Text" of Westcott and Hort?
Any proper and adequate answer given to this question must begin with the matter of definition of terms. First, what is meant by the term "superior"? This may seem an unnecessary question since it might be supposed that all would agree on the answer, namely, the superior Greek New Testament is that one which most closely preserves and presents the precise original wording of the original Greek writings of the New Testament. However, in the rather voluminous popular literature on this issue, some writers have argued that one text or another is superior because it is perceived to contain more proof-texts of the Trinity, the Deity of Christ, or some other doctrine. In fact, to make a selection on such a basis is much beside the point. Additional supporting proof-texts of numerous doctrines can be found in various individual Greek manuscripts or ancient versions, though the readings in question are beyond dispute not the original reading of the New Testament.2 "Which Greek text most closely corresponds to the original New Testament?"—this and no other consideration is proper in deciding which Greek text is superior.
Next, what is meant by the term, "Received Text"? This name was first applied to a printed Greek text only as late as 1633, or some 117 years after the first published Greek New Testament appeared in 1516. In 1633, the Elzevirs of Leyden published the second edition of their Greek text, and that text contained the publisher's "blurb" in Latin: textum ergo habes, nunc ab omnibus receptum, or, "therefore you have the text now received by all," from which the term textus receptus, or received text was taken, and applied collectively and retroactively to the series of published Greek New Testaments extending from 1516 to 1633 and beyond. Most notable among the many editors of Greek New Testaments in this period were Erasmus (5 editions: 1516, 1519, 1522, 1527, 1535), Robert Etienne a.k.a. Robertus Stephanus (4 editions, 1546, 1549, 1550, 1551), Theodore de Beza (9 editions, between 1565 and 1604), and the Elzevirs (3 editions, 1624,1633, 1641).3
These many Greek texts display a rather close general uniformity, a uniformity based on the fact that all these texts are more or less reprints of the text(s) edited by Erasmus, with only minor variations. These texts were not independently compiled by the many different editors on the basis of close personal examination of numerous Greek manuscripts, but are genealogically-related.4 Proof of this is to be found in a number of "unique" readings in Erasmus' texts, that is, readings which are found in no known Greek manuscript but which are nevertheless found in the editions of Erasmus. One of these is the reading "book of life" in Revelation 22:19. All known Greek manuscripts here read "tree of life" instead of "book of life" as in the textus receptus. Where did the reading "book of life" come from?
When Erasmus was compiling his text, he had access to only one manuscript of Revelation, and it lacked the last six verses, so he took the Latin Vulgate and back-translated from Latin to Greek. Unfortunately, the copy of the Vulgate he used read "book of life," unlike any Greek manuscript of the passage, and so Erasmus introduced a "unique" Greek reading into his text.5 Since the first and only "source" for this reading in Greek is the printed text of Erasmus, any Greek New Testament that agrees with Erasmus here must have been simply copied from his text. The fact that all textus receptus editions of Stephanus, Beza, et al. read with Erasmus shows that their texts were more or less slavish reprints of Erasmus' text and not independently compiled editions, for had they been edited independently of Erasmus, they would surely have followed the Greek manuscripts here and read "tree of life." Numerous other unique or extremely rare readings in the textus receptus editions could be referenced.
In this connection, it is worth noting that the translators of the King James Version did not follow exclusively any single printed edition of the New Testament in Greek. The edition most closely followed by them was Beza's edition of 1598, but they departed from this edition for the reading in some other published Greek text at least 170 times, and in at least 60 places, the KJV translators abandoned all then-existing printed editions of the Greek New Testament, choosing instead to follow precisely the reading in the Latin Vulgate version.6 No edition of the Greek New Testament agreeing in detail with the text followed by the KJV translators was in existence until 1881 when F. H. A. Scrivener produced such an edition (though even it differs from the King James Version in a very few places, e.g. Acts 19:20). It is Scrivener's 1881 text which was reprinted by the Trinitarian Bible Society in 1976. This text does not conform exactly to any of the historic texts dating from the Reformation period and known collectively as the textus receptus, and so consequently any one passing off the 1881 Scrivener text as a or the "textus receptus" is engaging in disinformation.
Furthermore, a careful distinction must be made between the textus receptus (even in its broadest collective sense) on the one hand, and the majority text (also known as the Byzantine or Syrian text) on the other. Though the terms textus receptus and majority text are frequently used as though they were synonymous, they by no means mean the same thing.7 When the majority text was being compiled by Hodges and Farstad, their collaborator Pickering estimated that their resultant text would differ from the textus receptus in over 1,000 places8; in fact, the differences amounted to 1,838.9
In other words, the reading of the majority of existing Greek manuscripts differs from the textus receptus in 1,838 places (Hodges and Farstad used an 1825 Oxford reprint of Stephanus' 1550 text for comparison purposes), and in many of these places, the text of Westcott and Hort agrees with the majority of manuscripts against the textus receptus. The majority of manuscripts and Westcott and Hort agree against the textus receptus in excluding Luke 17:36 (here the original 1611 edition of the KJV has a marginal note: "this 36. verse is wanting in most of the Greek copies"); Acts 8:37; and I John 5:7 from the New Testament, as well as concurring in numerous other readings (such as "tree of life" in Revelation 22:19). Except in a few rare cases, writers well-versed in textual criticism have abandoned the textus receptus as a standard text.10
Notes
---
Doug Kutilek is the editor of www.kjvonly.org, which opposes KJVOism. He has been researching and writing in the area of Bible texts and versions for more than 35 years. He has a BA in Bible from Baptist Bible College (Springfield, MO), an MA in Hebrew Bible from Hebrew Union College and a ThM in Bible exposition from Central Baptist Theological Seminary (Plymouth, MN). His writings have appeared in numerous publications.
2610 reads
10611 reads