(From Maranatha Baptist Seminary Journal; used by permission. Read Part 1.)
Several views see those described in Hebrews 6:4-8 as genuinely saved individuals. At least four variations exist within this general category.
Hypothetical Rejection
Those who hold the hypothetical rejection view suggest that the author of Hebrews desires to shake true believers loose from their moral lethargy by mentioning what would happen if they "fell away."1 These believers would lose their salvation and face eternal condemnation. According to this view "fall away" means to reject the gospel of Christ, and the judgment that follows is the eternal condemnation of the unsaved.2 However, proponents of this view are quick to point out that this "falling away" is impossible for true believers. The author of Hebrews is merely using a hypothetical impossibility to warn true believers about continuing in their spiritual immaturity. Hewitt states, "The writer by the use of the phrase if they shall fall away does not say that the readers or anyone else had fallen away. He is putting forward a hypothetical case as the RSV translation, 'if they then commit apostasy,' suggests."3
This view has at least two problems. First, it would make no sense to warn believers about something that would be impossible for them. If it were impossible for them to fall away, then why would they need a warning against falling away?4 Second, if it is impossible to fall away, then there should be no one who has fallen away. Hebrews 10:25, which is part of a passage that parallels 6:4-8, mentions some who have fallen away. Therefore, the text of Hebrews itself argues against this view.5
Community Rejection6
Verlyn Verbrugge has suggested that Hebrews 6:4-8 is not even talking about individual salvation, rejection, and judgment. Instead, the concept of community is intended.7 Therefore, it is the believing community that is rejected, not each individual member. Verbrugge summarizes his view,
When we examine the Old Testament passage referred to here [Vineyard Song-Isa. 5:1-7], we will note that the primary concept in the author's mind is that of a covenant community and not the individual child of God. Thus when we read of the falling away and of God's subsequent rejection, it is rejection of a community that is in focus. Such a rejection does not necessarily include every individual member of the community; in both Old Testament and new Testament parallel passages, this same theme can be found. In other words, God's rejection of his covenant community does not jeopardize the doctrine of election and the preservation or perseverance of the saints as it applies to the individual believer.8
Nongbri says, "The author of Hebrews has thus appropriated the language of apocalyptic and snapped it into a rhetorically proper format to further his goal of exhorting his addressees to persevere in their marginalized community.9
This view is not convincing. The warnings and the exhortations to persevere given in the book of Hebrews are given to individual Christians.10 The concept of God only "rejecting" part of a community is inconsistent with the Old Testament teaching concerning blessings and cursing. The entire nation of Israel was either blessed or cursed, not just parts of it (see Deut 28-30). Hebrews 6:7-8 also states that the entire land was either blessed or cursed.
True (Phenomenological) Rejection
Some propose that true believers can change their mind about their faith in Christ. These believers, after being saved and experiencing the Christian life, reject the message of the Gospel. These former believers then lose their salvation and, most likely, any future hope of being resaved.11 The "falling away" is a conscious choice to reject the gospel of Christ. Hohenstein says, "[T]he writer [of Hebrews] makes it unmistakably clear that if men who have been enlivened choose to return to the death of unbelief, there is no hope that the quick and powerful Word … will resurrect them from their gloomy grace of spiritual darkness."12 The judgment for returning to a condition of unbelief is eternal damnation ("death of unbelief"). These former believers are treated in the judgment as if they had never been saved.
McKnight emphasizes the progressive nature of salvation. He identifies two categories of salvation: inaugurated salvation and final salvation.13 In the inaugurated stage of salvation, he includes conversion (past) and perseverance (present). Final salvation is future complete salvation. He asserts that someone can have a conversion experience and begin to persevere. However, if they fail to persevere and instead apostatize, they will not attain final salvation. McKnight concludes,
In light of the futurity of salvation in Hebrews it is reasonable to contend that one cannot in fact "lose one's salvation," since one has not yet acquired it. One cannot lose what one does not in fact have. But perhaps we are playing semantics here. Perhaps we should say that we can "lose" the present dimensions of salvation that have already been inaugurated and experienced (6:4-5; 10:14; 12:22-24). But, we certainly need to be careful of what we are saying if we say that the author of Hebrews states that if we can "lose salvation" because, for him, salvation is largely a future state of affairs. In light of his hesitancy to apply the term to the present time, it is perhaps wisest for us to avoid its use in this sense. Rather, I think it is wisest to say that those who are phenomenologically believers can "lose their faith" and the enjoyment of God's salvation that persevering faith would have made possible for them.14
McKinght's change in terminology from "lose salvation" to "lose faith" does not free him from a theological tension. If final salvation is dependent upon human perseverance, then final salvation is based on human works. This is contrary to the teaching in Scripture that salvation is a free gift of God (Eph 2:8-9).
Kempson likens salvation to a journey toward future salvation that can only be reached through continued faith.15 He says, "those who quit the journey have no other options, for there is no other pathway that leads to life other than the path of faith in Christ."16 McKnight, Kempson, and others who think that salvation or faith can be lost also have to assert that there is no security for the believer.17
Fellowship/Dependence Rejection
Those who hold this view are confident that those described in Hebrews 6:4-5 are true believers.18 However, they define the "falling away" and judgment differently than any of the previous views. "Falling away" is not a conscious rejection of salvation or loss of faith, but rather, it is a conscious rejection of Christ's high priestly ministry in their Christian life. Oberholtzer says, "the 'falling away' relates to the withdrawal from their Christian confidence an worshipping function in God's house."19 Gleason compares the Hebrew Christian's plight to that of the nation of Israel saying, "Understanding parapipto as expressing a decisive refusal to trust God which results in a general state of spiritual retrogression parallels the experience of the Israelites at Kadesh-barnea."20
The judgment suggested by those who hold this view varies some. Oberholtzer says,
Theologically it is clear that present unfaithfulness will result in loss of reward at the judgment seat of Christ. The result for the believer is not loss of eternal salvation but a forfeiting of inheritance-rest, reward, and position in the coming millennial kingdom."21
In other words, present unfaithfulness will result in future punishment at the judgment seat of Christ when the unfaithful saint suffers the loss of eternal reward.
Gleason, on the other hand, suggests that present unfaithfulness results in loss of present blessing and the present chastisement of the believer (even to the point of death). He says, "In light of the Old Testament blessing-curse motif, the judgment in view in Hebrews 6:7-8 is best understood as the forfeiture of blessing and the experience of temporal discipline rather than eternal destruction."22 This does not mean that there is not a future loss of reward at the judgment seat of Christ. The author is simply emphasizing the present results of unfaithfulness in order to encourage believers on to maturity.
Summary of Proposed Views
There are at least five different views regarding the interpretation of Hebrews 6:4-8. Those views differ in three areas: genuineness of salvation, nature of falling away, and nature of the judgment. The views discussed in this paper are summarized in the following chart.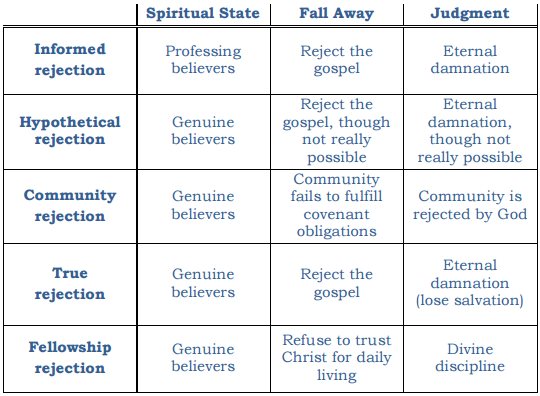 Notes
5430 reads