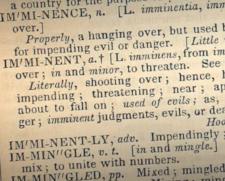 A lot of people talk about getting a "stint" in an artery, but they really mean a "stent."  I created a saying to keep things clear: "I went for a stint in the hospital to get a stent. It was quite a stunt."
Like everyone else, I get my words confused. This can easily happen when discussing theology.  An internet friend pointed out that, in some of my comments on a discussion forum, I had used the word "immanent" instead of the correct word in that context, "imminent."
I thanked him, and, upon pondering his comments, remembered yet another similar word, "eminent." 
"Time to write an article," I thought to myself.
So this article is about three words that sound alike, have different meanings, but all communicate important ideas in our theology.
Immanent
First in our study of sound-alike theological words is the word, "immanent."  This word is not well defined in a dictionary, so I turn to Wayne Grudem's Systematic Theology, p. 267.
Grudem writes:
The technical term used to speak of God's involvement in creation is the word immanent, meaning "remaining in" creation. The God of the Bible is no abstract deity removed from, and uninterested in his creation.
This stands in contrast to beliefs embraced by some of America's founding fathers who were Deists. Deists believe God created everything and then left, leaving us to fend for ourselves without His intervention or supervision.
The fact that God is immanent should not be confused with Pantheism, the belief that God is the totality of creation. The Scriptures teach that God is not created, but self-derived. God is the One Who has always been. Creation, on the other hand, had a beginning.
Although God transcends and is above His creation, He is still in and with His creation (yet distinct from it). As Ephesians 4:6 (ESV) puts it, "…one God and Father of all, who is over all and through all and in all."
If God were not immanent, then our prayers would be worthless. The reason we believe that "The prayer of a righteous person has great power as it is working" (James 5:16b) is because God cares about the details of our lives.
Prayer is not about God making our lives pleasant, comfortable, or easy. God does sometimes work miracles in answer to prayer, yet not as frequently as we like. Sometimes He modifies situations and shows mercy during our trials. We never know how things would have differed had we not prayed.
Nonetheless, prayer is more about aligning ourselves with God's will, furthering God's Kingdom, or helping us cope with life in a sinful, cursed world. Prayer helps us to accept trials and tribulations God has determined we must experience – at least for now.
Arthur Brooks bemoans, "Forty-nine people had been slaughtered in a mosque in Christchurch, New Zealand. But when I checked Twitter very early in the morning, the first news I saw wasn't directly about the bloodshed. The first tweets I saw were exchanges with and about … [a Congresswoman who] tweeted, 'What good are your thoughts & prayers when they don't even keep the pews safe?'" [source: nationalreview.com].
God is involved in our lives and human history. But we exist for Him, He doesn't exist for us.
Eminence
Next, we have the word eminence, and the related theological term, preeminence.
Eminence is defined by Webster as, "position of prominence or superiority." According to the Oxford Dictionary, preeminence means, "The fact of surpassing all others; superiority." We use the term preeminence to refer to Jesus Christ; He is not just eminent (superior), but preeminent (surpassing all others).
Colossians 1:15-18 makes the point: "He (Christ) is the image of the invisible God, the firstborn of all creation.  For by him all things were created… through him and for him.  And he is before all things, and in him all things hold together. And he is the head of the body, the church. He is the beginning, the firstborn from the dead, that in everything he might be preeminent."
Although the passage in Colossians 1:15-18 is variously interpreted, to my way of thinking it refers to both Jesus' divine and human nature. His human nature is superior to anything created (the "firstborn of all creation"); His human nature is not just superior to all in the first creation, He is also superior to all those who will rise from the dead in the new creation.
His divine nature points out that He is the Creator Himself, and the One for Whom all was created.  His divine nature has always been, while His human nature has always been anticipated in the mind of God. On all counts, He is preeminent.
Imminent
Lastly, we look at the word "imminent," a term crucial to my loosely-held belief regarding the timing of the rapture.  The reason I lean toward a Pretribulational viewpoint (the idea that Jesus will return for church age believers before the Tribulation)  is because I believe the Bible teaches that Christ's return to the clouds is "imminent."
Webster defines imminent as, "ready to take place: happening soon." If Christ can come at any time – like a thief in the night – then His coming is imminent.
James 5:9 puts it this way,
Do not grumble against one another, brothers, so that you may not be judged; behold, the Judge is standing at the door.
Other interpreters disagree that imminent suggests "potentially immediate" and would argue that the term refers to Jesus' return being inevitable and potentially not far away.
By the way, there are two positions that accommodate the idea of Jesus' imminent return (as potentially immediate): the pretribulational rapture view and the agnostic rapture view (Christ can come before or any time during the Tribulation; the Scriptures are intentionally noncommittal; we are left awaiting His return at any time). I am personally open to the latter, but I lean toward the former.
If you mix up the words, immanent, eminent, and imminent go easy on yourself. I have little doubt that I will!
4491 reads