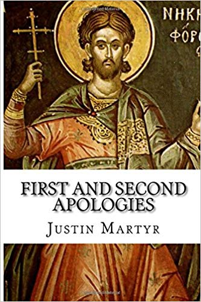 Justin was a Christian apologist who wrote in the mid-second century. He wrote his First Apology to the Roman Emperor "in behalf of those of all nations who are unjustly hated and wantonly abused, myself being one of them."1 Justin eventually suffered martyrdom, according to Eusebius, at the hands of Crescens, a Stoic philosopher and apparent blackguard of the vilest sort. Eusebius remarked that, "After Justin had frequently refuted him in public discussions he won by his martyrdom the prize of victory, dying in behalf of the truth which he preached."2
In this excerpt,3 Justin defends the faith against the pagan slur that Christians were atheists:
Chapter 5: Christians Charged with Atheism

Why, then, should this be? In our case, who pledge ourselves to do no wickedness, nor to hold these atheistic opinions, you do not examine the charges made against us; but, yielding to unreasoning passion, and to the instigation of evil demons, you punish us without consideration or judgment.

For the truth shall be spoken; since of old these evil demons, effecting apparitions of themselves, both defiled women and corrupted boys, and showed such fearful sights to men, that those who did not use their reason in judging of the actions that were done, were struck with terror; and being carried away by fear, and not knowing that these were demons, they called them gods, and gave to each the name which each of the demons chose for himself.

And when Socrates endeavoured, by true reason and examination, to bring these things to light, and deliver men from the demons, then the demons themselves, by means of men who rejoiced in iniquity, compassed his death, as an atheist and a profane person, on the charge that "he was introducing new divinities;" and in our case they display a similar activity.

For not only among the Greeks did reason (Logos) prevail to condemn these things through Socrates, but also among the Barbarians were they condemned by Reason (or the Word, the Logos) Himself, who took shape, and became man, and was called Jesus Christ; and in obedience to Him, we not only deny that they who did such things as these are gods, but assert that they are wicked and impious demons, whose actions will not bear comparison with those even of men desirous of virtue.

Chapter 6: Charge of Atheism Refuted

Hence are we called atheists. And we confess that we are atheists, so far as gods of this sort are concerned, but not with respect to the most true God, the Father of righteousness and temperance and the other virtues, who is free from all impurity.

But both Him, and the Son (who came forth from Him and taught us these things, and the host of the other good angels who follow and are made like to Him), and the prophetic Spirit, we worship and adore, knowing them in reason and truth, and declaring without grudging to every one who wishes to learn, as we have been taught.

Chapter 7: Each Christian must be tried by his own life

But some one will say, 'Some have ere now been arrested and convicted as evil-doers.' For you condemn many, many a time, after inquiring into the life of each of the accused severally, but not on account of those of whom we have been speaking. And this we acknowledge, that as among the Greeks those who teach such theories as please themselves are all called by the one name "Philosopher," though their doctrines be diverse, so also among the Barbarians this name on which accusations are accumulated is the common property of those who are and those who seem wise. For all are called Christians.

Wherefore we demand that the deeds of all those who are accused to you be judged, in order that each one who is convicted may be punished as an evil-doer, and not as a Christian; and if it is clear that any one is blameless, that he may be acquitted, since by the mere fact of his being a Christian he does no wrong. For we will not require that you punish our accusers; they being sufficiently punished by their present wickedness and ignorance of what is right.

Chapter 8: Christians confess their faith in God

And reckon ye that it is for your sakes we have been saying these things; for it is in our power, when we are examined, to deny that we are Christians; but we would not live by telling a lie. For, impelled by the desire of the eternal and pure life, we seek the abode that is with God, the Father and Creator of all, and hasten to confess our faith, persuaded and convinced as we are that they who have proved to God by their works that they followed Him, and loved to abide with Him where there is no sin to cause disturbance, can obtain these things.

This, then, to speak shortly, is what we expect and have learned from Christ, and teach. And Plato, in like manner, used to say that Rhadamanthus and Minos would punish the wicked who came before them; and we say that the same thing will be done, but at the hand of Christ, and upon the wicked in the same bodies united again to their spirits which are now to undergo everlasting punishment; and not only, as Plato said, for a period of a thousand years. And if any one say that this is incredible or impossible, this error of ours is one which concerns ourselves only, and no other person, so long as you cannot convict us of doing any harm.

Chapter 9: Folly of idol worship

And neither do we honour with many sacrifices and garlands of flowers such deities as men have formed and set in shrines and called gods; since we see that these are soulless and dead, and have not the form of God (for we do not consider that God has such a form as some say that they imitate to His honour), but have the names and forms of those wicked demons which have appeared.

For why need we tell you who already know, into what forms the craftsmen, carving and cutting, casting and hammering, fashion the materials? And often out of vessels of dishonour, by merely changing the form, and making an image of the requisite shape, they make what they call a god; which we consider not only senseless, but to be even insulting to God, who, having ineffable glory and form, thus gets His name attached to things that are corruptible, and require constant service.

And that the artificers of these are both intemperate, and, not to enter into particulars, are practised in every vice, you very well know; even their own girls who work along with them they corrupt. What infatuation! that dissolute men should be said to fashion and make gods for your worship, and that you should appoint such men the guardians of the temples where they are enshrined; not recognising that it is unlawful even to think or say that men are the guardians of gods.

Chapter 10: How God is to be served

But we have received by tradition that God does not need the material offerings which men can give, seeing, indeed, that He Himself is the provider of all things. And we have been taught, and are convinced, and do believe, that He accepts those only who imitate the excellences which reside in Him, temperance, and justice, and philanthropy, and as many virtues as are peculiar to a God who is called by no proper name.

And we have been taught that He in the beginning did of His goodness, for man's sake, create all things out of unformed matter; and if men by their works show themselves worthy of this His design, they are deemed worthy, and so we have received—of reigning in company with Him, being delivered from corruption and suffering.

For as in the beginning He created us when we were not, so do we consider that, in like manner, those who choose what is pleasing to Him are, on account of their choice, deemed worthy of incorruption and of fellowship with Him. For the coming into being at first was not in our own power; and in order that we may follow those things which please Him, choosing them by means of the rational faculties He has Himself endowed us with, He both persuades us and leads us to faith.

And we think it for the advantage of all men that they are not restrained from learning these things, but are even urged thereto. For the restraint which human laws could not effect, the Word, inasmuch as He is divine, would have effected, had not the wicked demons, taking as their ally the lust of wickedness which is in every man, and which draws variously to all manner of vice, scattered many false and profane accusations, none of which attach to us.
Notes
1 Justin Martyr, "First Apology," ch. 1, in Ante-Nicene Fathers, 10 vols., ed. Alexander Roberts, James Donaldson, and A. Cleveland Coxe, (Buffalo: Christian Literature Company, 1885), 1:163.
2 Eusebius of Caesaria, "The Church History of Eusebius," Nicene and Post-Nicene Fathers, Second Series, vol. 1, ed. Philip Schaff and Henry Wace, trans. Arthur Cushman McGiffert (New York: Christian Literature Company, 1890), 1:193.
3 Justin Martyr, "First Apology," ch. 5-10, in Ante-Nicene Fathers, 1:164-165.
2026 reads