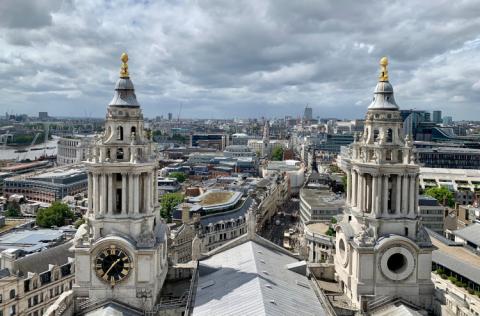 History is boring! How many times has that been said, mostly by schoolchildren who have to learn names, dates, and events for an exam? History can be boring, but it doesn't need to be.
I have been a vocational historian of Christianity for the past two decades and have had the joy of teaching aspects of the subject to men and women around the world, in classroom settings as well as church settings. One of my goals is to teach history in a way that makes the story come alive, stirs interest, engages the listeners, and demonstrates its relevance to my hearers. Of course, to do this, to make history alive, engaging, interesting, and relevant to others, it has to be all of those things to me. I can't teach others to love what I find boring or uninteresting.
Therefore, while I taught seminary, I tried to give my students a love for history. Sometimes it worked. A few years back, a student who had struggled a bit in class called me from his first pastorate to tell me he had been visiting a retirement center and had run into a retired priest who probed the young Baptist pastor about church history. The former student was elated that he felt he could go toe to toe with the retired gentlemen. Admittedly, I found this story satisfying, for I had evidently accomplished my goal.
So even if we are not vocational church historians, why should we teach church history in our churches? How will stories from the past profit churches today? What purpose might it serve to provide believers with occasional or regular lessons or illustrations from church history?
Four Reasons for Providing Historical Perspective
Teaching church history in our churches is important for four reasons.
The present is built on the past
We don't know why we are here if we don't know where we have come from. This is part of the reason I became a Baptist historian in the first place. As a teenager, I professed Christ as Savior and started attending a Southern Baptist church. The pastor said I needed to be baptized, so I was. That was nearly 50 years ago. I don't remember taking a baptism class. I may have, but after 50 years, who can say? Having been baptized, I became a Baptist. Or did I? I was an immersed member of a Baptist church, but I had little knowledge of what that meant.
After high school, I went to a nondenominational university and never took a class in Baptist history or theology. Unfortunately, I didn't even take a church history class of any kind. Too bad for me and for my early congregations. After graduation, I became a Baptist missionary of sorts. I joined a nondenominational mission and served a nondenominational church that I changed to "Baptist" just by a simple name change. Some of the folks questioned what I had done, but as I was there only about four years and the church was small, not much happened.
During my second ministry, I switched to a Baptist mission board and started a Baptist church from scratch. Now I was a real Baptist! However, I soon met another real Baptist, a Landmarker (I had little idea what one was) who tried to convince me I wasn't much of a Baptist. Excuse me? Well, I decided that if I was going to be a Baptist, I was going to know what one was. That set me on a journey of discovery.
I had always been interested in history, so I turned that interest toward Baptist history. I bought books, and I read and read. I soon discovered that I was a Baptist by conviction; that is, I was a Baptist because I believed that Baptists believe what the Bible teaches, and as I wanted to hold to Biblical instruction, the Baptist church seemed my best option.
This leads me to a second reason for teaching church history.
We can know who we are and why we believe what we believe
In recent years it has become popular to omit denominational descriptors from church names, as in changing Grace Baptist Church to Grace Church. Sometimes a church will identify as Baptist in some other way, maybe with the phrase "a Baptist church" in small letters on the sign or advertisements or with an explanation in the church's documents.
Even if a church is not Baptist, that church is something—evangelical, fundamental, Reformed, freewill, premillennial. Something sets one church apart from another, and that something often has a historical location. Why not simply teach the Bible and omit history? Because our history makes us what we are. Knowing and communicating our historical location helps us better communicate our purpose. Why do we exist? What is our purpose as a church? If our purpose is to "make and mature disciples," what does that look like?
Typically in Baptist churches, making disciples involves preaching the gospel and seeing converts baptized and discipled. So much of Christian history has been the story of churches doing just those things. We could talk about the spread of the gospel around the world by Baptists and others. We could study individuals like William Carey, Adoniram Judson, Lott Carey, Lottie Moon, and Charles Trumann Wesco. Don't know all these names? Each contributed in his or her own way to advancing the gospel around the world.
Judson headed to India as a Congregational missionary. Aboard ship, he studied baptism, knowing he would be confronted by missionaries affiliated with William Carey. With little more than his Bible to guide him, Judson became convinced of the Baptist view of baptism and was baptized on arrival in India by William Ward, a Carey associate. Judson went on to do outstanding work in Burma (modern-day Myanmar), leaving a legacy of what would later be described as the indigenous principle in missions.
This leads me to offer a third value for teaching history to our congregations.
History can inspire believers to follow the Lord
So much of the Biblical narrative is character development, both good and bad. We see the weaknesses of Abraham and the strengths of the apostle Paul. We can use the Biblical record to challenge people to sacrificial service for Christ, but we can also supplement the Biblical accounts with the examples of recent believers who have given their lives to follow Jesus Christ.
Missionary biographies are helpful here. It was such a book in my early Christian journey that stirred me toward full-time service. I read Through Gates of Splendor by Elisabeth Elliot, the widow of missionary Jim Elliot. That book, coupled with The Journals of Jim Elliot, edited by Elisabeth, enflamed my heart with what one Christian could do in service for Christ.
Even as I write this, I am reminded of something Dwight L. Moody, the famed global evangelist of the late 19th century, is said to have uttered early in his ministry: "The world has yet to see what God can do with a man fully consecrated to him. By God's help, I aim to be that man."
What powerful illustrations of Christian dedication! Add to these stories myriad others. Polycarp, an aged believer, was to be burned to death. His enemies hoped to extinguish the church he led. He is said to have replied to his persecutors, "Fourscore and six years have I served him, and he never did me any injury; how then can I blaspheme my King and Savior?"
The work of William Tyndale, that great 16th-century Bible translator, is largely still found in the pages of the KJV. As he was being burned at the stake, he is alleged to have said, "God, open the King of England's eyes."
Martin Luther at the Diet of Worms faced his interrogator, Johann Eck, agent of Pope Leo X, and said, "Unless I am convinced by the testimony of the Scriptures or by clear reason (for I do not trust either in the pope or in councils alone, since it is well known that they have often erred and contradicted themselves), I am bound by the Scriptures I have quoted and my conscience is captive to the Word of God. I cannot and will not recant anything, since it is neither safe nor right to go against conscience. May God help me. Amen."
These fearless believers lived and died for Christ, His Word, and His work. They offer us examples in the flesh of men who labored, suffered, and died following Christ.
The stories of Christian women are equally important. Susannah Spurgeon, though sickly for much of her life, contributed to her husband's work through prayer and helping him distribute Christian literature to impoverished pastors. Elisabeth Elliot, despite her husband's death, remained in Ecuador to continue their work to reach the Auca Indians. Lottie Moon was a single missionary who went to China and encouraged Southern Baptist women to give to the cause of global evangelism, a fact that has memorialized her name in the Lottie Moon Christmas Offering, which raises more than $150 million annually for missions.
The list of Christian exemplars could go on and on and would provide hours of uplifting instruction for pastors or teachers. Congregations or classes will be encouraged by the lives of believers of the past, all with their own weaknesses or flaws, who nevertheless offered themselves to God as their "reasonable service" (Rom. 12:1).
One final reason for teaching Christian history is a theological one.
History shows how various doctrinal views developed over time
The doctrinal views we hold near and dear were often understood over long years of discussion and debate. Doctrines like credo-immersion (the Baptist understanding of the first ordinance) have been much-discussed points of theology.
Does it really matter how or even if someone gets wet subsequent to conversion? Why do our Roman Catholic friends baptize infants, as do our Presbyterian neighbors, while some groups baptize professing believers three times? Does baptism have to be by immersion? Can we really say that sprinkling or pouring is wrong? Since I was sprinkled as a baby into an Anglican church, did I really need to be rebaptized?
These and so many other theological questions have historical locations. In the doctrine of Communion, Christians even differ on the symbolism and significance of the ordinance. Is Roman Catholic transubstantiation an acceptable alternative view to the symbolic view of communion? What about the Lutheran view of consubstantiation? Does any of this really matter? As with baptism, so, too, our understanding of Communion is historically shaped.
God Must Love History
I love to teach Christian history, and it is something I hope to inspire current and future pastors to do in their churches. History does not need to be dry and boring. If we work at it, we can understand it well enough to make it come alive to our congregations so they may follow the Lord more faithfully.
How do I know that the teaching of history is so important? If it wasn't, why did God give us a book to study that is a historical record? Much of the Pentateuch is history, as are the historical books of the Old Testament: Joshua, Judges, Ruth, Samuel, Kings, Chronicles, Ezra, and Nehemiah. History permeates the rest of the Old Testament and fills the New Testament, the Gospels and Acts in particular.
It must be that God loves history, since He gave us so much. So should we. History is really His Story—God works in this world to draw humanity to Himself. Let's love history and encourage our people to do the same.
Reposted with permission from Baptist Bulletin © Regular Baptist Press, all rights reserved. Photo by Kyle Dias on Unsplash.
---
Jeff Straub (PhD, Southern Baptist Theological Seminary) is a professor of Christian history and theology who regularly travels internationally to train Christian leaders. When stateside, he writes in the field of American religion. His research interests include Baptists and slavery, racism, Pentecostalism, and global Christianity. This article is the first in a two-part series.
2727 reads