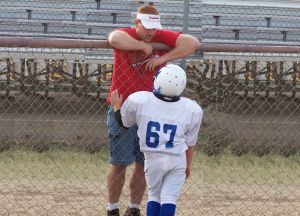 Most parents living in the Western hemisphere must eventually address the matter of their children's involvement in athletics. This may seem a moot point for children who rank joining an athletic team only slightly higher than a visit to the orthodontist. Other parents are driven nearly insane by their children's obsession with sports. But what seems to escape many parents is the reality that a child's involvement in athletics is a weighty spiritual matter that demands skillful parental leadership.
Parents—and most particularly dads—need to actively steer their children's involvement (or non-involvement) in athletics in such a way as to purposefully magnify the splendor of God. Parents who merely respond to what their children want to do (or not do) athletically are guilty of spiritual negligence. A child's participation in sports constitutes a crucible in which a parent's moral skill and loyalty to God are put to the test. We must proceed in the conscious fear of God or we will proceed as idolaters. As always, there is much at stake.
In an essay to follow, I address guidelines by which athletic participation may redound to the glory of God. In this article, I address only secondarily parents who enthusiastically support their children's athletic interests. I speak more directly here to parents minded that athletics are a waste of precious resources and generally to be avoided. I address those who think the spiritual temptations and/or physical risks inherent in athletics render such involvement unjustifiable. I also address parents who simply respond to their children's desires without consciously appreciating and strategically tapping the benefits of athletic involvement. To such readers I offer the following apologetic for children's athletics.
Stewardship of the Body
One of the primary reasons to encourage a child's athletic involvement is the realization that our bodies are a stewardship from God. God did not give us a body to do with it as we please. Our bodies are a sacred trust, deposited into our care for direct investment in the cause of Christ. Parents who rightly embrace this stewardship will recognize the need to steer their children to develop the discipline of routine and vigorous exercise. Such discipline constitutes an essential contribution to the health and strength of our bodies which are indispensable to the service of God.
The passion that should drive parents to encourage their children's participation in sports is not their love for sports, but the prospect of their children serving Jesus Christ as adults. God can use any body he chooses and obviously ordains that some of his servants function through the ravages of disease and physical malady. Physical fitness provides no immunity against genetic malfunction. However, it is generally the case that the more physically fit one's body, the more energetically and efficiently that person is able to serve God. Fewer sick days, fewer doctors' visits, greater stamina, heightened alertness, better sleep, and delayed retirement combine to heighten an individual's capacities for good.
Athletics serve as an invaluable tool by which parents may promote the physical health of their progeny. The stimulation of teamwork, coupled with the adrenal effects of competition, fairly beguile children to push their bodies harder than they would if left to their own devices. Once the discipline of bodily exercise is established, a treadmill in the basement may suffice. But how many ten year-olds relish several 30-minute treadmill sessions each week? Athletics provide ideal stimuli for children to learn the discipline of physical exercise.
I respect the objection that some children are not athletic. Yet I suspect this objection is more often raised than merited. The missing ingredient accounting for some children's aversion to sports may be patient, parental guidance. Let it also be said that athletic involvement need not come through organized sports. A child may profit from participation in ballet, bicycle riding, recreational swimming, jogging, skiing, skateboarding—even motor-cross or hunting. In any event, a child's aversion to competitive sports must not be permitted to justify a child's aversion to exercise.
Life Lessons
A second primary benefit of athletics is the environments they create in which children may learn vital life lessons. Athletics help a child learn to function in a competitive world in which there are winners and losers. Sports place children in a setting in which they must learn to compete fairly against stiff opposition. Athletics teach a child that winning is never guaranteed and is usually hard-earned.
Team sports particularly teach a child to handle the disappointment of defeat and the frustration of working with self-centered people. It provides character-building discipline as a child responds to the realities of competition: sitting on the bench, being misjudged or mistreated by a coach or superior player, persevering through physical exhaustion and pain, having to perform despite cheating opponents and distracting fans, competing within the rules of the game despite imperfect referees who blow calls and occasionally display prejudice.
No genius is required to see the parallels between these common challenges in the sports world and life as an adult. One frequently discovers adults in this world who would certainly benefit from being sent back in time to join a sports team in order to compensate for deficiencies in their childhood training. Sports not only teach vital life lessons, they create the opportunity for children to learn those lessons in broad daylight, on a field of play, before their parent's watchful eye. Such opportunity provides for a level of instructive dialogue between parent and child that is difficult to duplicate.
Educating the mind is of utmost importance in a child's development, but theoretical learning does not offer much opportunity for life coaching, particularly for younger children. But when I sit on the sidelines and watch my kid get passed up by a selfish teammate, or get the raw end of a blown call, or suffer the heartbreak of failing to make the game-winning play, or suffer the disappointment of not getting into the game at all—ah, now we have real life stuff to talk about! I've just watched my kid strive on the field of competition. I've watched him fail. I've watched him live.
And when the game ends and his coach has finished with him, my child rides home with his other coach—the one who brought him into this world and is pointing him to the next. It is then that the real coaching starts. He may not know it. It's usually just sports talk to him. But I know it is something much more. And some day when he is contending as an adult for the glory of God in a hostile world, I trust he will understand this as well. In my thinking, it is in the interest of that future day that he is playing sports now. And it is for that glorious day that I keep coaching as a dad.
---
Dan Miller
has served as the Senior Pastor of
Eden Baptist Church
since 1989. He graduated from Pillsbury Baptist Bible College with a B.S. degree in 1984 and his graduate degrees include a M.A. in History from Minnesota State University, Mankato, and the M.Div. and Th.M. from
Central Baptist Theological Seminary
. He is nearing completion of D.Min. studies at
Trinity Evangelical Divinity School
. Dan is married to Beth and the Lord has blessed them with four children: Ethan, Levi, Reed and Whitney.
3880 reads