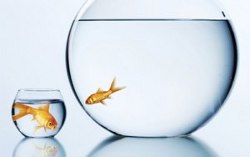 I grew up in Winston Salem, NC, a city of roughly 230,000. Not large, but by North Carolina standards, in the top five. Over the years, I've bumped into people from rural towns who have noted, sometimes with genuine deference, "Oh, you're from the big city." This makes me chuckle considering Winston would probably fit inside of Donald Trump's living room. Our worldview is potently molded to our experiences such that it affects our perception of objective data and propositional truth.
If your experience of the Christian faith has been primarily independent, fundamentalist, traditional and conservative, operating in small to medium-sized churches, then your perception of evangelicalism may be similar to a small town resident visiting a large city. Bigger doesn't mean better, but it is certainly different with diverse and multiple choices. This is not to denigrate traditional conservatives (whom I have affectionately nicknamed Tracons) or small towns. It is to illustrate perceptual distinctions. Why write about this? Let me explain.
Our church staff and elders attended the Gospel Coalition 2011 conference in Chicago this past week. What we experienced was simple, but profound, gracious, yet powerful. The subject matter, Preaching Christ from the Old Testament, was well crafted and delivered from many regions of the older testament by gifted pastors and leaders. Some of you may have read the updates. While writing the updates and ruminating on the spectrum of participants and contributors at SharperIron, I considered the many articles and comments deliberating the topics of conservative evangelicals, culture, cooperation, fences, separation, etc. It occurred to me that "small town/large city" perceptions exist that skew an appreciation of the believers some have termed "fundagelicals."
My comments are not meant to define nor defend TGC. You can read their confessional statements and theological vision here. I hope to bring some clarity to the ongoing tension between those of you within the Tracon ecosystem, and those like myself, who are fundamentally grounded in orthodoxy, but less traditional in orthopraxy.
At TGC the entire conference pointed the attendees to Jesus Christ. Every introduction, song, message and workshop proclaimed explicitly that Jesus is Lord. His glory and sovereignty over this world and individual lives were woven into the tapestry of events. I write this because when I read certain debates on this site, I often see a black & white, cut and dried viewpoint that imparts to evangelicals some nebulous legitimacy within Christendom while maintaining fundamentalism as the theocentric ministry gold standard. As difficult as it might be for Tracons to hear, TGC leaders preach God's Word unapologetically. The Bible is their defining source of reference for all things pertaining to life and godliness. Why the negative little zinger?
I think that many conservative folk who have chosen a traditional path of ministry, with traditional personal standards and traditional music assume that those who do not share their specific personal convictions and conclusions in these matters don't share equal footing in God's kingdom. Allow me to illustrate. Please note that I respect Dr. Bauder, whom I know only through his writings. I also appreciate the dialogue he has initiated on this subject. In his Reflections article after ATC, he made a couple of statements that I think sum up the general mindset within the Tracon ecosystem.
If someone is choosing between fundamentalism and conservative evangelicalism, then fundamentalism is the right choice. And if one is looking for a movement that offers structures through which to advance ideas, it may be the only choice.
Later, he writes:
Conservative evangelicalism is on the far side of fundamentalism from me.
Bauder concludes he is a conservative Christian, neither CE or Fundie. Nonetheless, his conclusions are illustrative of the significant divergence between Tracon and CE mindsets. One, somehow there exists a choice between two teams. "You can be a Cowboys fan, or you can be a Redskins fan, but you can't be both." Two, my personal position is home base. Every other theocentric ministry style must measure itself against my personal conclusions. In this is the perceptual distinction. CE's do not think in these terms.
Within CE circles, there is broad and open acceptance of differing points of view, different styles, and different approaches to ministry. TGC doesn't promote one way as the best way. In fact, you will hear recommendations to form heterogeneous ministry partnerships. What is promoted is the power of the gospel over people's lives. Everything is pointed back to redemption, the power of the gospel and the sovereignty of God.
I've seen Tracons hypothesize in regard to CE's, "I appreciate this, that or the other, but I couldn't join in ministry with them." Or "I like him, but I couldn't share a stage with him." OK, please don't take this the wrong way, but they don't care. CE's have no concern whether or not you think they have the right framework for advancing ideas. They are devoted to serving the Lord, advancing the gospel, seeing God work in lives. The leaders of the CE movement are biblical, spiritually minded and servant hearted. Those involved in their ministries love the Lord, long to see Him glorified and work tirelessly to that end. They attempt to avoid the theoretical and operate in the real. Here's the rub. Tracon ministries are decreasing in influence while CE's are increasing.
I hope you will think about this deeply. You must recognize the movement and flow of young adults into the CE ecosystem. It started a decade ago and has built great momentum. Events like TGC highlight the influx. ATC drew 500. TGC drew 6000+. Size is not success, but it illustrates the direction of flow for kingdom resources, both capital and human. One only need look at the attendance patterns of the last decade at Bible colleges and Tracon churches to recognize the significance of the changes.
Some think this shift highlights the gravitation to worldliness and attractional ministry, and sadly a Christianized pop culture does exist in some churches. Yet many are gravitating to the power of the preaching, the proactivity of the ministries and the principal emphasis on biblical community.
You'll have to take my word for this anecdotal evidence. I have spoken with countless men and women in the last five years who have left a traditional ministry setting for our CE church. Two things I hear often. One, "I've never heard the gospel preached so clearly, so practically and with such high expectations." Two, "The people here are authentic believers. Jesus is real to them seven days a week." There is genuine, humble, loving and biblical ministry outside of the walls of traditional fundamentalism.
In conclusion, the reason I started with TGC is that it represents a nexus of CE's. It should help us to put into perspective what is happening in our generation. I'm not suggesting Tracons should migrate, I am advocating a recognition of God's hand at work among his multifarious body, the church.
I hope each of us will rejoice in knowing that God is working in diverse ways through countless individuals and innumerable churches to accomplish His will. The uniting factor is the transformative redemption found only in Jesus Christ. Despite this complex hurricane of a discussion, remember what Paul wrote: "And above all these put on love, which binds everything together in perfect harmony." (ESV, Col. 3:14).
[node:bio/dmicah body]
12578 reads