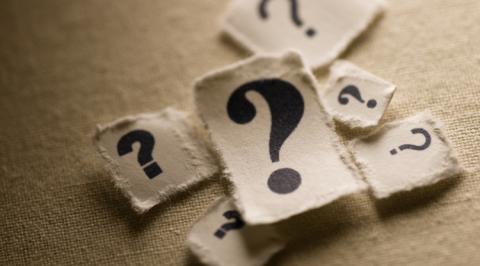 As of January 2020, SharperIron is fifteen years old. I've been involved to some degree for about fourteen of those years, and "in charge" for about a dozen. It's time—maybe well past time—to seriously explore big changes for SI.
Hence, this Request for Proposals (RFP)—specifically, proposals for taking the site off my hands and into a new future.
Why now?
SharperIron has always needed more time than I could give it and more expertise than I possessed. True, "needed" is a relative term. My time and skills have been what the site "needed" to keep going and arrive at what it is today. But I've always seen SI with a kind of Island of Unrealized Potential on the horizon that I could sometimes steer it a little bit toward, but could never really reach.
Concerning time, changes in my family, personal, and vocational life have resulted in an increasingly attractive body of other projects I should consider taking on. I'm pretty interested in writing a book or two. I've long been interested in another degree or two. There are some barriers to these pursuits that aren't at all SharperIron-related, but SI is one substantial barrier—because running it on the cheap means lots of time at DIY work.
Concerning expertise, though I've picked up some things, the gap between what I can offer and what the site needs (to reach its full potential) has widened. I've learned a ton of technology, and that's been a ton of fun (truly), but today's internet has become a much more difficult place to keep a complex website going out of your own garage, so to speak.
If the web of 2005 was like a big box of Legos, today's web is like a stadium full of Legos, plus truckloads of Tinkertoys, barge loads of Erector Sets, and vats of Play Doh—all interconnected. To complete the image, add in a legion of evil robots determined to hack and enslave everything you build.
So, the days of the tech-savvy amateur who could "leap off the cliff and learn to fly while falling" are over, I think. If they're not over, I'm either too old to do it anymore, or just not interested enough to do it anymore.
Regular SI readers are well aware that the fundamentalist-evangelical landscape has also changed in many ways since 2005. The ways that impacts faithful biblical ministry and education for ministry have changed a lot, too. Those realities have little to do with my interest in stepping away from SI, but they're important for whoever takes the site into the future.
The Ideal Proposal
I encourage any persons or groups interested in taking over SharperIron to send me a proposal using the editor at sharperiron.org email address. I'm open to hearing proposals that don't fit the bullet points below, but these are the general shape of what I'm hoping to see.
Who should consider making a proposal
Individuals
Partnerships
Nonprofits
Educational institutions
Churches
Other ministries
Ideally, these would be entities who substantially agree with SharperIron's current doctrinal parameters.
What the proposal should include
Ideally, the new owners/developers/maintainers would:
Take ownership of the sharperiron.org and .com (currently not in use) domain names
Take full control of the site's data and technology
Be capable of maintaining and significantly improving the site's technology, or have the funding to hire that out. The technology transition would ideally happen fairly quickly once an agreement is made: like within a few months.
Have some plans and ideas for the site's future. Ideally, that future would include:

Continued attention to the interests of those who identify with fundamentalist heritage as well as conservative evangelicalism more generally
Continued availability of whatever content is of best quality in the current SharperIron database. (This is intentionally vague. A complete start over with nothing at all seems severe, but a range of selective archiving/deleting options should be considered "on the table.")
A vision for making the site helpful to people in new ways, whether as an educational tool, or historical reference tool, or something completely different.
Include some kind of community interaction/discussion opportunity, whether internal to the site or integrated with some kind of discussion or social media platform (or old style forum).
Permit limited, voluntary involvement by me. I'd like to do some writing now and then. If I decide to write a book, I'd like to be able to promote that at the site.
Some loose ends
What about money? Other things being equal, sure, some more shekels in my pocket would be pretty useful. But, although the site cost me an initial investment in 2008, income through ads and donations (thanks, everyone!) has covered that. The current site costs little to operate. I don't really need to make money on this. I'm more interested in seeing the site move toward a promising future.
So, proposals that involve paying me nothing are entirely welcome. I'm also happy to assist with data migration and other transitional stuff. If I continue to be involved on the technical side beyond a few months of transition, though, I'll be interested in some compensation for the time.
Timeline
At this point, there is no deadline for proposals. A deadline may be announced in the future. I'd like to extract myself from obligations to SI by the end of 2020.
In addition, though there are not yet any format specifications for written proposals, there may be a form or questionnaire coming. We'll see if we need that. A handful of folks will be helping me evaluate whatever comes in.
SI has been a great outlet for me. Though sometimes frustrating for me (and everyone involved, I'm sure) it has been—on the whole—a blessing and a means of growth in my life. I'll always be grateful for that.
How can you help? I'm so glad you asked! Spread the word via email, social media…maybe even live conversation. Consider sending in a proposal. And don't forget to pray for wisdom for all involved.
---
Aaron Blumer is a Michigan native and graduate of Bob Jones University and Central Baptist Theological Seminary (Plymouth, MN). He and his family live in small-town western Wisconsin, not far from where he pastored Grace Baptist Church for thirteen years. In his full time job, he is content manager for a law-enforcement digital library service.
2050 reads
5664 reads