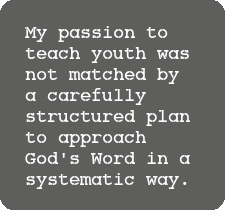 From VOICE, May/Jun 2015. Used with permission. Read Part 1 and Part 2.
Some youth leaders leave youth ministry too early because they don't have a plan. Without a plan that recirculates (yet leaves room for current and various studies throughout each year) the youth pastor continues to grow and grow, and brings kids with him, and then it becomes harder and harder to "start over" with a new group of kids.
Choosing topics to study month-to-month or week-to-week is an exhausting way to plan and teach, and it is impossible to duplicate. This kind of haphazardness (that we all have experienced to some degree as we figured out who we are in ministry) needs to be addressed so we don't keep losing good leaders.
For some, youth ministry is just a stepping-stone to another ministry; I am not addressing those men. I am addressing the young man who is just starting out in youth ministry, with goals to change the world or at least the next generation, and plans to stay in youth ministry until God changes his passion. I am also sharing ideas with those who have been in youth ministry for years, yet struggle with continuity or structure and that fact is sapping their enthusiasm for the ministry they feel called to.
Lesson Learned
In my first 18 months of youth ministry I had so many goals it was confusing to me, much more those I led. I feel so badly for the volunteers and students that I led during those months!
I quickly began to realize how exhausting it is to come up with the most relevant topic to teach each week or month and then find the Scriptural basis for its defense, or to find every week some practical Bible wisdom to teach to the teens. In fact, I used to sit in my office and have small panic attacks because I didn't know where we should go next. I didn't want to repeat material too early because that would expose the shallowness of my "plan" (which was to teach all of God's truth as we needed it, yet in no structured format or schedule). I also didn't want to become a stereotypical youth pastor whose teaching topics all the time revolved around the Big Three: sex, dating and drugs—the big three topics that were on the scene fifteen years ago.
My enormous passion to teach youth was not matched by a carefully structured plan to approach God's Word in a systematic way that would facilitate teaching the truth in a structured and calculated way. If you asked my teens back then what they learned in youth group the previous month, they would probably just shrug their shoulders. Was I teaching poorly? No. Was I not creative enough with my object lessons and outlines? No. I was just "shotgunning" Bible truth in an unorganized way. I knew I was teaching what the Bible said and I was trying hard to be accurate with the text, and I probably had some real good things to say. But there was no organizational backbone that would teach the truth in a way that would have maximum impact upon the lives of the teens I served.
One day my fears were removed and youth ministry again became a joy. It was the day I decided to organize a teaching plan for what I believed to be important for me to cover in the four years I had to teach the teens in their high school years. Later in ministry I went to different churches where I was responsible for junior high as well. I had to adapt my plan for the scope and sequence of six years' worth of material The catalyst for this plan was my desire to teach through the life of Christ chronologically. Then I expanded my plan to include a study through the Bible in a systematic way. I believed that with such a plan, we would hit every issue we normally would want to hit and that we would hit it in its context—and all of this would make it more powerful.
I have now taught through the Life of Christ three times and the book of Acts twice, and I have been able to reuse this material—and plan to continue doing so. Having a plan (mine includes other studies interspersed during the school year and summer time lessons and special services where I do some shorter studies that I feel are needed at that time) is so freeing! I have seen youth men come and go for many reasons, but the one reason for leaving youth ministry that we can control is to relieve the stress of lesson planning each week or month. Failing to do so often leads to stress and panic and sometimes leaving the ministry.
The pressure of having to be "cutting edge relevant" is crushing when you don't have a systematic plan for how you are going to move through the Scriptures. And those youth leaders who can handle the weekly pressure of haphazard Bible teaching face another pressure: the challenge of restarting with new 7th or 9th graders each year. Restarting with new students gets harder and harder.
There are other reasons that men leave the youth ministry, but I wanted to help with the one that can be stopped if we take time to set goals in our Bible teaching, make plans and stick to them.
The IFCA International Youth Council provides materials that help you make a detailed plan that allows for flexibility in structure and implementation of a six-year plan. Whether it's your Sunday school ministry or your mid-week youth group meeting that needs this type of backbone to keep you focused and help you be free of worry and panic, we want to be a resource for you. (See these resources on pages 32-33 of the May/June 2015 issue of VOICE.)
If God has called you to shepherd the lives of teens, strategize for the long run, not just the short term. You'll be glad you did, and so will your students.
Conclusion
Will you join us as we seek to involve teens in ministry instead of being content to merely "do ministry to them"? Will you join us as we take time to train them up in their giftedness instead of wasting all our time trying to make church fun? If enough answer "yes" to this endeavor, I'm confident that we will see a steady increase in the retention of our teens as they grow older and I'm confident we would see our churches growing. Visit us on line at www.ifcayouth.org for info on how to get involved with us in IFCA Youth Ministry. We see our youth as the Church today, not just the reserves for tomorrow. And we believe serving students stay.
---
Travis Huseby is Pastor of Educaiton and Outreach at Byron Center (MI) Bible Church and IFCA National Youth Representative. 
763 reads
3284 reads