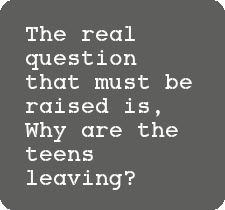 From VOICE, May/Jun 2015. Used with permission.
In the past two decades a spotlight has been placed on the problem of teens growing up and leaving the Church—not just going off to college or relocating, but permanently choosing not to have any part, role, or attendance in the ministry of a local church.
In several different parts of our country I have had conversations with pastors, youth pastors and laymen and this question has been asked or simply posed as a sad statement of fact. "I just don't know where all our teens are going" said one Senior Pastor. "I'm not sure why our teens are quitting on the Church," a layman in one of our Midwestern churches said to me. Many people are wondering where teens are going when they graduate. But the real question that must be raised is, Why are the teens leaving? We may not need to know where they are going as much as we need to know why they are leaving so we can strategize how to change the trend.
Opinions on why our teens leave the Church range from "our churches lack relevance in ministry" to "they've received faulty teaching" and everywhere in between. The purpose of this article is not to explore these varying opinions, but to uncover what the IFCA Youth ministry has been doing in the past decade to answer the question and what we plan to continue doing because we see great fruit.
One common trait in the churches across our nation that are losing their teens is that they don't truly accept them into service as part of the body. Teens are allowed to do service projects and manual labor around our buildings but all too often "real ministry" is reserved for adults. We may never say those words or believe that we live them out, but the evidence is staggering. Churches that do not incorporate their teens into the worship services, Sunday School ministries or other real ministries in their church will lose their kids as they grow up because teens eventually graduate from even the "best" youth ministries. And if those teens do not have a place or ministry role in the body of Christ, they will probably leave.
Teens leave the Church, some even before they graduate from high school, because they don't identify with it at all. Many never return. But for those that do perhaps come back, they usually Joni return until they have kids of their own and by then they are so out-of-touch with the church that they rarely become active serving members. More often than not, they become part of the "consumers" that populate a morning service.
Do we want to change this? Do we want better for our youth? Do you want better for the Church?
My advice is to treat teens like a vital part of the body now, equipping them with the Word of God and involving them in areas of ministry, while mentoring them in their giftedness. For the past ten years, the IFCA Youth Council has been implementing a focused youth ministry philosophy: "Encouraging and equipping students to serve in their local church today." What I have come to believe, because of what has been happening in these past ten years, is that serving students stay. They really do! Why? Because they see themselves as a part of the Church and they glean from its fellowship, which leads to becoming personally invested in its growth and survival.
Our last ten years of youth ministry with the IFCA Youth Council has revolved around MTAs (Ministry Training Areas) where we are constantly encouraging and equipping teens in our Regional events (like camps and retreats) and at our National Convention to be an active part of their local church. This task has not been easy, and it has not been accepted by all. In fact, there are some pastors who still tell me that teens will never be able to serve in their church because "teens are just not ready." But the bottom line is, if we aren't training up our teens…they will never be "ready." Haven't we proved that in the last two decades?
Does it work?
But does this philosophy of youth ministry really work? You bet it does! I can show you one photo with twelve young men and women as an example of college age young people who have grown up with this youth ministry philosophy and have been an active part of their church for years. Today these young men and women are involved in the church they attend because they are personally invested in its growth and survival.
Of course it would be easy for me to just pick out certain individuals who have been exceptions to the cultural trend (as there always are those who rise above). But in all reality the churches that partner with the IFCA Youth Council on the national level, who are treating their youth like the Church today, consistently show an increase in the retention of their youth in the Church. The trend in these churches right now is that their kids see themselves as gifted by God for a role He has designed them to fulfill in His Church. And this is changing everything!
MTA Philosophy of Ministry
As I wrote above, we seek to encourage and equip students to serve in their churches today by facilitating Ministry Training Areas in our youth ministries. We have seen a great influx of churches interested in partnering with us in the MTA philosophy of ministry, and nothing could be more exciting for me. But perhaps I need to explain how that works at the local church level and how to implement MTAs into local church youth ministries.
Specifically, MTAs are divided into eleven areas of ministry emphasis: Music, Worship Leading, Preaching, Drama, Bible Story Teaching, Apologetics, Inspirational Writing, Puppetry, Gospel Art, Gospel Illusion, and Sign Language. These MTAs have now become the backbone of the IFCA Youth Convention and throughout the year the students are equipped by their local church youth ministry in the MTA of their choice. Each church structures their youth ministry, in the way they determine before the Lord, and chooses which of the MTAs they want to encourage in their teens. We do not dictate what MTAs churches pursue; this allows our churches to be independent yet similar in their approach.
Three steps
When developing the philosophy of Ministry Training Areas in your youth ministry, three things need to be accomplished.
First, you need to do an analysis of the resources you have because there are two very important components to every Ministry Training Area: students willing and able to try, and adults willing and able to mentor. The most important of the two is having a key adult mentor in each Ministry Training Area you wish to encourage. Without leaders, the pastor or youth pastor will become quickly overloaded and fail to be effective. The other part of your analysis is to see how you can use your teens in your church (not just in your youth ministry). Seek out the best MTAs for your church, considering some of the creative ideas you wish to implement that will be specific to your church ministry.
Second, identify and place key adults in MTA leadership roles. Let's take Drama for example. If you have a leader or leaders who are capable of leading drama teams or monologues (one person dramas) you can begin to implement that MTA. As the youth pastor, meet with that person and spell out what you would like to see happen. The goal is ultimately for that adult to be mentoring teens in drama ministry. Make a plan with them on how to use drama in the ministry of the church and then support them as the drama leader. Find qualified capable leaders and empower them to begin providing the MTA that they are capable of providing. A youth pastor can be leader of an area or two, if he has the time to give. But it is best if he manages the entire operation, so be careful as a youth pastor how many MTAs you directly oversee.
You never know how students will respond if something is made available, so explore all options that you have. Seek to recruit adults ready to serve and watch how the students respond. It's crucial to start with your adult help and let the students follow that. This may mean that you only focus on one or two MTAs to begin this process, and that is just fine.
If you are interested or have young men who are interested in the preaching MTA, we now have a resource just for you. IFCA youth ministry has published a resource that will help young men pursue expositional sermon preparation. It is entitled "Back Pack: A Journey Toward Biblical Exposition." This resource will help young men understand how to study God's Word and put together a message in a focused way. There is a teacher's guide (for your mentoring adult) and a student guide. This resource is available in our IFCA Youth Ministry web store at www.ifcayouth.com and if you desire to purchase this resource as a result of reading this article, please contact me at travisyp@gmail.com and I will give you 10 dollars off just for mentioning this article.
The third thing that must be accomplished as you begin the MTA philosophy of youth ministry is that when ready, you must cast a vision. Your church needs to be fully behind this goal in youth ministry or it becomes a real short trip. Careful and regular communication needs to be made with your elder/deacon board, with your congregation and specifically with the parents of your teens and the teens themselves. Don't assume that anyone will just want to participate or support this idea. Communicate extensively about what you see as the biblical basis for this kind of youth ministry and what you see as the end result of conducting ministry this way. Present the details about how you plan to start, what areas you will begin with and how often meetings/training sessions will take place.
When you have educated and promoted the MTAs you choose to begin with and have conveyed why they are important, your church will be more inclined to support you in this new ministry philosophy. It will help your students do the most important thing they can do in their developmental years: serve in the local church.
As I often say, "serving students stay." If we are utilizing and training our students today we aren't going to have to throw more entertainment at them as they grow older and our churches will grow stronger for the glory of God.
The key concept in MTAs is for our adults to mentor and equip students in ministry skills that the local church will put to use in real ministry. But the key tool in MTAs and in our youth ministry is the Word of God, carefully and simply taught.
(Tomorrow: freeing youth ministry from the bondage of intellectualism)
---
Travis Huseby is Pastor of Educaiton and Outreach at Byron Center (MI) Bible Church and IFCA National Youth Representative. 
762 reads
4299 reads