A Return to Sola Scriptura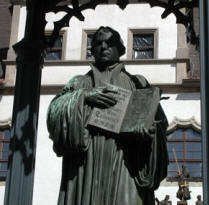 Many Christians have never heard the Latin term sola scriptura. It means simply "only Scripture" or "Scripture alone." It was probably the main war cry of the Reformation. Replacing sola scriptura (in reference to all of Scripture) with the Great Commission has resulted in a movement called Neo-Evangelicalism. Once a mission is put ahead of authority, the mission becomes the authority.
Recent polls have revealed that fewer Americans claim to be Christian. And, although some forms of evangelicalism are growing in America, the cults (Mormonism and Jehovah's Witnesses in particular) are growing at a fast rate. We hear of evangelicals converting to liturgical religions (Catholicism, Orthodoxy, the Episcopal Church) or other religions entirely. Why? Because the Scriptures became something less than the supreme authority.
The Authority Question
One of the big questions Christians must ask is, "What is the final, infallible authority to determine what I believe?" For some, the answer is "what my parents taught me." For others, it is "what my church teaches." For most evangelicals, it seems, the answer now is "what my heart tells me is true." But for those of us who embrace sola scriptura, the answer is "our understanding of what the Scriptures clearly teach, fairly understood."
When we say that we embrace sola scriptura, we are not saying that the Scriptures are the only authority there is. The Scriptures themselves mention a variety of authorities, both in society and the church. What we are saying is that the Scriptures are the only infallible authority. All other authorities are to be tested and, in the case of the church, corrected by the Scriptures. Every attempt to add an infallible authority in addition to the Scriptures reduces the authority of the Scriptures. In such instances, the Bible always plays second fiddle, never first. We then begin to interpret the Scriptures by the authority rather than evaluate the authority by the Scriptures.
The idea that the Scriptures are infallible and sufficient (no other infallible authority is needed) is clear in the Word itself. Take a look at 2 Timothy 3:16-17, "All Scripture is God-breathed and is useful for teaching, rebuking, correcting and training in righteousness, so that the man of God may be thoroughly equipped for every good work" (NIV, emphasis added).
Note here that God has inspired all Scripture, that all of it is profitable for teaching (doctrine), and that the Scriptures thoroughly equip us. The Bible (and its implementation) offers us everything we need for spiritual maturity.
Find a similar concept in 2 Peter 1:3-4. Note that everything we need for spiritual life has been given us by God's power through His promises (His Word): "His divine power has given us everything we need for life and godliness through our knowledge of him who called us by his own glory and goodness. Through these he has given us his very great and precious promises, so that through them you may participate in the divine nature and escape the corruption in the world caused by evil desires."
Sufficient Answers
The Bible offers us everything we need for salvation, according to 2 Timothy 3:15: "and how from childhood you have been acquainted with the sacred writings, which are able to make you wise for salvation through faith in Christ Jesus."
This is not to say that the Bible answers all our questions. Indeed, the temptation is to find answers to theological questions in sources other than Scripture. Yet Deuteronomy 29:29 warns us to accept our areas of ignorance rather than gravitate toward developing beliefs from other spiritual authorities: "The secret things belong to the Lord our God, but the things that are revealed belong to us and to our children forever, that we may do all the words of this law." We must content ourselves with the revelation of God's Word—and the limits of that revelation. Otherwise, our insistent theological curiosity can become our downfall.
And herein lies the problem. When we view other authorities as infallible (a hallmark of false religion), we are seeking answers to "the secret things" questions which "belong to the Lord our God." False religions have answers for nearly everything, which lures people who are looking for a sense of security. Part of our walk of faith is not having an answer for everything.
Some religious groups go to the other extreme and forbid written doctrinal statements or creeds. This approach confuses authority with infallible authority.
For example, God has given some authority to church leaders (Hebrews 13:17). But that authority is not absolute or without limit. If we use a creed, like the Apostles' Creed, it is not an infallible authority. But it is an authority, and it is infallible to the degree that it is consistent with the truths of Scripture. We believe that God is one being Who is three persons—not because of the Nicene Council, but because the idea of the Trinity is consistent with and summarizes all the information found in Scripture.
In Jude 3, Jesus' brother (Jude) not only urges us to "contend for the faith," but he also informs us that the most significant contents of "the faith" had already been delivered in his day. He wrote, "Dear friends, although I was very eager to write to you about the salvation we share, I felt I had to write and urge you to contend for the faith that was once for all entrusted to the saints."
Our Responsibility
Since the Scriptures are our final authority, it is crucial for every Christian to know the Word. This is what keeps a church on target. When I preach, for example, I work hard to interpret the Scriptures fairly and objectively. But I make mistakes. I am fallible. When the elders make decisions, we try our best to be Scriptural, but we make mistakes. Every believer is a priest to God, and every believer has a right to inquire or challenge, based upon the Word of God (especially where the Word is clear).
Supposedly "lost Gospels" (writings of heretical sects well after the time of Jesus) and "oral traditions" might be considered authorities for some, but they do not hold up to examination in light of Scripture. They are certainly not dependable, infallible authorities.
The questionable must always be challenged by the sure. Everything is subject to the dividing sword of the Word. "For the word of God is living and active. Sharper than any double-edged sword, it penetrates even to dividing soul and spirit, joints and marrow; it judges the thoughts and attitudes of the heart" (Heb. 4:12).
Evangelicalism has moved away from the Scriptures. By some definitions, I am a conservative evangelical; by other definitions, I am a fundamentalist. But whatever label I wear, I am a firm believer in the authority of Scripture. Are you?
If so, let us strive to be like the psalmist who gave us the words of Psalm 119:98-100:
Your commands make me wiser than my enemies, for they are ever with me. I have more insight than all my teachers, for I meditate on your statutes. I have more understanding than the elders, for I obey your precepts.
Our model is the Berean church in Acts 17:11: "Now the Bereans were of more noble character than the Thessalonians, for they received the message with great eagerness and examined the Scriptures every day to see if what Paul said was true." Let us follow that example.
---
Ed Vasicek was raised as a Roman Catholic in in Cicero, Illinois. During his senior year in high school (in 1974), Cicero Bible Church reached out to him, and he received Jesus Christ as his Savior by faith alone. Ed later felt a call to ministry and enrolled at Moody Bible Institute (B.A., Pastoral Studies/Greek). After graduating, he served as pastor of Victory Bible Church of Chicago (a branch work of Cicero Bible Church) and married Marylu Troppito. In 1983, the couple moved to Kokomo where Ed began pastoring Highland Park Church, where he still serves. Ed and Marylu have two adult children, Hannah and Luke. Ed loves to write. He has written over 500 weekly columns for the opinion page of the Kokomo Tribune, published articles in Pulpit Helps magazine, and populated his church's website with an endless barrage of papers. You can access them at www.highlandpc.com.