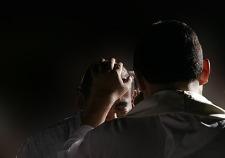 Lord, we are grieved that at least 59 people have died from the Las Vegas shooting, and that hundreds more have been injured. Father, we know that evil is a reality in our world. The curse that resulted from Adam's sin brought with it death, disaster, and hardship. It also left all humans with a sinful nature, one that resists being tamed.
Lord, we especially want to pray for those grieving the loss of loved ones. Many lives were quickly snuffed out. Their loss is a grievous one, and the suddenness of it makes it even more painful. These loved ones feel the emptiness, the helplessness, the loss; dark clouds hover over their lives, lives that were forever changed in an instant. How can this be?
And, Lord, we think of those who may be impaired for life and those who will be in therapy for long periods of time. Their loved ones suffer along with them, too. And every survivor has been permanently traumatized. Many could suffer nightmares and serious psychological disturbances.
Father, even the families and loved ones of the perpetrator are suffering. They did not see this coming. All of a sudden they hear news they themselves cannot believe. They may feel judged by others just because they are related.
The law enforcement authorities and medical personnel are human, too. Events like these traumatize them too.
Lord, we pray for your comfort for all these people. This is a huge request, but you are a huge God. Help all involved to sort through their memories and emotions. May they sense your presence as they grieve. And may they find You a faithful friend who will hold their hand. We pray that some good might arise out of this evil. May many come to know our Savior through this awful experience. May others be motivated to reaffirm their trust in You and serve You more faithfully. And may still others open their hearts and ears to those who are grieving. We pray this in Jesus' Name, Amen.
3264 reads