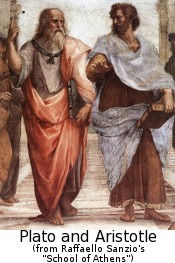 My doctoral studies during the past several years have been quite a challenge, since I have been forced to study (with good comprehension) many ideas and disciplines that were somewhat new to me. The thinking and writing of lots of theologians and philosophers is anything but simple. Take, for example, this explanation of man's existence by Paul Tillich:
Man experiences himself as having a world to which he belongs. The basic ontological structure is derived from an analysis of this complex dialectical relationship. Self-relatedness is implied in every experience. There is something that 'has' and something that is 'had,' and the two are one. (Systematic Theology, I, 168)
Students of theology and philosophy often forget that the terminology they deal with is just as complex as the integrals and algorithms of higher math. Philosophical and theological thinking itself is often highly nuanced. Thoughts are long and complicated. If you try to begin reading the work ten pages in, you will often be completely lost.
What a contrast, when I open my Bible and read it—whether in English, German, Greek, or Hebrew. Its truth seems so easy to grasp, unlike that of the philosophers, who expend energy defining terms, deliberate long at placing parameters, and wrestle even with how they are to pursue an idea. It matters little whether you are reading Plato, Locke, or Heidegger—on an ascending scale of difficulty, they all demand the same mental exercises of their readers. How different the words of Jesus are! Consider this statement in Matthew 12:33-37: 
Either make the tree good and its fruit good, or else make the tree bad and its fruit bad; for a tree is known by its fruit. Brood of vipers! How can you, being evil, speak good things? For out of the abundance of the heart the mouth speaks. A good man out of the good treasure of his heart brings forth good things, and an evil man out of the evil treasure brings forth evil things. But I say to you that for every idle word men may speak, they will give account of it in the day of judgment. For by your words you will be justified, and by your words you will be condemned. 
That one isn't hard to comprehend if you can keep your attention span up for five sentences. What we say has serious, even eternal consequences. We speak out of our hearts. So we regulate speech personally by getting at the heart. If our hearts are purified, our talk will be good. 
But this truth is also deep. You can ponder these five verses (four sentences in Greek) a long time, thinking of how they play out in your own life. You can revisit them from time to time, and make an evaluation: How am I doing on my speech? How is my heart doing? All this demonstrates a third virtue of the words of Scripture: they are applicable to life. No wonder Jesus said, "Father, I thank you that you have hidden these things from the wise and the prudent and have revealed them unto babes" (Matt. 11:25). 
Few people, then or now, have been as well schooled in classical thought and literature as Clement of Alexandria (d. AD 215). Clement echoes the sentiment of Matthew 11:25 in his own context when he says, "Wherefore, since the Word Himself has come to us from heaven, we need not, I reckon, go any more in search of human learning to Athens and the rest of Greece, and to Ionia." (Exhortation to the Heathen, 9). 
One hundred fifty years later, the eloquent John Chrysostom touched on the same truth in a different way, saying, "The Scriptures are so proportioned that even the most ignorant can understand them if they only read them studiously" (Concionis VII de Lazaro, 3). A millennium after Chrysostom, John Wycliffe wrote, "There is no man so rude a scholar but that he may learn the words of the Gospel according to his simplicity." (Margaret Deanesly, The Lollard Bible, 246). 
No believer needs a university degree in philosophy, theology, natural science, or Greek to be able to understand the Bible. You simply need to be able to read. The writer of Psalm 119 compressed this truth into one pithy, shocking statement, "I have more understanding than all my teachers, For your testimonies are my meditation." (Psalm 119:99). No, he wasn't being insolent. He simply noticed he had found the way to God's eternal truth. His teachers, for all their intellectual advancement, had not gotten there. They had not made it a point to seriously obey God's precepts as they learned them (if they ever learned them), so they were behind their student in the knowledge that really counts. If Psalm 119:99 was true in the Old Testament culture of Israel, it is even truer in western culture today, where the Bible is not read and "God" has taken on so many new definitions. 
The illustrations of the wisdom of God's children are legion, but here is one: the case of Dr. John Kramer. Dr. Kramer is one of the biochemists responsible for scientifically demonstrating the safety of rapeseed oil (now known as canola oil) for human consumption. At the time he began his research in 1971, rapeseed oil was considered by many to be toxic for humans. As a believer in Scripture, Dr. Kramer had been pondering 1 Timothy 4:4: "For every creature of God is good" (KJV). Taking a clue from this passage, Dr. Kramer persisted in his research and produced ground-breaking information for the food industry, resulting in positive use of one of nature's good resources: canola oil (more at Answers in Genesis).
How kind and wise are the ways of God, who makes His truth comprehensible to all who seek to know it! How completely open, how utterly humbling is His offer! Take your place in the ranks of the unschooled, the unrecognized, the children. As Augustine (not yet a believer) was overcome by the wretchedness and captivating power of his sin, he heard the voice of a child nearby calling playfully to an adult, "take up and read, take up and read." Then picking up the book of Romans, he continued reading where he had left off, at Romans 13:13. This verse immediately answered his question about being redeemed from sin. "All the gloom of doubt," he says, "vanished away." That is the way faith begins, and that is the way faith will grow. Here is knowledge that exceeds the thinking of the wisest philosophers, who do not know Christ. And so I urge you, dear Christian reader, "take up and read."
---
Jeff Brown was born in 1951 and received Christ as a child during an evening service in the First Baptist Church of Elkhart, IN. During his senior year in college, while studying Biology, God led him to change course and enter the ministry. He later attended seminary, completed his ThM and married. He and his wife, Linda, have four grown children. Jeff and his wife have been church planting in Germany for over 20 years. He has published three books and recently completed his PhD in Systematic Theology at Central Baptist Theological Seminary.
3935 reads