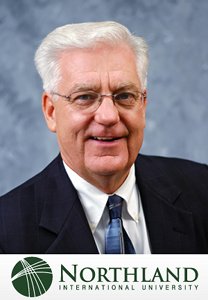 Dear Friends and Fellow Followers of Jesus Christ,
In 1983 I moved from the local church ministry where I served to lead a ministry oriented to serving local churches. The heart of my burden was to help pastors and churches train servants for the Great Commission in a philosophy and approach to discipleship and ministry that would be shaped by Scripture and that would enable them to remain faithful to its teaching over time. When I came to Northland it was a Baptist Bible college committed to biblical authority and historic Fundamentalism. Almost three decades later, the Bible college still occupies the center of what has become Northland International University. Along the way, God sent many faithful servants to join hands in turning this vision into a reality. All of them came because they were attracted to the core philosophy that shaped Northland into what it is today.
In 2002, after I spent almost two decades at the helm, God brought Dr. Matt Olson to assume the presidency as I continued to serve with him and the team in the role of chancellor. For the past nine years, I have had the joy of helping him to carry out the vision and to implement the principles that have always been true at Northland.
I have been spending countless hours in discussion and prayer with Dr. Olson and with Northland's administrative team. I do want to make one thing clear to you: what you might perceive as "news" about Northland is actually not really news at all. In recent days some are questioning whether Northland has departed from the original vision and historic position that shaped us as an institution. Though this does not surprise me, frankly, it saddens me.
As we have attempted to responsibly adjust the way the vision and philosophy is applied in certain settings at our institution, the foundational principles and historic theological positions to which we have always been committed remain unchanged. These adjustments reflect our desire to be faithful to a vision and to truth in ways that keep vision and truth in front of a new generation facing new challenges in ministry.
What we see happening at Northland is the realization of many years of teaching and concerns that many of us have had throughout our years of ministry. Northland has always been a Bible college at its core. It has always been committed to the authority and all-sufficiency of Scripture. It was true for Northland when I served as president. I'm excited to say that it remains equally true under Dr. Olson's leadership today.
What God allowed my generation to see and teach, God has given Northland's current leadership team the ability to put it into action in the lives of our faculty, staff, and students. Throughout Northland's history we've tried to be as biblical as we knew how—given the light the Holy Spirit made available to us at the moment. Even so, we are human. We haven't always done it perfectly, and we've made mistakes along the way. But when we've been wrong, we've made corrections. We will continue to do that as long as we keep maturing in the faith as a team. One thing has remained constant: since Northland's beginning its leadership's commitment to biblical Christianity has never wavered, and it's not wavering now. If anything, it's getting stronger—especially as we see an increasing number of our students passionate to "go where the Gospel isn't."
If you think that you are seeing a change in philosophy at Northland, I ask you to visit our campus and take a closer look. The philosophy that I, and others, have attempted to formulate and teach during years of service continues to be taught and implemented by the current Northland administration. They are making adjustments in application just as my generation had to do from time to time in our day. Should the Lord tarry, this process will continue for future generations. However, it is our passion and prayer that when we all stand together in Glory and look back on what God has wrought, we will look back to observe an unchanging commitment to the biblical principles and philosophy from administration to administration.
At Northland we have chosen to keep our focus on the highest concerns facing our generation while keeping Fundamentalism centered on the historic fundamentals of our faith that best articulate our core understanding of biblical truth.
I want to assure you that Northland's emphasis has always been on building the inner man. From that emphasis, we know there will result a God-pleasing walk. Northland has been attempting to put a means into place that better prepares its students to follow the mind of Christ and to not be driven by the fear of man.
Some years ago, Dr. Doug McLachlan and I teamed together to reach out to a group of younger men who were growing increasingly disillusioned with Fundamentalism. We heard their frustrations first hand as we ministered around the country in pastors' conferences and meetings. It was out of such experiences that Doug's book Reclaiming Authentic Fundamentalism
was born. God used that book to help encourage many young men to remain committed to the true and biblical essence of historic Fundamentalism. Over the years several hundred of them have come through our graduate program. When Doug published Reclaiming Authentic Fundamentalism , there were a few who expressed genuine, heartfelt concern. There were also critics who wrongly interpreted the intent of the book and, consequently, assumed Fundamentalism was being compromised. Almost two decades later, the results speak for themselves. Some may doubt those results, but I know of many young men who are now serving in churches or on mission fields or leading ministries—who might otherwise have departed for New Evangelicalism—in part because of what Dr. McLachlan had the courage to say. Though some warned that his book was a departure from historic Fundamentalism, it was in fact a refreshing and healthy corrective to the Fundamentalism of my day. It is my belief that the future will reveal the same to be true of some of the adjustments that Dr. Olson has had the courage to implement under his leadership. Time will prove this out.
In the meantime, I plead with those of you who care about the big picture of God's work to keep in mind the main thing: we live for God's glory, in response to the Gospel, directed by the Great Commission, and motivated by the Great Commandments. Pray that God would grant us wisdom as we seek to advance the cause of Christ.
Sincerely,
Les Ollila
7300 reads