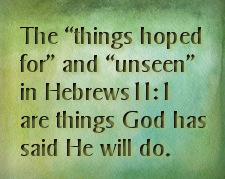 When my dad was diagnosed with terminal brain cancer several years ago, I experienced a faith-collision. On the one hand was the strong likelihood that glioblastoma was going to take his life within two or three years. On the other was the fact that "with God, all things are possible."
Of course more than one of us asked God to heal Dad. We asked God to use the medications, to lead us to some undiscovered cure, to make surgery more effective than it normally is for this disease.
What collided was my faith in what God could do and my uncertainty about what He would do.
Many teach a perspective on faith that would erase these collisions. They counsel that living by faith means absolute, unwavering trust that God will certainly do some specific thing. He will provide the funding for this project; He will open the door for that new job; He will give the church five new families in the new year; He will heal this disease.
Curiously, many non-charismatics refrain from making the disease application but gladly affirm the others. However, the view of faith that calls for confidence in project funding, job openings, and numbers of souls saved also calls for confidence in healing. The view is essentially this:
If I have asked God for something particular, or if I believe He has given me a particular goal, biblical faith is being absolutely sure God will accomplish that desire or goal (Psalm 37:4, James 1:6).
But is this view of faith biblical? If it is, why would healing from disease be excluded? Why, even, would sprouting wings or transforming my Kia into a Lamborghini be excluded? Or how about a wallet that somehow never empties, like the widow's oil pot in Elisha's day (2 Kings 4:4). Wouldn't that be handy!
To put the question another way—and to expose the error in this view of faith—what is the proper object of Christian faith? What is it that we are supposed to be 100% confident of in our faith?
1. Faith is confidence in what God has said.
Hebrews 11:1 famously defines faith as the "substance of things hoped for, the evidence of things not seen" (NKJV). But is the intent "the substance of things I've got a holy hunch about"? In the context, every example of faith relates in some way to specific revelation from God. The "things hoped for" and "unseen" in 11:1 are things God has said He will do. Note the introduction of the word of God in Hebrews 1:3 and the theme of "promises" in the chapter (Heb. 11:9, 11, 13, 17, 33, 39).
Elsewhere, when Paul sets out to explain how righteousness comes "by faith," what does he say?
"Abraham believed God, and it was accounted to him for righteousness." …to him who does not work but believes on Him who justifies the ungodly, his faith is accounted for righteousness. (NKJV, Rom. 4:3–5)
Where God has not spoken, there is no proper object of faith. This is why the Israelites were taught:
And it shall be that whoever will not hear My words, which [the prophet] speaks in My name, I will require it of him. But the prophet who presumes to speak a word in My name, which I have not commanded him to speak, or who speaks in the name of other gods, that prophet shall die. (Deut. 18:19–20)

The secret things belong to the Lord our God, but those things which are revealed belong to us and to our children forever, that we may do all the words of this law. (Deut. 29:29)
I could not "have faith" that God was going to heal my dad's cancer because God had not revealed that He would do that. Any certainty I could have felt about that would not have been biblical, Christian faith at all. Similarly, I can't "have faith" that I'll get a better job, that we'll be able to continue paying the mortgage, that the car will keep running, or any number of other things I'd love to be sure about.
2. Faith is confidence in what God can do.
There is a danger in understanding that faith is a response to what God has said. We can easily become focused on the remaining uncertainties created by what He has not said, and that isn't walking by faith either.
No, rather than focusing on our inability to be sure of what God will do, faith demands that we seek Him for what He can do. This seeking also rests on what He has said.
The word of the Lord came to Jeremiah: "Behold, I am the Lord, the God of all flesh. Is anything too hard for me? (ESV, Jer. 32:26–27)

Behold, the Lord's hand is not shortened, that it cannot save, or his ear dull, that it cannot hear. (Isa. 59:1)

And Jesus said to him, " 'If you can'! All things are possible for one who believes." (Mark 9:23)

Now to him who is able to do far more abundantly than all that we ask or think, according to the power at work within us, to him be glory in the church and in Christ Jesus throughout all generations, forever and ever. Amen. (Eph. 3:20–21)
3. Faith is confidence in what God has planned.
When finances, health, and relationships are faltering, efforts to "have faith" in what God has not revealed distract us from what we really need. According to Scripture, what we truly need is to turn our hearts and minds toward the plans God has revealed.
Therefore gird up the loins of your mind, be sober, and rest your hope fully upon the grace that is to be brought to you at the revelation of Jesus Christ; (NKJV, 1 Pet. 1:13)

Therefore we do not lose heart. Even though our outward man is perishing, yet the inward man is being renewed day by day. For our light affliction, which is but for a moment, is working for us a far more exceeding and eternal weight of glory, while we do not look at the things which are seen, but at the things which are not seen. For the things which are seen are temporary, but the things which are not seen are eternal. (2 Cor. 4:16–18)
Faith, remember, is the evidence of things "not seen."
For we know that the whole creation groans and labors with birth pangs together until now. Not only that, but we also who have the firstfruits of the Spirit, even we ourselves groan within ourselves, eagerly waiting for the adoption, the redemption of our body. For we were saved in this hope, but hope that is seen is not hope; for why does one still hope for what he sees? But if we hope for what we do not see, we eagerly wait for it with perseverance. (Rom. 8:22–25)
4. Faith is confidence in what kind of God God is.
The most insulting and wrath-provoking problem among the Israelites of the Exodus generation was their constant doubt that God was both wise and good. It's one thing to complain that our experience is difficult and we would like it to get better (Psalm 142, 43, 70, etc.). It's another thing entirely to lose faith that God is good.
The Israelites did this again and again when the going got tough.
Therefore the people contended with Moses, and said, "Give us water, that we may drink." So Moses said to them, "Why do you contend with me? Why do you tempt the Lord?" And the people thirsted there for water, and the people complained against Moses, and said, "Why is it you have brought us up out of Egypt, to kill us and our children and our livestock with thirst?" … So he called the name of the place Massah and Meribah, because of the contention of the children of Israel, and because they tempted the Lord, saying, "Is the Lord among us or not?" (Exod. 17:2–7)

Therefore I was angry with that generation, And said, "They always go astray in their heart, And they have not known My ways." (Heb. 3:10)
When we face great needs, great challenges, great sufferings, the life of faith is not about believing God will provide this many dollars, this many conversions, this cure. It's about believing God is good, wise, and loving and is working all things according to the counsel of His will (Eph. 1:11).
So what about James 1:6, Psalm 37:4, and John 14:14? We'll consider these and other passages in the next installment.
1712 reads