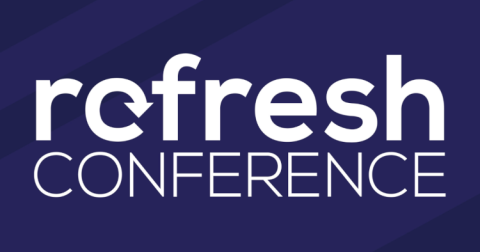 This winter, for the second year in a row, I went back to my seminary alma mater in Ankeny, Iowa, to attend the Refresh Conference hosted by Faith Baptist Bible College and Theological Seminary. Once again, I exhibited on behalf of The Friends of Israel Gospel Ministry, and this year I was joined by my colleague Paul Pierce, a Faith College graduate who serves as a church ministries representative in the state of Washington.
I extended my time in Iowa by scheduling local church ministries on both Sundays surrounding the conference. On the Monday following Refresh, Paul and I also hosted a pizza lunch for Faith students interested in learning more about The Friends of Israel.
Refresh is one of the longer conferences that I attend, as it touches four days. As an exhibitor, it really stretches from Tuesday noon to Friday noon. There is time off each afternoon, and Faith president Dr. Jim Tillotson begins the conference by telling everyone to make sure they leave truly refreshed—even if that means missing sessions, or using them to conduct personal conversations. Judging from the traffic in the Twigs Coffee Shop and student center, many took him up on that suggestion. The school is also extremely generous in giving out free refreshments to conference attendees.
Refresh is basically an old-fashioned Bible conference—with nine general sessions, complemented by music from the Faith Chorale, other special music and congregational singing. There is also a banquet before the Wednesday evening session. There were five workshop periods offering an assortment of great choices. Again this year, the speakers presented interesting and compelling Biblical messages all throughout the week.
Alumni receptions were also held for Faith, as well as Omaha, Denver, Pillsbury and Northland Baptist Bible Colleges.
Faith reports breaking last year's Refresh attendance record of 250. There were 276 at the conference this time, and they represented 140 different ministries.
The growth of the conference really intrigues me. It seems to coincide with the general increase I see in Faith's influence over the nearly three decades since I first went off to seminary there. It's especially interesting to me to meet pastors at Refresh from my home state of Wisconsin (the third-highest state represented, with 23 attendees) who have no other direct connection to Faith.
People came to Refresh from 26 different states and two foreign countries (Japan and Uruguay). A total of 93 were from within Iowa, and 44 came from Minnesota.
There were more than 20 exhibitors at Refresh this year. A healthy sign is the number of national ministries represented among them. In addition to The Friends of Israel, exhibitors this year included ABWE, Baptist Church Planters, Baptist Mid-Missions, Bibles International, Biblical Ministries Worldwide, Faithlife – Logos Bible Software, Gospel Fellowship Association, Reasons for Hope, and others.
For me, the conference stands out as being particularly productive because I know or have connections to so many people who attend. I work with churches in Iowa and the surrounding states, and get to talk to many of their pastors there. I also find the format to be especially helpful. On Thursday of the conference this year, for instance, I spent much of the day in the student center in impromptu meetings with ministry leaders. That day may well lead to ongoing opportunities that could continue on for months, or even years.
It's always nice to go back and see the campus at Faith each February. I still have several friends there, and it is a bit like going home. However, I would tell any ministry leader that this is a conference well worth their consideration. There are ample hotel and restaurant choices fairly nearby, and—while a lot busier than it used to be—Ankeny is a wonderful city, and it is still quite easy to make your way around. Also, the food and snacks on campus are great, and the Faith Bookstore is better than ever!
Exciting things are happening at Faith. Most importantly, by all accounts the school remains staunchly committed to its theological moorings—even at more than 100 years old! Faith is well known for teaching traditional dispensational theology and promoting a love for Israel. Seminary students also have the opportunity to tour Israel in their senior year.
Even if I were not an alumnus, I would still see the value, in my position, in attending and exhibiting at Refresh. I would encourage you to meet me there next year!
---
Paul J. Scharf (M.A., M.Div., Faith Baptist Theological Seminary) is a church ministries representative for The Friends of Israel Gospel Ministry, serving in the midwest. He also assists Whitcomb Ministries and writes for "Answers" Magazine and Regular Baptist Press. For more information on his ministry, visit foi.org/scharf or email pscharf@foi.org.
1173 reads
1485 reads