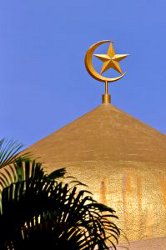 I'm a long time veteran of the intra-conservative interventionism vs. non-interventionism debate. I was a non-interventionist before Ron Paul made non-interventionism cool. So I have seen all the recycled arguments over and over and over and over … I say this not so as to debate interventionism vs. non-interventionism here. That is not the purpose of this essay. I say it to provide background as to what brings up the real subject of this essay.
As a veteran of these debates I have seen all the arguments, but one that I have seen increasingly recently is the contention that Islam is not a religion. The idea being that Islam is not "just" a religion but is instead an all-encompassing political ideology that impacts government, law, education, social organization and convention, etc. of which religion is only a part. The more maximalist proponents of this theory will add that establishment of a world Caliphate, domination of those who refuse to go along, intolerance of other religions, etc. is an inherent part of Islam. This "Islam is not a religion" argument is often seen in conjunction with concerns about the imposition of Sharia law at home.
While seldom directly stated, the implication of this line of reasoning is that Islam cannot be treated as simply another religion deserving of tolerance but must be treated as an alien ideology that threatens the very American way of life. (As I will illustrate below, this is a curious line of reasoning. Essentially the argument is that Islam is dangerous because it is illiberal and thus requires an illiberal response.) This argument seems mostly to imply that Islam is a potential problem domestically within our shores, but given that the argument is usually made within the context of debates over foreign policy, it usually has unstated but implied foreign policy implications as well; namely that since Islam is inherently aggressive and bent on world domination, it must be met with an aggressive and forward military response.
Actually, I do believe that there is much truth to the contention that Islam is a broadly encompassing worldview, but the facts of that are not what are in contention here. The issue is whether Islam's ideological breadth disqualifies it from being a religion. I have two problems with this line of reasoning, the first semantic and the second much more profound.
Two objections
First, semantics. Islam is a religion by any reasonable definition. It deals with a divine being, the afterlife, norms of behavior in this life; it has a holy text, etc. Stating that Islam is not a religion is simply semantic game-playing—and to what end? What difference does it make whether we call Islam a religion or not when we're asking whether we should invade Syria or institute a burqa ban at home? Clearly the point is to rhetorically strip Islam of its protected status as a religion so as to justify illiberal measures toward it whether at home or abroad. But this presumes the righteousness of liberalism to begin with which leads me to my second point.
I should clarify at this point that when I speak of liberalism I am not talking about Obama- or Hillary-style government regulation, social programs and wealth redistribution. I am speaking of liberalism in its original sense, that post-Enlightenment philosophy that enshrines the virtues of individualism, free-choice, religious tolerance, pluralism, non-establishment, etc. When I speak of illiberalism I mean, roughly, religious particularism whether Islamic or Christian.
So my second objection is philosophical, historical and theological. What the "Islam is not a religion" crowd is doing, whether they realize it or not (and most don't), is imposing on the definition of religion a philosophical concept that is relatively novel (historically speaking) and that potentially binds theology beforehand. Per their reasoning, in order to be a religion a religion must embrace modernist liberalism. This would have been news to anyone—Christians included—who lived, say, more than 300 years ago, give or take. One commenter I was debating with said that Islam is not a religion because it doesn't embrace separation of church and state. Really? Are we that historically myopic? Neither did the whole of Christendom until a couple of centuries ago.
By their definition of religion, the Judaism of the Old Testament was not a religion. Was not the Judaism of the Old Testament an all-encompassing system that mixed church and state, had religion-based laws, had a social order dictated by the religion, frowned on pluralism, etc.? The Catholic Church, especially before Vatican II, is not a religion by this definition. Arguably, and it would be hard to argue otherwise, the Protestantism of Luther and Calvin wasn't a religion either. Was Calvin's Geneva a bastion of modernist liberalism? The Puritans certainly were not. One would have to look back no further than the Radical Reformation to find widespread Christian denominations that would meet the exacting liberal standards of the "Islam is not a religion" proponents. (And even some of the products of the Radical Reformation, such as the Mennonites, were quite illiberal in many ways internally.)
I hope you see the problem here. I would argue that liberalism is a modern philosophical concept that most modern Christians have read into the pages of the Bible (addressing this idea fully would require a separate essay). I do not think this liberalism is a theological concept that flows from a natural reading of Scripture. The Bible insinuates, if it doesn't outright dictate, Christian particularism. Christianity should be the broadly encompassing worldview that Islam is accused of being (in type, not in detail of course) and it represents a failure of the modern Church that it is not.
A small but vocal group of Christians are coming around on this. There has been renewed debate in recent years, especially among Reformed believers, between "Two Kingdoms" advocates and those who reject the Two Kingdoms approach. The latter often refer to their opponents as "Radical Two Kingdoms" (R2K for short), although I have never been able to figure out myself what distinguishes Radical Two Kingdoms from plain ol' Two Kingdoms since all Two Kingdoms advocates are generally referred to by their opponents with the Radical adjective.
This coming around is also occurring in a softer way among many evangelicals, whether they realize it or not, in their embrace of the concept of "Christian worldview" thinking. And the anti-Christian and secularist left has seized upon the rising menace to modernist liberalism that they see in Christian "Dominionism," a theological term they don't understand and almost always use incorrectly. (This too is a subject for another essay.)
This idea that Islam is incompatible with America and the West (what used to be called Christendom) because it is illiberal, implies that what truly distinguishes the West from the rest is its liberalism not its Christianity. This may be true and would go a long way toward explaining the sorry state of modern Christianity, but it is to be bemoaned if it is, not celebrated.
I believe modern Christianity is in desperate need of more illiberalism and more adherents who are willing to take it seriously enough that it becomes the broadly encompassing worldview for them that Islam is accused of being for Muslims. Likewise, the problem with Islam is not that it is illiberal. It will not be fixed by embracing liberalism. The problem with Islam is that it is false. It is not Christianity. The hope is not that Muslims will reject their illiberalism and assimilate to become good little liberal Westerners; it is that they will accept Christ. (Again to be clear, when I speak here of illiberalism I do not primarily mean fundamentalism vis-a-vis theological liberalism. I mean Christian particularism vis-a-vis pluralism.)
The implications of my argument are broad, and I plan to flesh them out, God willing, in future essays.
[node:bio/red-phillips body]
4036 reads