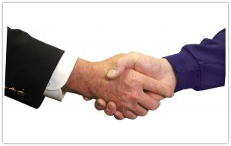 Adam Smith is acclaimed by historians as being the "father of modern economics." His 1776 treatise, The Wealth of Nations, is still published and widely read, and its influence seems hardly diminished over time. Its ponderings have bolstered generations of subsequent economic thought. Margaret Thatcher was reportedly such a devotee that she would regularly carry a copy of Nations in her ever-present handbag.
Among Smith's lasting contributions to microeconomics is the concept of "economies of scale." Theorizing about the characteristics of free-markets, he coined the enduring idiom "the invisible hand." What can those who lead 21st century Christian schools possibly learn from an 18th century economist? My belief is "Plenty!"
A tale of two schools
Trinity Christian School sits at the crest of a gentle hill in a largely residential suburb. Founded in the mid-1960s, Trinity moved from the inner-city to its present location slightly more than a decade ago, after the members of its sponsoring church voted to rebuild on more acreage. Its current facility—a wing of the new church complex—is spacious and well-equipped. Nevertheless, the decentralized new location likely hastened declining enrollment. Students once numbered over 600; today there are about 200. The school's budget is now stretched tight, with revenues scarcely meeting essential expenses. Raising tuition to increase revenue doesn't seem feasible; the administration fears that doing so would force some current families to leave. Although there is no imminent crisis, church elders have privately discussed the possibility of closing the school should its financial situation worsen.
Horizon Christian School, in another suburb, is approximately ten minutes away from Trinity via freeway. Now in its fortieth year, it has about 155 students. Like Trinity, Horizon was once larger. Its facilities in its sponsoring church's building have some obvious deficiencies, and much of the school's equipment and furnishings are in need of replacement. Short of receiving a large bequest, such non-budgeted expenditures are not likely to be considered anytime soon. Nevertheless, current families stoically overlook these shortcomings because they strongly believe in the school's overall benefits to their children.
Each of these schools wishes it could do more, offer more, and provide more—and justly so. Christian schools that take their mission seriously will never be self-satisfied. Yet a simple truth is that many Christian schools have little or no capacity to undertake additional endeavors. Though they may lack neither the motivation nor the will, they often lack the means.
Adam Smith's solution
Although it dates from the year of America's independence, The Wealth of Nations expounds sound economic principles that remain applicable today. When Smith delved into free markets, the division of labor, productivity, and other kindred matters, he perceived economies of scale. In the sphere of traditional Christian schooling, substantiation comes from the specific cost savings and efficiencies that ordinarily accompany rising enrollment figures.
Is it really that simple? Enroll more students, and Christian schools will be strengthened as budgetary strains are incrementally eased? Well, yes and no. If it were simple to increase enrollment, then Christian school classrooms would presumably already be full. Growth sometimes demands change.
A momentous decision
Picture a scene: Margaret, Horizon's principal, is admiring Trinity's gym from a vantage point in the visiting team's bleachers. On the home team's side, Ben, Trinity's headmaster, sits wrestling with the knowledge that tomorrow he must inform the faculty that salary increases will not be possible next year. Down on the court, their varsity boys' basketball teams are closing in on halftime. As the buzzer sounds, Margaret walks over to chat with Ben. "I really do like this gym," she declares. "Horizon could certainly use one like this." Ben lets out a tense laugh. "Well, if we can't increase enrollment this one might be available soon."
In that moment, a mutual epiphany occurred. Startled by its implications, neither one initially fully comprehended it. Yet a shared idea had just taken root.
One week later the telephone in Ben's office rang. Somehow the call was not unexpected. "Ben, this is Margaret from Horizon. I'm not sure how to begin. I spoke yesterday with our church's elder board, and we have a proposal we'd like to present to you. Would you be available next Thursday night to meet with us?"
Several productive sessions later, after both church boards—aided by a church-member attorney—worked through numerous details, a statement was ready: "Trinity Christian School and Horizon Christian School are pleased to jointly announce the establishment of a new school starting next fall: Trinity-Horizon Christian School."
A consolidation case study
Facilitating this merger was the fact that both churches belong to the same state ecclesiastical association and both schools belong to the same national Christian school association. No serious differences in doctrine or operational philosophy stood in the way. Once the proposal had been agreed upon in principle, numerous essential decisions awaited.
Although it may have appeared a foregone conclusion, it was necessary to decide where the combined school would be located. Trinity's newer, larger facility was the clear choice. As summer began, staff and volunteers from both churches moved necessary items from Horizon to Trinity.
Standardization of tuition and fees prior to the annual reenrollment period was another necessity. As always, some students from either former school would not be returning (but no families cited the merger as the reason). Nevertheless, enough new students registered so that the new school had nearly the same total enrollment as the two former schools combined. When the preliminary enrollment figure was available, the most difficult aspect of unification began.
At any Christian school, salaries are the biggest expense. To gain much of the benefits this merger promised, overlapping positions needed to be eliminated. Normal annual attrition would account for some of these, with one teacher retiring and four others leaving for various personal reasons. Individual grades/classes would now be larger than at either component school yet would still be within acceptable levels, with three elementary grades now containing sufficient students to be divided into two sections. To fill some positions, a few teachers would be reassigned to different grade levels. Two administrators were superfluous; Margaret elected to assume an open secondary faculty position in her teaching specialty. Unfortunately, three other faculty members could not be retained. Overall, the number of staff members declined from a pre-merger total of 39 to a post-merger 30, resulting in substantial savings.
Further savings come from one facility's more concentrated usage of public utilities and auxiliary services. Consider electricity. One classroom of 22 students uses less than two similar classrooms of 11 students each. Heating and cooling one active school, rather than two, is likewise more efficient. (Rooms at Horizon's former facility are now maintained at less moderate temperatures during their extended times of inactivity.) Water, sewer, and trash removal are exceptions; volumes for these are typically proportional to the number of users. A merged school also eliminates duplicate telephone and internet services. Overall, Trinity-Horizon calculated it reduced expenses in these categories by 23% in the first year after the merger.
Additionally, there are numerous other operational and administrative areas which produce savings through economies of scale. Although smaller individually than either salaries or facilities savings, these add ongoing value. Altogether, the financial benefits of a successful merger are considerable.
However, along with benefits often come drawbacks. Some former Horizon students must now travel farther to school. To mitigate this inconvenience, carpooling has become more common. For Trinity's families, tuition did rise slightly, although the new school's budget provides for waivers of the increase in cases of demonstrated hardship.
Not an ending, but a beginning
As much as this merger benefitted these two schools, unless it initiated further change it merely postponed the inevitable. Both schools were struggling because they were failing to offer a truly competitive educational product. Adam Smith would have discerned in their dilemma the invisible hand of the marketplace. Unfortunately for these two schools, it had lately been leading many potential families toward schooling options more attuned to their expectations and needs.
A successful merger can give struggling Christian schools both time and resources to remedy some common deficiencies that lead to decline. This next phase is vital, or the previous pattern of decline will likely continue.
The takeaway
My focus in this essay has been on the economic realities of operating a Christian school. In treating Christian schools as businesses, I have in no way intended to diminish them as ministries. The key point is that if Christian schools are not operated well as businesses, they can quickly cease to operate as ministries.
Let me be frank. If a Christian school is trending toward closure, and its leadership unreasonably rejects the idea of a viable merger, they made a decision. They chose to let the school die. Now, I am convinced that in some circumstances the closure of a Christian school may be in accordance with God's will. Those instances should be acknowledged, and it would be folly to even attempt intervention. But I am equally convinced that most closures are the result of human intransigence.
I believe that two human responses are the primary hindrances to Christian school mergers. The first is fear (or indecision, if you prefer). A merger will undoubtedly be difficult and require making some hard choices. However is it not much more traumatic to completely close a school? The second is pride (I won't sugar-coat this one). It can be unpleasant to admit that we need somebody else's help. I submit that it would be a false sense of nobility that would cause one to stubbornly go down with a sinking ship, rather than to send out an SOS to attract a potential rescuer.
My hope is that this essay will serve as a conversation starter for some. I know there are cases where panic, desperation, or even hopelessness has set in at Christian schools. By God's grace, it does not have to remain that way.
---
Larry Nelson is a graduate of Fourth Baptist Christian School (Plymouth, MN), holds a BA in history from the University of Minnesota, and has been employed in banking since 1990. He is a member of a Baptist church in the Minneapolis St. Paul area.
628 reads
12706 reads