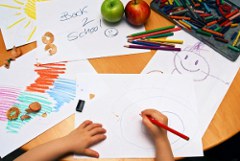 Posted with permission from At Home and School.
When a new demographic emerges, companies begin to find ways to market their products to this budding audience, and entrepreneurs jump at the chance to fill an unexpected gap in the free market.
Home schoolers have been such a demographic. In the early days of home schooling, parents used whatever books they could find, and only a few companies would sell their textbooks to home educating parents. Nowadays, my mailbox and email inbox is regularly stuffed with periodicals, newsletters, and catalogs of home schooling encouragement, resources, and advice.
Yet I must say Caveat Emptor—"Let the buyer beware." Not every website, textbook, catalog, or umbrella school is legitimate, or offers good quality educational materials and guidance. Parents who feel insecure to the task may depend on those they consider to be "experts," but many of these experts are self-proclaimed, and do not possess much in the way of home schooling or business experience. They may be well-intentioned people trying to make some extra money in a tight economy…but let's face it—some are outright scams.
Home schooling parents must apply the same standards of caution and thrift to educational supplies and resources as they do any other major purchase. They must consider if the materials advertised are consistent with their core values, philosophy of life, and worldview, will truly meet the needs of their children, their educational goals, and if the promised results sound realistic. As important as a quality education is to both parents and children, the household budget does impose certain limits.
If you are in the process of deciding whether or not to home educate, or are in the beginning stages of planning to home school, there are some questions you must ask yourself in order to make good choices about methods and curriculum. And you must answer for yourself and your child- not your sister's kids, your best friend's kids, or the expectations of friends and family. If you are contemplating home education because you truly believe it is best for your family, then your family is the lynch pin that will determine every facet of your home schooling lifestyle.
These questions are not exhaustive, but they can help you form an outline that will be useful in guiding your curriculum choices:
Research curricula using reputable books and websites, such as Cathy Duffy's reviews, The Schoolhouse Review Crew, and customer feedback on sites like Christianbook.com, Secular Homeschool Curriculum Reviews, and HomeSchool Reviews.
For help on learning styles and methods, take a look at , available at Amazon.com; posts like How to Homeschool: Determine Your Child's Learning Style at the Weird, Unsocialized Homeschoolers blog; Homeschooling on a Shoestring; and A to Z Home's Cool.
Over the years, information about homeschooling has swollen from a trickle to a flood. Support groups that fit your philosophy or needs, either local or online, are much easier to find. Even local libraries have large collections of home school helps. The market has obviously expanded to meet the demand, but now home schooling parents must exercise just as much wisdom and diligence as ever, if not more, to make wise and frugal educational choices.
[node:bio/susan-r body]
3282 reads