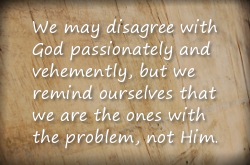 Casting Crowns popularized a song titled, "In Me." Some of the lyrics follow:
How refreshing to know You don't need me.
How amazing to find that You want me.
So I'll stand on Your truth, and I'll fight with Your strength
Until You bring the victory, by the power of Christ in me.
I was impressed at the depth of these lyrics. They serve as a jumping board for my topic: He is God and we are not. Hopefully, these thoughts will serve as a tonic to remedy a popular—but weakened—view of God.
Our Need
The first principle suggested by the song is that God does not need us, but we need Him. The Scriptures are clear on this:
The God who made the world and everything in it, being Lord of heaven and earth, does not live in temples made by man, nor is he served by human hands, as though he needed anything, since he himself gives to all mankind life and breath and everything. (ESV, Acts 17:24-25)
God urges us to serve Him, and His love for us is great; but He does not need us. Your church needs you. The Kingdom of God summons you to loyal service, and your absence affects the Body. But God's throne is assured—with or without your cooperation!
God may not need us, but we desperately need Him. The Bible continues, " 'In him we live and move and have our being' " (Acts 17:28), "in him all things hold together" (Col. 1:17). Our every breath is dependent upon the mercy and grace of God. The universe is held together at His discretion.
Not only do we need God, but we make fools of ourselves if we try to defy Him. If we attempt to hurt Him—to get even with Him because we do not like the way He runs the universe or our lives—we emerge as the real losers. Note the futility of trying to "get even" with God:
The kings of the earth set themselves, and the rulers take counsel together, against the LORD and against his Anointed, saying, "Let us burst their bonds apart and cast away their cords from us." He who sits in the heavens laughs; the Lord holds them in derision. (Ps. 2:2-4a)
Indeed, our puny defiance is comical when contrasted with the majesty of God. "It is he who sits above the circle of the earth, and its inhabitants are like grasshoppers" (Is. 40:22).
God's Love
Yet, despite the fact that God does not need us, He loves us dearly. We perceive His love not on the basis of how we fare in life, but on the basis of Calvary: "but God shows his love for us in that while we were still sinners, Christ died for us" (Rom. 5:8).
Jesus' invitation stands: "Come to me, all who labor and are heavy laden, and I will give you rest. Take my yoke upon you, and learn from me, for I am gentle and lowly in heart, and you will find rest for your souls" (Matt. 11:28-29).
God cares about us. He cares about whether we serve him with zealous hearts, and He becomes angry when we become lukewarm (Rev. 3:16). But He does not need us. He competently managed the universe before we were born, and He'll manage to get by when we are gone.
We never win by resisting God or distancing ourselves from Him in an attempt to get even or register protest. But the Scriptures encourage us to "have it out" with God, as David did in the Psalms. Let us argue our case, as Job did. But let's not cut off our noses to spite our faces. We need God. He doesn't need us. We must not forget that!
Our Likes
A principle not mentioned in any song (that I know of) is this: You do not need to like everything about God to trust Him. Personally, I could list a number of things I do not like about God. I do not like that He consigns people to the Lake of Fire. I do not like that He allows suffering and horrible miseries in lives of relatively decent people. Although there are no "good" people (Matt. 19:17), it is frustrating to see especially evil people prosper while more compassionate people suffer. I do not like the doctrine of election or the teaching that there is only one way to God, Jesus Christ. I do not like these things, but I believe them.
One winter day, I was walking in the church parking lot when I hit a sheet of "black ice." I danced around like a Russian Cossack, but I eventually hit the ground. The law of gravity took me down. I did not like the law of gravity at that point in time, but it just is. I cannot eliminate gravity by refusing to believe in it. What is is. The same is true with God. As He told Moses, He is who He is.
Our theological beliefs are not based on what we want to believe, but rather upon what we understand to be the original intent of the Scriptural authors. The dichotomy between the "religious" and "real" is foreign to Scripture. God is who He is. I am not going to change who He is by redefining Him. My convictions are not something I can alter at will or by a poll—they are based on the infallible Word of God, interpreted with integrity, not on an agenda.
The psalmist in Psalm 73 did not appreciate God's permissive will. He grappled with God's seeming injustice. He eventually processed his frustration and renewed his commitment to walk with God.
For I envied the arrogant when I saw the prosperity of the wicked… This is what the wicked are like —always carefree, they increase in wealth. Surely in vain have I kept my heart pure…When my heart was grieved and my spirit embittered, I was senseless and ignorant; I was a brute beast before you. Yet I am always with you; you hold me by my right hand. You guide me with your counsel, and afterward you will take me into glory. Whom have I in heaven but you? And earth has nothing I desire besides you. My flesh and my heart may fail, but God is the strength of my heart and my portion forever. Those who are far from you will perish; you destroy all who are unfaithful to you. (NIV, Psalm 73:3-27, passim)
Some atheists or agnostics reject God out of emotional bitterness rather than intellectual reasoning. When these folks talk about why they reject belief in God, they are not cold and calculating. Their emotions demand direction toward God, as they express their tirade of complaints: babies dying, natural disasters, horrific tragedies.
How could they be so angry at one they do not believe exists? If you listen between the lines, what you are actually hearing is: "God, I defy You. I hate You. I am not going to believe in You." Some atheism is a cloaked attempt to punish God because the atheists are bitter about the way He runs the universe.
As believers, we too can be emotionally devastated at the things God allows in our lives or in the lives of others. Our choice to believe and work things out with God is the hallmark of God's elect.
Although humans are religious by nature, Paul tells us that it is not human nature to seek the true God, "As it is written: 'None is righteous, no, not one; no one understands; no one seeks for God' " (Rom. 3:10-11).
The true God seems foolish and unattractive to the person who has not been born again: "The natural person does not accept the things of the Spirit of God, for they are folly to him, and he is not able to understand them because they are spiritually discerned." (1 Cor. 2:14).
Because we are sinners, we are hostile toward the true God: "For to set the mind on the flesh is death, but to set the mind on the Spirit is life and peace. For the mind that is set on the flesh is hostile to God, for it does not submit to God's law; indeed, it cannot. Those who are in the flesh cannot please God" (Rom. 8:6-8).
God can work miracles. By means of the new birth (John 3:1-18), He works in our hearts to create faith within us—and He brings us to spiritual life (Eph. 2:1-10). We are drawn to the true God—despite our natural dislike for Him. We begin to love and trust Him. And we learn to accept that He is God and we are not. His ways are higher than ours (Is. 55:8-9). The Lord may seem to delight in confusing us, but we choose to walk through the storms with Him, perplexed but still trusting. We may disagree with Him passionately and vehemently, but we remind ourselves that we are the ones with the problem, not Him.
[node:bio/ed-vasicek body]
4800 reads