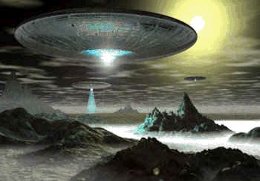 Have you noticed the spike of interest in extraterrestrial beings lately? As scientific evidence for intelligent design continues to defrock the theory of evolution, leading atheists are lining up to concede that life on planet earth may have been seeded by designing aliens. The notion of a creator God is unconscionably irrational, we are told. Apparently the idea of paternalistic aliens should pose no problem for the enlightened.
Whatever contribution aliens may or may not have made in generating life on earth, we ought—so the thinking goes—at least introduce ourselves. Since 1960 scientists in organizations such as SETI (Search for Extraterrestrial Intelligence) have dutifully cupped their technological ears toward the heavens in hopes that aliens will contact us, or that we might at least intercept an errant radio transmission emitting from some extraterrestrial source. Hearing utterly nothing for four decades, NASA retooled in 2001 and began attempting to contact them.1
In theory NASA scientists are searching for planets sufficiently distanced from their respective suns to sustain life as we know it. Once planets are found with sufficient CO2, ozone levels, and isotopes of oxygen to sustain life (per our narcissistic stipulations), mission chief Bill Borucki proposes to create "a probe that can travel near the speed of light and gets there [to an alien inhabited planet], shows us pictures, listens to their radio stations and television stations" and reports back to planet earth (Newsweek, August 24 & 31, 2009, p 51). Curiously, Mr. Borucki assumes an organic link between intelligent life and the existence of television. That's a connection I must confess difficulty in perceiving, but that's another topic.
I draw this information, in part, from an article entitled, "What You Need to Know," followed by 25 short paragraphs, each containing a snippet of essential knowledge for readers anxious to equip themselves for intelligent conversation in today's enlightened world.
The very first paragraph, purportedly divulging must-have information, reads unblushingly: "Aliens Exist."2 The article did not supply a single line of evidence for this bold assertion. "Aliens exist," so the reasoning seems to have it, simply because we are looking for them! The robust self-assuredness of such a wholly unsubstantiated proposition is mind-numbing to say the least—an irrational epistemological leap we must leave untouched here.
In the process of this reading, I stumbled upon a remarkable irony. The same issue of Newsweek included another article suggesting societies that continue to believe in spirit beings (what one anthropologist refers to dismissively as "non-physically present agents") are embarrassingly un-evolved and disproportionately prone to social dysfunction (p. 30). This author implies that America must eviscerate its archaic notion of the presence of demonic spirits. If we do not, we will continue to perpetuate social pathologies that embarrass us before the community of more enlightened nations.
I wish I could arrange a visit for those who embrace such notions with a few missionary friends of mine who serve in less spiritually inhibited parts of the world. An extended visit to these lands would cure the most committed secularist of any notion that demons are a fiction. They exist, and they are not silent. But staying with the matter at hand, these two articles in combination ask rational readers to concede two points: First, enlightened people flit about the universe seeking to tune in to alien radio stations. Second, only knuckleheads predisposed to social malfunction believe in spirit beings. It's an awful lot to ask.
Setting tangible evidences aside—evidences that could well be marshaled to make a strong case for the existence of spirit beings—I will limit my reflections here to written revelation. The Bible says nothing about extraterrestrial beings. Granting for sake of argument the hypothetical possibility that alien creatures exist, they are of no consequence to us, as far as God is concerned. God's word does, on the other hand, reveal the existence of spirit beings. In this unseen cosmic realm, angelic and demonic beings engage in intense spiritual warfare.
God's word through the pen of the Apostle Paul exhorts us to recognize that "We do not wrestle against flesh and blood, but against the rulers, against the authorities, against the cosmic powers over this present darkness, against the spiritual forces of evil in the heavenly realms" (Eph. 6:12). Ironically, this indicates that whether spending their lives trying to contact aliens, or simply ignoring God, atheists remain in the hideous grip of demonic powers who are active participants in a raging spiritual rebellion against God. The atheist's rejection of a Creator God is not owing to lack of evidence (Psa. 19:1-3), but to demonically induced spiritual blindness (2 Cor. 4:4).
This is no cold-hearted attack against atheists. We are all born into a state of spiritual blindness (1 Cor. 2:14). The good news is that Jesus Christ possesses the invincible power and divine authority to liberate people from the bondage of sin by virtue of his sacrificial death in the place of sinners and his bodily resurrection in conquest of death—sin's ultimate penalty (Romans 6:23). By paying sin's penalty in behalf of those who trust him, and by defeating death, Jesus triumphed over the demonic powers of spiritual darkness (Col. 2:13-15). In light of this triumph, the risen Savior is the one we should be trying to contact, and he is there.
Notes
1 Stephen Hawking in a new documentary series on the Discovery Channel says he thinks there are aliens in outer space. He cautions we should not try to contact them because they most likely would seek to conquer us and exploit the resources of our planet before moving on (World, May 22, 2010, p 14).
2 Astronomer, Jesuit priest and director of the Vatican Observatory, Rev. Jose Gabriel Funes, has labored of late to investigate, in his words, "whether life exists elsewhere in the universe." His efforts blend with a call by the Vatican for "experts to study the possibility of extraterrestrial alien life and its implications for the Catholic Church." Professor Chris Impey who teaches astronomy at the University of Arizona thinks the discovery of extraterrestrial life may be proven in a few short years, warning us that the "the implications for our self-image will be profound." Undoubtedly! (Star Tribune, Nov, 11, 2009, A9).
---
Dan Miller has served as the Senior Pastor of Eden Baptist Church since 1989. He graduated from Pillsbury Baptist Bible College with a B.S. degree in 1984 and his graduate degrees include a M.A. in History from Minnesota State University, Mankato, and the M.Div. and Th.M. from Central Baptist Theological Seminary. He is nearing completion of D.Min. studies at Trinity Evangelical Divinity School. Dan is married to Beth and the Lord has blessed them with four children: Ethan, Levi, Reed and Whitney.
6095 reads