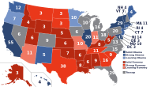 In just over two weeks all the campaigning, debating, advertising and analyzing will be over and it'll all be up the Electoral College.
As a little election-season fun, see if you can guess what the Electoral College result will be.
If you need a little help figuring out a good guess, you might find these helpful: The Electoral College, and 2012 Presidential Election. Post your best guess in the comment section.
Prize: the winner will receive a copy of two books:
The World-Tilting Gospel: Embracing a Biblical Worldview and Hanging on Tight and Fatal Illusions: A Novel
Whoever is closest to the actual electoral vote is the winner. Ties will be drawn from a hat (or similar randomizing tool). The contest is open to all registered SI users (register here), but the Publisher and Moderators, etc. are not eligible for the prize (only bragging rights). The deadline for your "prediction" is midnight, Friday, November 2.
(But don't wait until Nov. 2, to post your guess. You can always revise it until the deadline.)
19825 reads