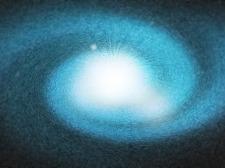 Most of us are familiar with the distinction between facts and the interpretation of facts. Objective facts are often interpreted based upon the worldview, paradigms, assumptions, culture, and even personality of the interpreter. Facts do not change. Our interpretation of facts may.
This is certainly true when it comes to history, but also true when it comes to "science." For example, a young earth creationist interprets the fossil record as suggesting rapid massive burial, probably a result of Noah's flood. An evolutionist looks at the same pile of fossils and says small floods buried them over millions of years.
I don't fault researchers for interpreting facts in light of their accepted models, but I do fault them for presenting their interpretations of the facts as the facts themselves.
Scientists are puzzled at the perfection of the universe and particularly our planet. Planet earth meets the plethora of delicate conditions necessary to sustain complicated life forms — like we humans. Even apart from the issue of how we came to be, the issue of how we can thrive anywhere in the universe is statistically challenging.
The laws of physics are too finely tuned to have been random, and thus they suggest Intelligent Design. Modern paradigms embraced by the majority of the scientific community, however, allow no room for a Creator. Enter the theory of the multiverse — multiple parallel universes.
The idea of multiple universes was developed primarily to "improve the odds." If the known universe could not statistically produce human life by chance, then perhaps such a thing is statistically possible if we had a multitude of universes. We would argue that this does not solve the problem, but merely pushes the problem back a notch; the orderliness of the laws of physics is simply evidence of a Creator (Romans 1:19-20, Psalm 19:1-6).
Quantum physics, according to the renown physicist Michio Kaku, makes it clear that there are 11 or 12 dimensions; if it were not so, the universe would be unstable (source: https://futurism.com/videos/michio-kaku-multiverse-11-dimensions/).
Most of us are familiar with four dimensions: length, width, depth, and time.
Kaku postulates that these other dimensions are likely smaller than an atom, for we see nothing disappear into them. But consider this: they could also be beyond our ability to comprehend.
Although New Age proponents might run with the ball in light of the above — saying, for example, that we visit another dimension in our dreams — Christians have been slow on the take to process the possible implications of these relatively new concepts.
It is possible — but tentative — that scientists are postulating a realm that Christians (and others) have known about for centuries: the spiritual realm. Of course contemporary terminology ("the multiverse") and biblical terminology (the "third heaven" or "paradise," "hell" see 2 Corinthians 12:14, Luke 16:23) are not identical matches, they very well could overlap and encompass multiple universes (e.g., heaven might be more than one universe).
Some modern scientists believe that these parallel universes may occupy the same space as our universe, but subject to different laws of physics. This concept defines how angels, demons, and our Risen Lord can just "vanish" or penetrate through solid objects. These spiritual dimensions might not be influenced by height or depth, just as the fourth dimension (time) is slowed by neither height nor depth.
Is it possible that one of these universes is what we call "heaven" and another what we call "hell?" Why not? And is it possible that our souls, but not our bodies, are capable of entering one of these universes at death?
If so, these parallel universes would correspond to what we typically call "the spiritual realm." Of course, this is only a suggested theory, not a conviction.
This might explain why the Bible tells us so little about heaven, and why it suggests the nature of heaven is beyond our ability to comprehend: "What no eye has seen, nor ear heard, nor the heart of man imagined, what God has prepared for those who love him" (1 Corinthians 2:9). How could one describe unknown dimensions within an unknown universe?
Some postulate that another version of us exists in these other universes, and that our other selves have made choices different from the ones we have made. Personally, I think that idea is completely absurd; someone has been watching too much Star Trek!
Here are a few more questions to consider. Do some aspects of our seen universe correspond (in some way) with another, unseen universe? Are Mount Zion and the city of Jerusalem in some way similar to the heavenly Zion and the New Jerusalem (Hebrews 12:22), for example? Do stars, described by the Bible as the "host of heaven" (Deuteronomy 4:19) somehow correspond to angels in another universe, which are also called the "host of heaven" (I Kings 22:19)? I think so.
When Jesus returns to the clouds, living believers will see their bodies transformed into immortal bodies. First, however, the souls of those with the Lord will be given new resurrection bodies (I Thessalonians 4:13-17). But our new bodies — which are perhaps based upon perfected blueprints of our original bodies — are not merely immortal. They are tailored for the "spiritual realm." Paul writes in I Corinthians 15:44, "It is sown a natural body; it is raised a spiritual body. If there is a natural body, there is also a spiritual body."
Since our permanent state will be soul and (resurrection) body, it is fair to say that this body is physical — but not subject to exactly the same laws of physics to which our current bodies are subject.
So are these recent scientific conclusions merely a case of scientists watching too many science fiction movies, or are they delving into the realm of the spiritual without realizing it?
If it is the latter — without a Biblical worldview to guide them — their conclusions will miss the mark. But, from a Biblically informed position, they may be discovering what we have always known: the universe we see is not all there is.
Then again, new information might cause them to abandon the eleven to twelve dimension viewpoint and trash the multiverse viewpoint. We've seen it before: remember, we were supposed to be entering an ice age?
No matter what nomenclature we use, these facts remain: the spiritual realm is a real realm, and God's creation is so complicated that we must rely upon the special revelation of His Word to accurately grasp it.
2362 reads