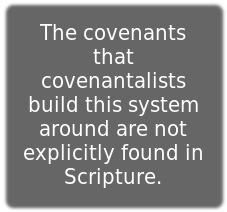 From Dispensational Publishing House; used with permission.
Last time, we began this series by considering the difference between dispensational and covenantal theology. We thought about some basic things that we must understand in order to deal properly with that issue. We begin this article with a brief review.
Covenantalism in a Nutshell
The terms covenantal and Reformed are often used interchangeably. There are dispensationalists who speak of being Reformed, yet the way they use the term Reformed is in respect to salvation, referring to the doctrines of grace. Another might refer to himself as a Calvinist-dispensationalist, but this is a rather awkward phrase, since Calvinism is typically used in the discipline of soteriology, not eschatology. This designation would be used to refer to men like John MacArthur and faculty from his school, The Master's University,1 and others who have embraced the doctrines of grace and who apply a consistently literal hermeneutic, especially in the prophets, while not reading Jesus into every Old Testament verse or giving the New Testament priority.2
When trying to define a system and associate certain teachers with it, there are nuances that make such a feat difficult. For example, James Montgomery Boice was pretribulational3 and premillennial4, yet he also practiced paedobaptism.5 Not all covenantalists are amillennial6 or postmillennial. And not all premillennialists are dispensationalists (e.g., Boice and George Eldon Ladd).
Covenants
In covenantal thought, covenants are the interpretive framework through which to read Scripture. They say the covenants are the theological structure by which the Bible organizes itself. The contention of this author is that though there are several covenants in Scripture (Noahic, Abrahamic, New Covenant, etc.), the covenants that covenantalists build this system around are not explicitly found in Scripture. The first extrabiblical covenant (no malice in saying this) that this system is based on is the covenant of law (or works7). They lodge support from such passages as Deuteronomy 30:15-20. This is the agreement between God and Adam where God promised life for perfect obedience.8
The other covenant (besides those agreed upon by dispensationalists) that they rely on is the covenant of grace (referring to the gospel).9 In this covenant there is agreement between the offended God and the offending sinner. According to Michael Horton in Pilgrim Theology, such a sinner has been "forgiven, justified, and renewed solely on the basis of Christ's person and work."10 Unfortunately, to his chagrin, Horton also says, "These covenants are not always explicitly visible."11
Paedobaptism
A third element of covenantalism, alongside the two covenants, is the water baptism of infants, also called paedobaptism. The esteemed covenant theologian Louis Berkhof, says, "It is on the point of infant baptism that the most important difference is found between us and the Baptists."12 He even admits at the outset that there is no explicit biblical command nor any single instance in the Bible in which we are told that children were baptized. Covenantalists see baptism as a sign and seal that replaces Old Testament circumcision. There are many fine presentations that refute paedobaptism, however.13
The Church, the New Israel
A fourth view that is espoused by covenant theology is that the church is the fulfillment of new covenant prophecy. This is woven into the covenant of redemption.14 For this they see one people of God—not the unique mystery of the church that is revealed by the Paul, the "apostle of Gentiles" (Rom. 11:13; cf. Eph. 3). In order to arrive at this conclusion, they see absolute continuity of believers before and after Pentecost rather than the dispensational view of more discontinuity between the two.
Again, this is a vastly simplified view of covenant theology, but it provides a starting point to show distinctions between it and dispensational thought.
Notes
1 John F. MacArthur, Faith Works (Dallas: Word Publishing, 1993), p. 225.
2 More of these particulars will be augmented later in the series.
3 Pretribulationism teaches that God will remove His church from the Earth (John 14:1-3; 1 Thess. 4:13-18) before pouring out His righteous wrath on the unbelieving world during seven years of tribulation (Jer. 30:7; Dan. 9:27; 12:1; 2 Thess. 2:7-12; Rev. 16).
4 Premillenialism teaches that Jesus Christ will return to earth and rule with His saints for a thousand years. This is a time where He lifts the curse He placed on the earth and fulfills the promises given to Israel (Isa. 65:17-25; Ezek. 37:21-28; Zech. 8:1-17), including a restoration to the land they forfeited through disobedience (Deut. 28:15-68).
5 Paedobaptism is the practice of baptizing infants or children who are deemed not old enough to verbalize faith in Christ.
6 Amillennialism is the belief that the thousand years referenced by John in Revelation 20 are not a literal, specific time.
7 A brief treatment of the covenant of works is found in R. C. Sproul's What Is Reformed Theology? (Grand Rapids: Baker Books, 1997), pp. 111-13.
8 Westminster Confession of Faith, 7.2, in Trinity Hymnalf (Atlanta: Great Commission Publications, 1990), p. 852.
9 Sproul, What is Reformed Theology?, pp. 113-16.
10 Michael Horton, Pilgrim Theology (Grand Rapids: Zondervan, 2011), p. 160.
11 Ibid., p. 60.
12 Louis Berkhof, Systematic Theology (Grand Rapids: Eerdmans Publishing Company, 1996), p. 632.
13 See the baptism class at Biblical Expositor, which presents a Biblical, theological and historical case for believer's baptism. "Baptism Class," <http://www.biblicalexpositor.org/site/outlines.asp?sec_id=180007636&secu… Internet; accessed 2 June 2016. Furthermore, professors Henrick Stander and Johannes Louw, recognized authorities in Patristic studies, give irrefutable evidence that paedobaptism was not the practice of the early church. See their work Baptism in the Early Church (England: Reformation Today Trust, 2004).
14 Sproul, What is Reformed Theology?, pp. 114-15.
---
Parker Reardon is a graduate of Word of Life Bible Institute, Pensacola Christian College and The Master's Seminary, where he received a doctorate in expository preaching. He is currently serving as the main teaching elder/pastor at Applegate Community Church in Grants Pass, OR, and as adjunct professor of theology for Liberty University and adjunct professor of Bible and theology for Pacific Bible College.
677 reads
14347 reads