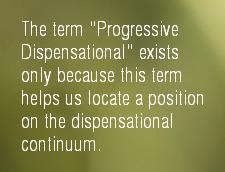 If there were a line between Traditional Dispensationalism and Progressive Dispensationalism, I suspect I would be barely over that line. But there is no line. The relationship between Traditional Dispensationalism and Progressive Dispensationalism is anything but clear cut.
Although the Traditional Dispensational camp views the Progressive Dispensational position as a compromise or infringement upon the clarity of its divisions, modern Traditional Dispensational interpreters often interpret passages using the basic principles of Progressive Dispensationalism—either without recognizing it or without admitting it.
The Progressive Dispensational Hermeneutic Is Commonly Found in Traditional Dispensationalism
In a nutshell, the Progressive Dispensational hermeneutic takes the promises Yahweh made to Israel and understands them (as much as possible) as they might have been originally understood.
At the same time, the Progressive Dispensationalist observes how the New Testament writers used the Old Testament Millennial prophecies to relate (in some way) to the church age (like Romans 15:8-10). The promises made to Israel are understood in a natural sense as applying to ethnic Israel, but the promises made to ethnic Israel are also understood—in a less literal sense—as sometimes applying to the church age.
Whereas Traditional Dispensationalism has to frequently do hermeneutical gymnastics when addressing the use of the Old Testament in the New, the Progressive Dispensationalist accommodates this use and forms its hermeneutic based upon it.
What we now call "Progressive Dispensationalism" has been innate within Traditional Dispensationalism for many decades, and represents a nuancing of Traditional Dispensationalism, not a rejection of it.
Sometimes the Traditional Dispensationalist—in an attempt to defend his position—uses the straw man fallacy to characterize Progressive Dispensationalism. This is the same technique some Covenant Theologians use to denounce dispensationalism in general. For example, some early dispensationalists taught the people were saved by keeping the Law in the Old Testament, but are saved by grace in the New Testament. This is certainly not the view to which most dispensationalists subscribe, but such a straw man view is easy to refute and even mock. Thus, adversaries of dispensationalism assert that all forms of dispensationalism are ridiculous based upon the straw man fallacy. Dispensationalists sometimes refute Covenant Theology in the same way—pointing to the behavior of the Puritans who advocated burning witches.
One Continuum
Because there is a spread of beliefs among Progressive Dispensationalists, Traditional Dispensationalists tend to lump all Progressives Dispensationalists into the same group with those who lean more closely to a Covenant position. In reality, both Traditional Dispensationalism and Progressive Dispensationalists represent a continuum—a range of perspectives. I will argue below that they share the same continuum.
In general, many Progressive Dispensationalists differ only slightly from the Traditional Dispensationalist perspective. The Progressive Dispensationalist sees both a literal interpretation of Old Testament promises to Israel and a secondary, spiritual application to church age believers. Many Progressive Dispensationalists are Pre-tribulational (like Robert Saucy and yours truly), but, unlike Traditional Dispensationalists, Progressive Dispensationalists can accommodate all positions on the rapture. Since Progressive Dispensationalism is not tied to the rapture question, it does not rise or fall on this issue—as does Traditional Dispensationalism. Its main focus is God's faithfulness to Israel and His ongoing program in the current form of the Kingdom (the church)—not the timing of the rapture.
Most Traditional Dispensationalists use a Progressive Dispensational Hermeneutic Without Recognizing It
Are you a Traditional Dispensationalist and yet believe that church age believers are, in some sense, under the New Covenant spoken of in Jeremiah 31:31-37? If so, congratulations. You are using a Progressive Dispensational hermeneutic to reach that conclusion.
Do you believe that the prophesy of Joel 2:28-32—in some sense or another—was partly fulfilled on the Day of Pentecost in Acts 2:14-21? If so—once again—you have used a Progressive Dispensational hermeneutic.
Was the Sermon on the Mount presented only to the Jewish believers at the time (or only for end time Israel), or was it intended for all believers of all time? If the latter, how do you account for the sermon mentioning leaving a gift at the altar? If you believe the Sermon on the Mount applies to all of Jesus' disciples—but you consider yourself a Traditional Dispensationalist—you have used a Progressive hermeneutic to get there!
Does Progressive Dispensationalism Really Exist?
The term "Progressive Dispensational" exists only because this nomenclature helps us locate a position on the dispensational continuum. But even the term Progressive Dispensationalism represents a range, not a specific point. The term should not be necessary: Progressive Dispensationalism is simply Dispensationalism of a more complex kind.
At the far left (which represents a starting point, not a political statement), we would find hyper-dispensationalists (who believe that only the writings of Paul are relevant to the church age), then many of the older dispensationalist who believed (1) that salvation was once by Law but now by Grace (2) Christians are not under the same New Covenant spoken of in Jeremiah, and (3) the Sermon on the Mount has no relevance to the New Covenant believer. As we move further right, we find some dispensationalists who embrace a Progressive Dispensational hermeneutic here and there—perhaps recognizing that we are under the New Covenant of Jeremiah 31, but rejecting the notion that Acts 2 is a prophetic fulfillment of Joel (they might say Joel is quoted merely as an illustration).
As we move further right, we move to a position where many modern Traditional Dispensationalists have set up camp in recent decades, namely: salvation by grace as the norm in both testaments, recognizing that New Testament believers are truly under the New Covenant (although certain aspects are futuristic), the Sermon on the Mount is intended for church age believers, and Joel 2 has something to do with Pentecost. This hermeneutic—if carried out consistently with other passages—would land us smack dab in the middle of the Progressive Dispensational camp.
A Better Approach
In my opinion, all believers who recognize that God will exalt, and grant special status to, the nation of Israel in the future during a literal Millennium should be thought of as part of the dispensational camp. God's faithfulness to Jacob—and God's very integrity—should be the main issue. God is either sovereign or He is not. If He is sovereign, He does not need to pull a switcheroo by redefining clearly understood terms: by Israel, He means Israel. But He is always free to extend His blessings beyond Israel. He may add to His promises, but He does not subtract from them.
If yesterday's Traditional Dispensationalists ostracized those who deviated from their paradigm, almost all modern Traditional Dispensationalists would have a strange qualifier before their name, too. Perhaps it might be, "Occasionally Progressive Dispensationalism." The trend within Traditional Dispensationalism is toward Progressive Dispensationalism, and Progressive Dispensationalism has long been latent within Traditional Dispensationalism.
7121 reads