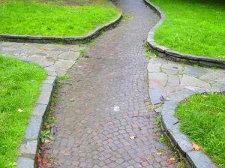 (From Think on These Things. Used by permission.)
Discernment, one would think, is an extremely positive quality. In a world with incalculable numbers of voices calling us to travel many different directions, discernment is invaluable. However, when used by those involved in spiritual formation, discernment is defined as the discipline that enables one to know when a person has supposedly heard the voice of God.
Spiritual formation leaders do not question that God speaks to us today apart from Scripture, but they do believe that since God is speaking there has to be a means whereby we can discern the voice of God from our own thoughts.
Adele Ahlberg Calhoun writes in her Spiritual Disciplines Handbook, "Discernment opens us up to listen to and recognize the voice and patterns of God's direction in our lives."1 Ruth Barton further explains,
Discernment is a quality of attentiveness to God that is so intimate that over time we develop an intuitive sense of God's heart and purpose in any given moment. We become familiar with God's voice—the tone, quality and content—just as we become familiar with the voice of a human being we know well.2
Christian psychologist Larry Crabb believes he has learned the art of listening to God and proposes to let us in on what he has discovered in his book The Papa Prayer, "Sometime, though never audibly, I hear the Father speak more clearly than I hear the voice of a human friend."3 And influential pastor John Ortberg adds, "It is one thing to speak to God. It is another thing to listen. When we listen to God, we receive guidance from the Holy Spirit."4
As we contemplate the subject of discernment it is important that we determine whether or not God does speak to Christians today outside of the Scriptures themselves. This is hardly an issue pertinent only to the Spiritual Formation Movement. As a matter of fact modern day revelations (or lack thereof) from God are one of the most hotly debated topics within evangelicalism today.
Despite the fact that the majority of conservative evangelical Christians since the Reformation have held to a cessationist (that present day revelations from God no longer take place) position with regard to Divine revelation, true cessationists are rapidly disappearing. In the articles and books I have written nothing has evoked as much criticism and anger as my position that God is speaking to His people today exclusively through Scripture. Due to the influence of a multitude of popular authors, theologians and conference speakers, cessationism is barely treading water, even within the most biblically solid churches and organizations. As a matter of fact, among those who claim to be evangelicals there are five identifiable views prevalent today on the matter of revelation:
Five identifiable views
1. Pentecostal/Charismatic/Thirdwave
All miraculous gifts exist today, including the gift of prophecy. God speaks through prophets and to His people both audibly (through dreams, visions, words of knowledge), and inwardly (inaudibly in the mind or heart). Representatives of this position are Jack Deere, John Wimber, the Kansas City Prophets, the Assemblies of God and the Word of Faith movement. Charismatic author Tommy Tenney, in his popular book The God Chasers, writes,
God chasers…are not interested in camping out on some dusty truth known to everyone. They are after the fresh presence of the Almighty… A true God chaser is not happy with just past truth; he must have present truth. God chasers don't want to just study the moldy pages of what God has done; they are anxious to see what God is doing.5
2. Classical Mysticism/Spiritual Formation
Through the use of various disciplines and spiritual exercises, God will speak to us both audibly and inaudibly. Dallas Willard and Richard Foster are two such examples. Willard, a leader within the Spiritual Formation Movement, recently updated a previous book renaming it Hearing God, Developing a Conversational Relationship with God. The thrust of his book is that we can live "the kind of life where hearing God is not an uncommon occurrence, [for] hearing God is but one dimension of a richly interactive relationship and obtaining guidance is but one facet of hearing God."6
In other words, the maturing Christian should expect to hear the voice of God on a regular basis, independent from Scripture, and that voice will reveal God's individual, specific will for his life. Such personal communication from the Lord, we are told, is absolutely essential because without it there can be no intimate walk with God.7 And it is those who are hearing from God today, in this way, who will redefine "Christian spirituality for our time."8
3. Evangelical Mysticism
God is speaking to Christians regularly, mostly inaudibly through inner voices, hunches, promptings, feelings and circumstances (examples: Henry Blackaby and Beth Moore). Southern Baptists ministers Henry and Richard Blackaby wrote Hearing God's Voice to "teach God's people not only to recognize his voice but also immediately to obey his voice when they heard it."9 They promise that "as you spend time with Jesus, you will gradually come to recognize his voice more readily than you did at first… You won't be fooled by other voices because you know your Lord's voice so well."10 And, once you have figured out when God is speaking to you, "write it down in a journal so you can refer back to it as you follow him."11
In this category could be placed the New Calvinists or Calvinistic Charismatics such as John Piper, Wayne Grudem, Mark Driscoll and C. J. Mahaney. Their followers are sometimes called the young, restless, and Reformed. Mark Driscoll, who often claims extra-biblical revelation, dreams, and visions from the Lord, documented four such events in his recent book Real Marriage. He writes,
[W]hen God spoke to me, I had never experienced anything like that moment. God told me to devote my life to four things. He told me to marry Grace, preach the Bible, train men, and plant churches. Since that day in 1990, that's what I have been pursuing by God's grace.12
Matt Chandler would be on page with this idea. In his popular book The Explicit Gospel Chandler writes, "He [God] speaks to us in dreams and in visions and in words of knowledge—but in no way that runs contrary to Scripture."13
Long time Southern Baptist pastor, Charles Stanley is of the same opinion. In a recent interview with Christianity Today he is asked about his frequent references to God speaking to Him. He responded by mentioning a time that very week when God said to him, "Don't do that." He claims that he does not hear an audible voice "but it's so crystal sharp and clear to me, I know not to disobey that."14
4. Cessationist
All miraculous gifts, including prophecy, have ceased (examples: the IFCA International, John MacArthur and Charles Ryrie). The Westminster Confession states well the historic cessationist position,
The whole counsel of God concerning all things necessary for His own glory, man's salvation, faith and life is either expressly set down in Scripture, or by good and necessary consequence may be deduced from Scripture: unto which nothing at any time is to be added, whether by new revelations of the Spirit, or traditions of men.15
5. Cautious, but Open
Those holding this position are skeptical of prophetic claims and the majority of inaudible experiences. But they do not want to "put God in a box" and therefore are cautiously open to the possibility of additional revelation from the Lord today, although they are not certain how this works or how to identify God's voice. Nevertheless, they are afraid to limit the power of God and fear that they might be missing out on a close personal relationship with the Lord if they do not allow for the possibility of God speaking today apart from Scripture (examples: most Christians).
(Next: A closer look at modern revelations)
Notes
---
Gary Gilley has served as Senior Pastor of Southern View Chapel in Springfield, Illinois since 1975. He has authored several books and is the book review editor for the Journal of Dispensational Theology. He received his BA from Moody Bible Institute. He and his wife Marsha have two adult sons and six grandchildren.
1495 reads
8463 reads