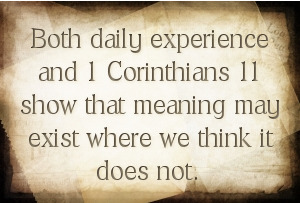 A river in China features a warning sign for visitors. Thoughtfully, the authorities included this helpful English translation: "Take the child. Fall into water carefully."
It is possible to intend one meaning and yet convey a very different one! In other words, a medium (vehicle of meaning) may "contain" meaning we do not realize is there. And use of that medium may also send a message we do not realize is being sent.
This phenomenon has important implications for the debate over cultural conservatism ("styles" or "forms" of music, dress, speech, etc.) and the sub-debate over the fitness of styles of music for worship. Many involved in the debate seem to reason that since they do not intend any meaning by the style they are using, and they are not aware of any meaning, therefore no meaning exists and none is being conveyed. Are they right?
The case of Corinth
Before we turn our attention to the implications of accidental cultural meaning, we should pause and consider another question: does the Bible teach that styles have meaning—intended or otherwise? It does, and 1 Corinthians 11 contains an example. In this passage, not only does a medium convey meaning, but the meaning conveyed is not what some of those involved intended.
I anticipate two objections. Objection one: "Wait. 1 Corinthians 11 is one of the most famously difficult passages in the NT. You're going to make your case from there?" Objection two: "There is nothing about styles in 1 Corinthians 11."
Styles
Taking the second objection first, whether there is anything about styles in the chapter depends on what we mean by "styles." An artist always works with a medium. Whether it's clay, stone, paint, words, physical movement, music or a combination of these, most artists believe they are using a medium to carry meaning to a recipient. Language works the same way. In a people group or geographical region, spoken and written word is a medium for communication. People share enough of the same understanding of words and phrases to use them and understand one another.
This is why the river sign in China is a fail for English speakers. Between the sign makers and native English speakers, there is too little shared understanding of the medium. (Interestingly, most would agree that one of the two parties understands the medium incorrectly. It isn't simply a matter of preference.)
When it comes to "style," we're just talking about another medium. Fashion designers have long held that the style of their work conveys meaning (the Wikipedia entry on fashion is interesting on this point). This is the very definition of a medium. In Webster, it's "a means of effecting or conveying something." And who can deny that the police officer's uniform, the clown's getup, the judge's robes, the sports-fan's jersey, and the bride's gown all convey very different meanings? The fact that styles are mediums of meaning surrounds us every day.
So, while the concept of styles does not appear specifically in 1 Corinthians 11, the category of mediums does, and style is in that category. To say it another way, style is a species of the genus medium. What is true of the genus is true of the species.
Difficulty
The second objection was this: Should we use such a difficult passage to make the point that in Scripture style has meaning? In this case, the difficulty turns out to be irrelevant. Regardless of how one interprets the most difficult parts of the passage, two things are clear:
In Corinth, the presence or absence of a head covering meant something.
Some of the Corinthians were conveying that meaning without realizing it.
These points hold, regardless of whether one understands the head covering to be hair or a veil or something else. The most germane part of the text follows:
But I want you to understand that the head of every man is Christ, the head of a wife is her husband, and the head of Christ is God. Every man who prays or prophesies with his head covered dishonors his head, but every wife who prays or prophesies with her head uncovered dishonors her head, since it is the same as if her head were shaven. For if a wife will not cover her head, then she should cut her hair short. But since it is disgraceful for a wife to cut off her hair or shave her head, let her cover her head. For a man ought not to cover his head, since he is the image and glory of God, but woman is the glory of man…. That is why a wife ought to have a symbol of authority on her head, because of the angels. (ESV, 1 Cor. 11:3-7, 10)
Whatever else may have been amiss in Corinth, it's evident that their problems included misconduct with head coverings, that this misconduct conveyed inappropriate meaning (note the question in 11:13, "Is it proper…?"), and that they were not all aware of the meaning they were conveying ("but I want you to understand," v.3).
For Paul, the solution to the problem was to make the Corinthians aware of the meaning their head covering, or lack of head covering, conveyed. The medium of the head covering meant something in Corinthian society. In that context, it apparently even meant something to "the angels" (v. 10).
Implications for the cultural conservatism debate
If a medium can contain meaning we're unaware of and convey that meaning to others, what are the implications for the culture debate in general and music styles in particular?
We don't have proof here that a blue grass twang conveys important differences in meaning from a pipe organ, that bluesy chord progressions convey important differences in meaning from classical chord progressions or that modern syncopated rhythms convey important differences in meaning from the simpler rhythms of high hymnody.
However, both daily experience and 1 Corinthians 11 reveal that meaning may exist where we think it doesn't. Whether our convictions lead us toward traditional or more contemporary "styles," the phenomenon of accidental meaning calls on us to think soberly about our stylistic choices. We really can "say things" through style that we don't intend to say.
[node:bio/aaron-blumer body]
15572 reads