Is Congregational Voting Biblical?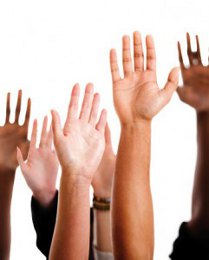 For most of us, voting is a common experience. Many vote for our government representatives and, if we are involved in civic groups, we may vote in them as well. Voting is a means by which we express self-determination. "We the people" have the privilege and duty to help choose our future directions.
Voting is also how most congregations make their most important decisions. In Episcopal-style churches, the congregation votes on large purchases and on who will serve in various leadership positions. In "representational" churches, such as Presbyterian and American Lutheran, the congregation vote on leadership appointments, large purchases, and other membership matters. Independent churches such as Congregational, Baptist, or Bible churches vote on budgets, leadership appointments, large purchases, committee appointments, doctrinal changes, and membership matters. Voting is a common practice in most congregations, granting members a voice in the church's affairs and decision making.1
It is widely assumed that voting in church is biblical, or if not biblical, a matter of freedom. Many believe it provides safety for the congregation and is a good way to build consensus in the church. In fact, have you ever read anything to the contrary? I struggle to think of anything in print that calls into question a practice so commonplace in our churches. It's not like anyone is debating the practice voting in our churches, or even our synods, assemblies, presbyteries, conventions, conferences, etc.
Just as we vote in church we also claim to follow the Bible. Our doctrinal statements and constitutions are up front about this. Most churches claim something similar to the following:
This church accepts the canonical Scriptures of the Old and New Testaments as the inspired Word of God and the authoritative source and norm of its proclamation, faith, and life.2
But we all know it is one thing to claim that our church accepts the Bible as authoritative over "proclamation, faith and life," and another to live it out. That excellent statement you just read comes from a Lutheran denomination that debated and voted at their 2009 convention to ordain openly homosexual men and women to the office of elder. That was a truly sad event. Claiming the Bible led them, they voted against the Bible.
My recent book, [amazon 1453831274], examines the matter of voting in the light of Scripture, because neither Paul nor his protégé Titus led churches or appointed leaders with votes. The difference is surprising since this is how we who live 2,000 years later would have expected an apostle and his protégé to lead churches. So it's worth repeating. Paul and Titus didn't use votes in church. The reason is deftly simple. They were serving God's redeemed people, not an agenda. Titus was on Crete as a shepherd with a heart of compassion for hassled and distressed sheep. He came to build the church, not coalitions.
So like the Lutheran statement says, we profess Scripture's authority over our faith and practice. That being the case let's take the opportunity in this chapter and the next to apply Scripture to the practice of church voting. It's a major part of church practice and affects everybody, even those who don't participate. I start with an awkward lunch I had once with an area pastor.
"We vote as often as Jesus and the apostles taught us to."
Several years ago the pastor of a medium sized Baptist church (GARBC) and I got into a discussion about voting and its role in church. Like many Baptist churches, his holds firmly to the inspiration and inerrancy of the Bible. Indeed, the very first declaration in their doctrinal statement is this: "We believe that the Holy Bible is…the only, absolute, infallible rule for all human conduct, creeds, and opinions." That put us on the same page, theologically speaking.
While talking over coffee he shared they were going through some dark days with congregational infighting and distrust of the leadership. Within the past few weeks, he and the other elders had been out voted by the congregation at the annual meeting, and people were leaving.
He went on to explain that he and his fellow elders thought they had prepared themselves for a small amount of conflict at the meeting. They had their talking points down and believed they were ready to lead the congregation into a building project. However, the church meeting turned sour when budget issues and the building project were raised. Some members were upset about friends who had recently left the church with unresolved complaints about the leadership. My pastor friend had been chosen as the elder to address that issue, and he tried to explain the situation to everybody's satisfaction. But instead his answers only led to more questions.
He was confronted with a Catch-22 situation: either give detailed answers to the church about private matters, or explain his unwillingness to share details and leave the voting members dissatisfied and possibly upset enough to vote down the budget. To his own regret, he admitted that he went too far trying to satisfy the people in the hopes of getting the vote passed. He felt he shared too much in explaining the problems of the people who had left and how the elders viewed it. His indiscretion also hurt the subsequent vote. The meeting ended with a series of votes defeating the proposals laid before the congregation by the elders. The pastor told me that people were now distancing themselves from the elders, that distrust was increasing, and folks were leaving.
Eventually I asked him how he felt the situation reflected the Bible's teaching on church practice and voting. He fell silent. I suggested that votes aren't really necessary in a healthy church, and can even bring disunity. He looked at me quizzically, because he believed they produced unity. It was then that I dropped what was, at least for him, a bomb. I told him that we don't hold votes in our church. He again looked at me, completely taken back. He pushed back from the table, tilted his head to one side, and squinting his eyes looked at me with something close to disdain. He had never heard of a church that didn't vote.
His reaction caught me off guard, so I explained our position this way: "We do church votes as often as Jesus and the apostles taught us to." A wry smile crossed his face as he went through his mental concordance searching for every verse on church voting. He quickly admitted that neither Jesus nor His apostles ever taught Christians to vote, but claimed that voting in the church is a morally neutral practice. "Oh?" Given the agony his ministry was going through, now I was the one who pushed backed—tilting and squinting.
Taking the opportunity, I explained that there is only one reference to voting in the entire Bible, and that one reference is far from neutral. It is Paul's vote that helped put Stephen, the first martyr, to death (Acts 26:10). His vote was murderous and resulted in the first martyrdom in church history. "If voting were morally neutral," I asked him, "then why would Paul confess his vote as sinful?"
Of course there are such things as morally neutral practices, such as the time church should start on a Sunday morning, the color of the carpet, and a thousand other matters. Each local church is free to judge that for themselves. There is even a word for such neutral practices: adiaphora. But voting is not adiaphora since it allows for disunity in the body and can lead to apostasy.
I believe the church is built on the teachings of His apostles and prophets (Eph. 2:20, 3:5), Christ Jesus Himself being the cornerstone. Yet neither Christ nor a single apostle initiated a church vote, taught a church to vote, or encouraged a church vote. Not once, not ever. What shall we make of this? Were they stupid? Or worse, do we now know 2,000 years later a better way to make church decisions than our Lord and all of His apostles?
They certainly knew how to vote—all it takes is the raising of a hand. But they built every local church with godliness and unity. Under the pure and wise guidance of God they wrote inspired letters to churches that form the content of our faith. These teachings do, indeed, reflect what my friend's Baptist church's doctrinal statement says: "the only, absolute, infallible rule for all human conduct, creeds, and opinions." If we believe that, and Scripture doesn't teach us to vote, why do it? In fact, when apostles encountered churches that used practices like voting they revamped them so they would obey Scripture. This is the kind of thing that happened to Crete's churches (Titus 1:5). Apostolic ministry to dysfunctional churches began at the level of polity, radically altering them from the top down in order to makes them healthy, unified, and safe.
My pastor friend didn't stay much longer at that church. Sadly, things got progressively worse for all. The disunity eventually affected the leaders as well as the rest of the membership, and in sadness and distress, he moved far away to lead another church with the same voting polity.
Notes
1 For further information on church structure, see Frank S. Mead, Handbook of Denominations in the United States, 10th ed., (Nashville: Abingdon Press, revised 1995).
2 "Constitutions, Bylaws, and Continuing Resolutions of the Evangelical Lutheran Church in America," 19. Reference from online edition, current as of August 2009, (accessed November 11, 2009) at http://www.elca.org/Who-We-Are/Our-Three-Expressions/Churchwide-Organiza….