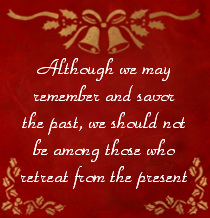 "God Rest Ye Merry Gentlemen" is one of my favorite Christmas carols. In Scripture, God not only permits us to be merry, He encourages it. Sadly, when Christians focus on some truths while ignoring others, joy and merriment often suffer.
It is true that Christmas is a man-derived holiday. Although the birth of Jesus was divinely enacted, celebrating that birth is nowhere commanded in Scripture. But neither is it forbidden.
It is also true that the Paul's command to "Rejoice in the Lord always" (Philippians 4:4) is not primarily about merriment, yet His command to focus on the good things of this life (Philippians 4:8) implies enjoying more than the spiritual.
Proverbs 15:15 tells us that, if our hearts are cheerful, life is like a party: "All the days of the afflicted are evil, but the cheerful of heart has a continual feast."
Proverbs 17:22 says, "A joyful heart is good medicine, but a crushed spirit dries up the bones."
The Hebrew word for gladness or joy is simcha (pronounced with a hard ch, as in Bach). The word came to be used for a celebration, as Wikipedia states:
Jews often use simcha in its capacity as a Hebrew and Yiddish noun meaning festive occasion. The reason for it is that any celebration is a happy occasion. The term is used for any happy occasion, such as a wedding, Bar Mitzvah, Brit Milah [circumcision] or engagement.
Christmas and New Year's are times of celebration, and during this season we need to enjoy each simcha that comes our way. But that is not always easy. Sometimes the "Ghosts of Christmas Past" get in our way.
Christmas is a time-marker, and it seems like the time vacuum can draw us inward during the holidays. The season can be especially difficult for those who have suffered significant loss. Such experiences must be—melancholy times are important to work out grief and adjust to what we have lost. Some years, it may be hard to find much joy in the holidays, but we should not give up.
Some of us with some mileage remember the joy of watching our children hurriedly unwrap their Christmas gifts. "Where has the time gone?" we wonder. It seems as though the ghosts of Christmas past won't let go.
Adjusting to change (especially loss) is the hallmark of people who describe themselves as "happy." Transitions, however, can be excruciating. Even those who do adjust need time to do so. It is okay if a Christmas season or two seems uninviting.
Our nation's economy crashed in 2008, and maybe we exchanged a great job for a lesser one—or more demands are made of us at work. Divorce may have broken our family. A loved one has turned away from the faith. We are forced to move, or loved ones relocate. A daughter or granddaughter is pregnant out of wedlock, or a son or grandson has fathered a child out of wedlock. Finances have become tighter. We have aches and pains we didn't used to have—or severe pain or ailments. A disease has taken hold on us and holds us back like a ball and chain. A good friend announces he is gay. The empty chair at the table reminds us of a departed loved one. We may experience these or other losses we never thought we would experience.
Disciples are human, and becoming deeper in the Lord does not deplete our humanity. Some years, we just may have to "sit out" and let time pass as we recover from life's traumas. But we eventually must move on rather than get bogged down by the ghosts of Christmas past.
Although we may remember and savor the past, we should not be among those who retreat from the present via the past. Even if life is not as good as it used to be, we can still walk in the present with our God. We should do this for several reasons.
First, God is forever contemporary.
God's personal name, translated "LORD" in the Old Testament, is actually the Hebrew word, "Yahweh." This name is a form of the verb, "to be" and teaches us that God is "the One Who Is." In Revelation 1:4, John elaborates on the meaning of God's Name (in my opinion), where he describes God as "… him who is and who was and who is to come." God is timeless.
We get older as the days go by; God does not. Some of us remember dialing a rotary phone or typing up computer keypunch cards. But God's ways are never obsolete, never out of date. He is always the same yet never passé. You are getting older: God is not.
Second, new memories wait to be made.
If you get trapped in grieving the loss of what you once had for too long, you will fail to make new memories. Do not compare your current status to the past. Ecclesiastes 7:10 reads, "Say not, 'Why were the former days better than these?' For it is not from wisdom that you ask this."
Third, others need to rejoice.
We need to remember that younger generations need to enjoy the holidays. We should add to the joy of the holidays, not spread gloom. As adults, we will never enjoy Christmas as we did when we were children. But our children can and should. Older adults need to remember how they thought when younger—or, if their memories are poor, to believe those who are younger!
Fourth, the future requires attention.
God's Word challenges us to look toward the future. Paul wrote, "Brothers, I do not consider that I have made it my own. But one thing I do: forgetting what lies behind and straining forward to what lies ahead." God has future plans for us, no matter what stage of life we find ourselves.
So this Christmas season, decide to approach the holiday as a simcha. Solomon tells us that there is "there is a season and a time for every matter under heaven… a time to weep and a time to laugh; a time to mourn and a time to dance" (Ecclesiastes 3:1, 4). Christmas is a time to be merry. Some of us need to be merry intentionally—it is not just going to flow without determination. That's okay. But even if your year hasn't been the best, you have permission to be merry this holiday season.
Merry Christmas! Don't let the ghost of Christmas past steal your Christmas and New Year's simcha.
[nod:bio/ed-vasicek body]
1684 reads