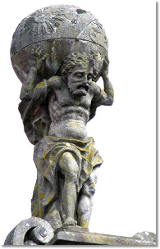 Mythology is everywhere (see Part 1), and there are biblical reasons that Christians should not necessarily break out in hives when they encounter mythology (see Part 2). The good news is that there can be much more to the Christianity-mythology relationship than narrow-eyed tolerance. There are numerous practical benefits to having a good understanding of mythology.
1. Meeting historical/cultural expectations
Knowing where we came from is just part of being an educated person. As one pastor has pointed out, we expect grade school students in Maryland to learn Maryland history—so as heirs of Hellenic and Latin civilizations, we owe it to ourselves to be somewhat knowledgeable about Greco-Roman culture.1 It's simply our history.
We also have a Judeo-Christian history, but let us learn both instead of gravitating towards one over the other. Neither let us pretend that Christian history is pristine compared to the stories of polluted pagan mythology. Biblical history is nothing more than stories of God's salvation of pagans.
One could argue that we are to be counter-cultural, and that is true in a certain sense. But being counter-cultural does not mean that we have to counter everything.2 At times, Paul argues from both creational and cultural norms.3 Creational norms are fixed, but there are also acceptable cultural reasons for acclimating ourselves to our surroundings. We may not like some aspects of our culture, but we should be educated in the culture that we find ourselves in.
2. Understanding other literature
In connection with being an educated citizen in the West, a knowledge of mythology aids our understanding of great literature. Like it or not, mythology has formed the base of virtually every civilization, and as each civilization has developed its own literature, that mythology is often at the core of its classics. Students of Western literature (pretty much all liberal arts students to various degrees) likely begin their studies with Homer. Greek drama follows, and Dante, Shakespeare, and Milton are among the other staples, all loaded to the gills with mythos.
Furthermore, as I noted in Part 2, the Bible itself is filled with references to mythology. As one blogger put it, "Paul had studied Greek mythology thoroughly, and he was therefore able to lead the people of Athens to Christ because he was an informed person, not an ignorant person. (The Greek gods are referred to in Scripture by name in the book of Acts, so your understanding of Scripture also hinges on your ability to understand the culture in which Scripture was written.)"4
3. Interpreting genres
As a book filled with God's words, the Bible demands careful interpretation, and interpreting genre—an important skill, especially for Christians—doesn't have to be an impossible task. For example, when we read in Revelation 5 that Christ is a slain lamb with seven horns and seven heads, we can assume that it's a figurative description. And when similar descriptions appear throughout the entire book, it is safe to say that much of it is figurative as well. R.C. Sproul explains that consistency in this area means that if we want to claim that Revelation is essentially literal, we should not turn around and try to interpret the locusts in Chapter 9 as attack helicopters. A literal interpretation means that locusts are locusts.
However, even mentioning different kinds of interpretation makes some Christians nervous. One concern is that if we take parts of the Bible figuratively, there's nothing to stop us from sliding down the slippery slope and questioning the literalness of the creation story, the parting of the Red Sea, Christ's incarnation and resurrection, etc. Interestingly, this is where an understanding of mythology helps us guard against wrong interpretations. Knowing what mythology is helps us recognize what the Bible isn't.
Rudolf Bultmann (mentioned in Part 2) was one of those who had a hard time distinguishing mythology from biblical history. Bultmann was "a German New Testament scholar who…developed a radical method of Biblical interpretation. For him, the gospel message has meaning only when it brings meaning as an event to the individual through a decision made in faith. When the Bible speaks in this way, it is kerygma [useful preaching]; when it speaks merely as history, it is mythos."5
R.C. Sproul describes it this way: Bultmann's "here and now" theology claimed that our relationship to God is not horizontal (in time/history), but vertical (existential).6 So the Bible is not historical, but merely a mythical way of expressing how we can relate to God personally. Bultmann wanted to shuck the mythical husk from the Bible to get to its core teaching, its "kerygma." But the problem is that the husk that he wanted to rip away was the core. What he and other New Theologians failed to realize was that redemptive history is also redemptive history.
Ed Veith argues that the Bible is a historical book, and in certain stylistic ways it is very unlike all other myths, legends, fairy tales, etc. Without exception, ancient mythologies were written in poetry, and this distinguished them from historical accounts, which were written in prose. Even a cursory view of Genesis, the Gospels, and other historical books of the Bible reveal that these prose accounts were meant to be taken as actual history.7
Veith uses quotes from C.S. Lewis to discredit the critics on the basis that they were specialized in New Testament criticism, but not mythology itself. According to Lewis, "If [a critic] tells me something in a gospel is a legend or a romance, I want to know how many legends and romances he has read…. I have been reading poems, romances, vision-literature, legends, myths all my life. I know what they are like. I know that not one of them is like [the Gospel of John]."
To Lewis, the choice was clear. If the historical accounts of the Bible cannot be taken as actual reporting, then "some unknown writer in the second century, without known predecessors or successors, suddenly anticipated the whole universe of modern, novelistic, realistic narrative." This is not really an option for Lewis, who adds, "The reader who doesn't see this has simply not learned to read."8
Lewis's critique of the New Theology is helpful not only for laymen struggling to interpret the Bible's different genres, but also for pastors, who often receive pressure to make the claims of the Bible more palatable. A pastor himself, Frederick Buechner put things very well when he criticized preachers who demythologize the Gospel:
The preacher exchanges the fairy-tale truth [of the Gospel] that is too good to be true for a truth that…is in some kind of harmony with [all the other truths in the world]. He secularizes and makes rational. He adapts and makes relevant. He demythologizes and makes credible. And what remains of the fairy tale of the Gospel becomes in his hands a fairy tale not unlike The Wizard of Oz.9
The stories and message of Bible may seem too good to be true, like a fairy tale in which all wrongs are righted. But that makes its truth all the more wonderful. The good news is that the mythical elements of Christianity are true. God really did become man, and the dead really do come back to life. As C.S. Lewis said elsewhere, "The heart of Christianity is a myth which is also a fact."10
Part 3 began a list enumerating benefits that come from studying mythology. Part 4 will continue that list.
[node:bio/jeremy-larson body]
12113 reads