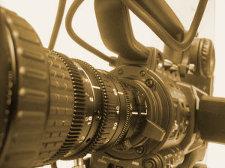 After reading part one of this two-part series, and seeing all the good things accomplished by Christian films, one might wonder if anything could or should be wrong with them or if any negative aspects could or should overshadow the positive ones.
It was evident in the "Who's Who in Religious Films" article that Youth for Christ lauded the Christian film industry as beneficial for missions and evangelistic efforts. However, those familiar with A.W. Tozer know that he was unsympathetic to that viewpoint. Tozer's seven arguments against Christian films were abridged in Youth for Christ Magazine along with Evon Hedley's seven arguments in favor of Christian films in an article titled "Christian Movies? The Pro and Con of Religious Films." The pro arguments of Hedley and con arguments of Tozer in that 1954 article are summarized below.
| | | |
| --- | --- | --- |
| A church service using a Christian film "is geared to the drawing in of the net for people to seek Christ as Saviour or to offer their lives as missionary volunteers." Even though the entertainment world shows religious films in the theatre, the best place for them is the church where the service is planned for evangelistic purposes. | (1) | A Christian movie "violates the Scriptural law of hearing" because "God gave to mankind His great redemptive revelation … in words." Therefore, "the Bible rules out pictures and dramatics as media for bringing faith and life to the human soul." Vital, spiritual truth is not expressed by a picture, but by spoken or written words. |
| God has used films to carry on His work and ministry. "Men whose ministry evidently has known the anointing of God have put that ministry into films and spread it across the country." Films have been "used by the Spirit of God." | (2) | "The religious movie embodies the mischievous notion that religion is, or can be made, a form of entertainment." Teaching spiritual truth through entertainment is "futile" and "injurious" for "the reception of genuine spiritual impressions." |
| Many souls have been saved through the use of evangelistic films. The Billy Graham Evangelistic Association reported that "more than 135,000 first-time decisions" were made after showing just one film. "Multiply this by the number of evangelistic films which are being used today and you will see the scope and use of films in evangelism." | (3) | Acting is "a violation of sincerity." Pre-tending to pray or worship "before the camera for effect" is "utterly shocking to the reverent heart." Claiming this is good because "it is done for the glory of God … is a gossamer-thin bit of rationalization which should not fool anyone above the mental age of six." Acting "is not part of the divine pattern" for "spiritual advance." |
| "Gospel films have allowed many preachers of limited training but with contrite heart to present … messages to crowds of people" followed by an invitation to come to Christ. Men "could have a large part in the harvesting of souls through [the] use of such films." | (4) | "There is no Biblical authority for the gospel movie." Proponents say "modern times call for modern methods" but there is no Scriptural authority for the religious movie. It "is not the modernization or improvement of any scriptural method. It is play acting–just that, and no more." |
| Christian films help evangelism. "Evangelistic films … are helping the cause of evangelism. They are not only being used to save souls in themselves but they obtain for evangelists a larger and better hearing… ." | (5) | God has ordained prayer, song, proclamation of the message through words, and good works "by which truth shall prevail." The idea of preaching the gospel with movies "is founded on the assumption that the Word of God is not final." |
| Christian films help mission work. "No doubt many young people are on the mission field today because of having seen a missionary film." More than ever before, funds for mission purposes have been raised "as a result of films used by the Church." | (6) | "The religious movie is out of harmony with the whole spirit of the Scriptures and contrary to the mood of true godliness." If the movie is needed in addition to preaching "it can only be because God's appointed method is inadequate and the movie can do something which God's appointed method cannot do." |
| We need to produce more better-quality Christian films that are affordable for churches and small groups. "The entertainment world had a monopoly on the use of entertainment. Now we have gotten the thin edge of the wedge in [and] we need to drive it home." More money needs to be put into Christian films and we need "humble men to present such films and to draw the net as the film stories come to a close… . using the film harvesting machine to gather in whitened harvests." | (7) | "The religious movie has a harmful effect upon all associated with it." The actor is affected negatively. The religious movie "identifies religion with the theatrical world." These films develop in the minds of the young a "taste for drama" that "will not long remain satisfied" with the religious movie. The next generation will "look on religion as another … form of amusement." The religious movie either replaces the preacher or becomes the friend of lazy preachers. |
Christian movies are still being produced today. Rather than using full-length movies, some churches today use short video clips during a service or interspersed throughout a message. Are Christian movies or film clips in churches, schools, or theaters today a ministry or a menace?
---
Brenda Thomas received her BS from Faith Baptist Bible College (Ankeny, Iowa), MA from Faith Baptist Theological Seminary and MA from California State University Dominguez Hills. She lives near Minneapolis, Minnesota with her husband and two children and is a member of a Baptist church there.
889 reads
11416 reads