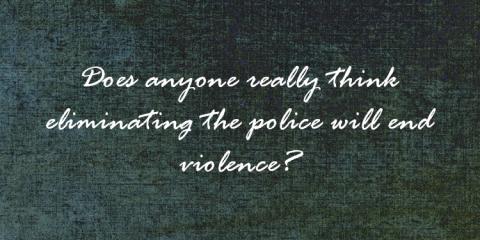 Our nation was rocked by the image of a white police officer pressing his knee onto the neck of a black man for more than eight minutes. George Floyd could be heard gasping for breath and moaning "I can't breathe," but Officer Derek Chauvin refused to back off. Bystanders appealed for Chauvin to release his victim, but he ignored them. The resulting death plunged the USA into chaos as protesters by the thousands took to the streets of nearly every city, and in some places windows were smashed, stores looted and buildings torched. Police, protesters, and bystanders alike were injured and a few killed.
Most Americans were appalled by this tragic death, and sobered by the undeniable evidence of police brutality. It's now impossible to pretend it doesn't happen. Sadly, this was not a mere aberration, but the latest example of a pattern of abuse that spans decades. Many black Americans have genuine reason to fear unequal treatment at the hands of the police. Serious reform is overdue.
Do black lives matter? Yes they do! We need to acknowledge that long standing racial prejudice continues to erode the American promise of equality. Too many white Americans seem oblivious to the unequal treatment that blacks experience on a regular basis. One nation under God? In theory yes, but often it looks more like two different nations occupying the same territory, one white, one black.
But if there is going to be lasting change, we must be willing to engage in honest conversation about every aspect of this issue. Talking about only one slice of the pie while stifling conversation about the other pieces will not achieve harmony. We need to be able to discuss a number of related matters, not simply abuse by bad cops.
Black People Killed by Other Blacks Matter Too
Every year, thousands of blacks are murdered in the neighborhoods of Chicago, Philadelphia, and other major cities, more often than not by the violent actions of black thugs. Black drug dealers and gang leaders kill people of their own race at alarming rates. Where are the protesters marching in these high crime neighborhoods demanding the end of such wanton slaughter? Do black lives matter only when they can be used to promote a particular agenda? Why does someone killed by a rogue policeman create an international uproar, but the myriads killed weekly by criminals merit little attention?
White Lives Matter Too
In today's heated environment, saying, "White lives matter too," can get you fired from your job. Since when does an affirmation of equality become evidence of racial prejudice? Can't we agree that ALL lives matter? Murder is unacceptable wherever it occurs and whomever it victimizes, regardless the color of their skin. Can I get an "Amen"?
Police Lives Matter Also
How many policeman are killed each year at the hands of law breakers, both black and white? Why is it acceptable, even desirable, that cops lose their lives, but people of color should not? Surely decent people agree that whenever anyone loses his life by an act of violence, it is a serious tragedy. Defunding the police is a convoluted response to police brutality. Does anyone really think that eliminating the police will end violence? It is precisely because there are violent and lawless people in this world that we need the police. It is an unspeakable tragedy when a policeman, sworn to uphold the law and protect human life is himself an angry and violent person who abuses his authority to assault others. But most of the people who do this are not wearing police uniforms. Let's identify the bad cops and get them off the streets, because we desperately need the good ones, who are the vast majority, to protect us from thieves, rapists, and murderers.
Families Matter a Lot
Studies reveal that the vast majority of criminals come from broken homes without a stable father. Why isn't more attention directed to the break-down of the family? But not only is that an all too often ignored piece of the pie, but some actually applaud the disintegration of the family. Are we swatting flies while ignoring camels? Clearly, a legitimate movement of genuine grievances about racial disparity is being co-opted by some whose goal is the dissolution of American society.
Unborn Babies Matter Too
Why do only some black lives seem to matter? Thousands of babies are aborted every year in America, and statistics demonstrate that more black babies are aborted per capita than white. If black lives matter, shouldn't protesters be marching on abortion clinics to demand the end of murder in the womb? Do black lives matter only when they are killed by the police, but not when butchered by abortionists?
Stores and Businesses Matter Too
No building is worth as much as a human life, but burning down businesses only hurts the neighborhoods that benefit from those establishments. Groceries, pharmacies and restaurants pay taxes to maintain schools, pave streets, and deliver clean water, not to mention provide valuable goods and services and much needed jobs. The people who live where rioting occurs are hurt most by looting and destruction. In most cases, rioters descend from other places, satisfy their thirst for violence, and then return to the safety of their homes. They say they advocate for justice, but seriously harm the very people they claim to help. Nothing justifies theft and destruction of property. Where are the protesters demanding protection for the businesses that benefit people of every color?
Racial Prejudice Is a Two-Way Street
I recently read a newspaper column asserting that only white people are racially prejudiced. Really? How can anyone believe this? Only by first creating a skewed definition of racial prejudice and then utilizing it to deny what both observation and experience know to be true. Let's be clear about two things. First, racial prejudice is wrong whenever and wherever it occurs. It should be eradicated from human society. Second, racial prejudice is practiced within every segment of society among every race and color. Progress moves slowly when one group accuses another of prejudice while ignoring the same among themselves. Everyone needs to own and deal with the prejudice that lingers within his own heart.
There Is No Solution Apart from God
We need to acknowledge that racial prejudice is a sin which can only be cleansed by the blood of Christ. We can educate people to behave differently with some success, but lasting change occurs only within a renewed heart created by the regenerating power of God's Spirit. The problem isn't skin as much as sin. Failing to recognize this consigns reform to failure. You cannot have peace apart from the Prince of Peace. You cannot have love without the God of love. You cannot have equity while rejecting the God who is no respecter of persons.
Eternal Souls Matter the Most
Finally, we must realize that black lives, white lives, and all human lives matter here upon earth, but eternity is far more important. What does it profit a man if he gains the dignity and respect he desires, but dies without Christ, spending eternity under God's righteous condemnation? Let's talk about what matters most, the gospel of Christ, without ignoring real injustices that need to be addressed.
---
G. N. Barkman received his BA and MA from BJU and later founded Beacon Baptist Church in Burlington, NC where has pastored since 1973. In addition, Pastor Barkman airs the Beacon Broadcast on twenty radio stations. He and his wife, Marti, have been blessed with four daughters and nine grandchildren.
716 reads
5413 reads