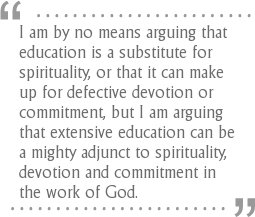 Reprinted with permission from As I See It. AISI is sent free to all who request it by writing to the editor at dkutilek@juno.com.
In run-of-the-mill conservative Christianity in general and Baptist Fundamentalism in particular there is, and has long been, an indigenous and deeply in-grained distrust and suspicion of highly educated men within our ranks. But this does not in the least reduce or detract from the great service and essential value such men have provided to Biblical Christianity through the centuries. If we may quote Erasmus (1466-1536) on Christianity's debt to scholars:
Let it be remembered that the heretics were refuted by the scholars, and much more by the scholars than by the martyrs. By dying for a conviction a man proves only that he is sincere, not that he is right.1
In spite of this historic and continuing debt, there has been a parallel perverse distrust and contempt toward Christian scholars (even devout and spiritually-minded ones) by much of conservative evangelical Christianity. I recall well a conversation I was party to some 25 years and more ago with an independent, fundamental Baptist pastor—a man who himself had been unable to complete even a basic, un-demanding three-year Bible institute degree, a deficiency he had not remedied by extensive personal study in succeeding years—in which he told me that "I just don't trust men with a lot of education." As though abject ignorance somehow made a man more spiritual and useful to God!
John Gill (1697-1771) wrote a scathing rebuke of this absurd perspective nearly 250 years ago:
Here I cannot but observe the amazing ignorance and stupidity of some persons, who take it into their heads to decry learning and learned men; for what would they have done for a Bible, had it not been for them as instruments? and if they had it, so as to have been capable of reading it, God must have wrought a miracle for them; and continued that miracle in every nation, in every age, and to every individual; I mean the gift of tongues, in a supernatural way, as he bestowed upon the apostles on the day of Pentecost; which there is no reason in the world ever to have expected. Bless God, therefore, and be thankful that God has, in his providence, raised up such men to translate the Bible into the mother-tongue of every nation, and particularly ours; and that he still continues to raise up such who are able to defend the translations made, against erroneous persons, and enemies of the truth; and to correct and amend it in lesser matters, in which it may have failed, and clear and illustrate it by their learned notes upon it.2
All other things being equal—zeal, dedication, faithfulness, opportunity, personal ability—the man with the better education will do the better, more effective and more far-reaching work. Consider the case of the Apostles. All of the original twelve, as far as we can tell, apparently came from what today would be called "blue collar" occupations, rather than from the "professional" or "academic" classes (Matthew Levi, as a tax collector, may be an exception, depending on how one classifies government bureaucrats!). Peter and John were expressly described by their adversaries as uneducated and ordinary men (Acts 4:13).
Example of the apostles
Even so, the Apostles did excellent work in evangelizing Jerusalem, Judea and Samaria, and to some degree further afield. But who was it that planted the gospel throughout Asia, Greece, the islands of the Mediterranean and beyond? It was the formally—and highly—educated former Pharisee and student of the learned Rabbi Gamaliel, Saul of Tarsus who became Paul the Apostle. And what was Paul's testimony in this regard? That, by the grace of God upon him, he labored more extensively, and effectively, than the rest (I Cor. 15:9-10). It is a certainty that Paul's extensive training in Hebrew Bible and Rabbinics were essential to his accomplishing what he accomplished, and in writing what he wrote—the doctrinal heart of the New Testament, Romans through Philemon.
Reaching back to the Old Testament, let us not forget that when God brought His people out of Egypt, His chosen leader was Moses, a man educated in "all the wisdom of Egypt," (Acts 7:22). And the leading spokesman for God during the Babylonian captivity was the man Daniel, who providentially was trained at the king's expense in the learning and language of the Chaldeans (Dan. 1:5).
Church history
In ecclesiastical history, we often see that the highly educated made contributions that greatly overshadowed the achievements of men of lesser training.
Wycliffe, a university professor at Oxford, produced the first complete English Bible, which he could not have done without his mastery of Latin.
All the leading Reformers in Europe, and many of the less prominent ones, were highly educated men, men thoroughly versed in Latin, Greek, often Hebrew and sometimes Aramaic and Syriac, and with a strong familiarity with both classical and Christian literature stretching back to antiquity (which constituted virtually the whole of collective "knowledge" in that era)—Luther, Calvin, Zwingli, Tyndale, Melanchthon, Beza, even Menno Simons and many more. Without their extensive knowledge of languages and literature, they could not have made their vernacular Bible translations (which gave the unlearned masses access to Divine revelation), nor written their treatises, commentaries and tracts that shook Europe, and beyond.
In the following centuries, highly educated men were the leaders in Christianity. Some were formally trained—the men of the Westminster Assembly, the Puritans in general, John and Charles Wesley, George Whitefield, Jonathan Edwards, Adoniram Judson—while others, lacking "higher education," were self-taught: John Gill, William Carey (who never spent a day in college, yet mastered numerous languages and was in his day acknowledged as the world's greatest living linguist), and Spurgeon, to note only a few. And even men who began with essentially no education at all nevertheless saw the need to inform their minds in preparation for God's service—John Newton (the converted slaver who studied Latin and Greek after entering the ministry), D. L. Moody and Gipsy Smith to list some few obvious examples. None of these men decried learning and learned men, but valued their own education and prized what other men's minds had made available to them through their writings.
The truth be told, Christian scholars of the 19th and previous centuries were as a class far better educated individually than today's scholars. Consider Henry Alford's famous commentary in 4 volumes, The Greek Testament. Published in the 1860s, it regularly quotes various texts and authors in Latin, Greek, German, French and other languages, with the unspoken assumption that of course his readers had no need of translation of any of these. That we collectively fall far short of the achievements of earlier generations of Christian scholars is to our great loss, and embarrassment. Our need is not for fewer scholars today—we very much need many more than we have.
I am by no means arguing that education is a substitute for spirituality, or that it can make up for defective devotion or commitment, but I am arguing that extensive education can be a mighty adjunct to spirituality, devotion and commitment in the work of God, and we are desperately in need of a continually-maturing "crop" of new Fundamentalist scholars, if we are to do the work of the ministry as effectively as we ought in this and future generations. Education is not an end in itself, but a means to a very important end.
Notes
1 Erasmus of Christendom by Roland Bainton, New York: Charles Scribners' Sons, 1969, p. 22
2 A Body of Divinity, Sovereign Grace reprint, 1971, pp. 13-14
[node:bio/douglas-k-kutilek body]
18081 reads