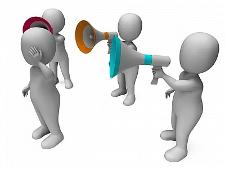 When faced with ethical misconduct scandals, are churches, or any other organizations, obligated to involve outside investigators? Should the volume and fervor of public outcry guide an organization's response to ethics scandals?
I hope to be somewhat persuasive in answering these questions, but mostly I want to be clear. With that in mind, I've structured my thoughts here debate style.
Thesis
In response to purely ethical scandals, organizations should not view themselves as obligated to involve any third parties; further, they should be wary of attaching too much significance to public outcry.
Definitions
Purely ethical scandals: situations where it is known to the public that individuals have accused others of wrongdoing, but the accusations do not include any allegations of illegal conduct.
Obligated: required, mandatory, as opposed to optional (optional meaning the organization may consider it on a case by case basis, evaluating the merits).
Third parties: individuals or groups other than the organization (including its constituents) and alleged victims. The general public, the press, advocacy groups, and "the Internet" are just about always third parties (or maybe umpteen-million-and-twenty-third parties!).
Constituents: persons who are part of the organization, whether members, volunteers, shareholders, staff, or executives.
These definitions aren't offered as authoritative; they are here as explanation of what I mean by the terms I'm using. If it helps avoid distraction, consider them stipulative.
Summary of Arguments
Argument from the preservation of excellence (you can't go the extra mile if all the miles are required).
Argument from the proximity of understanding (contrary to popular belief, those closest to a problem usually understand it best).
Argument from the inherent limits of authority and responsibility (everything isn't everybody's business).
Argument from disenfranchising of the truly vested (giving votes to those who aren't entitled devalues the votes of those who are).
Argument from the risk of feeding a fire (efforts to appease an angry crowd can lead to more demands and more loss of control).
Argument from unhelpful empowerment (yielding to a third party's demands can create expectations that increase the third party's power in the future).
Argument from the unwisdom of crowds (a stampede must be respected, but not as a source of insight).
Notes on the Arguments
Preservation of excellence: If all best practices are deemed obligatory, what can a group do to be generous toward alleged victims and interested third parties? How does one exceed expectations? Given that tendency, it's best for an organization to maintain its sovereignty over its own affairs and frame any decision to involve outsiders in that light: "Dealing with ethics violations by our people is our responsibility; we choose to invite this team to investigate to assist and advise us" or "… because it's our desire to go the extra mile in helping people understand the importance we attach to this matter."
Argument from proximity: It's popular in our culture to think that cubicles full of experts hundreds of miles away can best determine what ought to be done locally. History doesn't bear this out. Other things being equal, those closest to the problem best understand its extent, causes, and remedies. (It's why the founding fathers supported federalism, why Edmond Burke admired it. Russel Kirk emphasizes local control in the eighth of his ten conservative principles.)
Argument from inherent limits: This argument alone could make the case. It should be beyond dispute that not everything is everybody's business. We have the acronym MYOB for a reason. That raises the question, how is it decided what matters are who's business? Since power, in human hands, tends to try to grow itself, both individuals and organizations have to put some energy into protecting their boundaries (a.k.a., autonomy). A matter does not become somebody's business just because they're interested and have strong opinions about it. It's sometimes OK — even wise — to tell the opinionated outsider (preferably with a calm, resolute tone and a smile) to take the proverbial long walk off the short peer.
How do we determine who gets a vote, so to speak, and who doesn't? A rule of thumb might be this: the less personally invested an individual or group is in an organization, the less entitled that person or group is to influence its affairs. (Again, we're talking about purely ethical issues here, not matters of law.)
Argument from disenfranchisement: Every organization has constituents who are personally and substantially involved in the organization's activities. It's patently unfair for an organization to give an angry Internet or cadre of complaining celebrities the same (or greater) power over its internal discipline than it gives to its own membership or employees. To draw an example from literal voting, does anyone think it would be just to extend the vote to citizens of Mexico and Canada in the next U.S. election? If an organization voluntarily chooses to employ outsiders to assist and advise, the rightful influence of its own constituency is not violated.
Argument from the risk of fire: Sometimes making concessions leads to calm and getting back to business. Sometimes it only adds fuel to a fired-up mob that doesn't really want anything but destruction. We've all seen it happen. Social media has given fired up and uninformed masses more power than ever in matters that are none of their business. Now, more than ever, people who love truth must learn to shutter out the Twitter tempests and Facebook frenzies so that cooler heads can prevail. (Heather Wilhelm has some poignant thoughts on this topic today. Read Only the Strident Survive.)
Argument from empowerment: Giving in to the demands of third parties in these situations can unintentionally legitimize claims of rights where no rights exist. The result is that down the road, the empowered entities believe they are now entitled to expand their say on matters that weren't their responsbility to being with. It's like the kid who lets her brother tell her what to do. Once that ground is given up, it can be disproportionately hard to get it back. (Starbucks' response to events in Philadelphia is insightful. They don't seem to even know yet how much they have surrendered. The company was already well beyond the extra mile in promoting and protecting diversity.)
Argument from the unwisdom of crowds: This one shouldn't be a hard sell. A raging stampede has too much destructive power to ignore, but it has nothing to contribute to understanding the best path to follow. Stampedes of humans may involve less dust, trampling, and fleeing cowboys, but they're at least as loud, emotional, and stupid. In fact, it takes intelligence to be really, truly, foolish. Worked up crowds of humans are unsurpassed in their ability to employ intelligence selectively in pursuit of destructive and self-defeating goals.
Extraordinary Delusions and the Madness of Crowds is old book, but you can still get it on Amazon. It may not have all its facts straight, but the most remarkable thing about the book is that none of its accounts of popular bad judgment are at all hard to believe.
Conclusion
These are seven reasons that no organization should view alleged ethics violations as automatically requiring some kind of third party intervention. They're also reasons for attaching little weight to public opinion as a factor in the pursuit of truth.
I haven't argued here that involving a third party to investigate and/or make recommendations is necessarily a bad idea. It's an option that has much to commend it as an option. Sometimes it's helpful; sometimes it isn't.
I also haven't argued that public opinion should be ignored. Depending on the nature of the organization, it may be dependent on public good will for entirely practical reasons. In these cases, reassuring the public or rebuilding its trust is important for the sake of outcomes — not at all because the public has insight into what the organization ought to do or has a right to influence it. (Note: in the case of government entities, the public does have a right, though I remain skeptical of its insight.)
The secondary thesis that churches have even more reason to safeguard their autonomy is another topic, but all the above arguments apply, with the addition of a biblical mandate to recognize only Christ as their Head.
---
Aaron Blumer is a Michigan native and graduate of Bob Jones University and Central Baptist Theological Seminary (Plymouth, MN). He and his family live in small-town western Wisconsin, not far from where he pastored Grace Baptist Church for thirteen years. In his full time job, he is Information Coordinator for a law-enforcement digital library service.
1571 reads
12003 reads