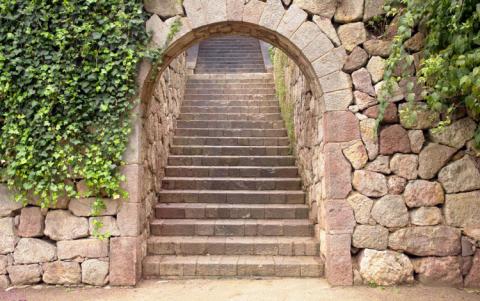 By Jeffrey D. Burr
This year marked the 10th anniversary of ArtPrize in Grand Rapids, Michigan. ArtPrize is an international art competition that takes place over 19 days every other fall. More than $500,000 in prizes are awarded. In 2018, over 1,260 works, created by artists from 41 states and 40 countries, were displayed in over 165 venues throughout the city. With over half a million visitors, it is the most attended public art event in the world.
ArtPrize was launched by Grand Rapids native and entrepreneur Rick DeVos in 2009. But no one could have anticipated the overwhelming response. Restaurants ran out of food. Hotels ran out of rooms. Brooklyn artist Ran Ortner won the public vote that year with his work titled "Open Water No. 24." On the day of the announcement, people lined up for several city blocks to see his large-scale painting.
A Call to Beauty
The churches I have been a part of have generally not placed a high value on art or aesthetics. We are Bible people. We focus on substance, not appearances. We appeal to the mind, not the emotion. We take pride in our doctrinal orthodoxy and moral standards. And we value frugality. For many in our churches, good stewardship means spending as little as possible. These have become the marks of spiritual maturity and gospel faithfulness.
This tension surfaced several years ago when my church set out to update our auditorium. The lighting was poor, our projection situation didn't allow half the congregation to see the screen, and the "pebbles-in-epoxy" application on the walls would have been a nice complement to the orange shag carpet of the 1960s. The project was eventually accomplished. But it was a hard sell for some. After all, that money could have been spent on something of real value, like missions.
I get it. If we had to pick between gospel proclamation and beautiful art, we would choose gospel proclamation every time. But I'm convinced that is a false dichotomy. We don't have to choose between the substance of the gospel and the beauty of the gospel. We are called to both. We should engage in bold gospel proclamation and beautiful gospel demonstration.
Peter urged the church to "live such good lives among the pagans, that though they accuse you of doing wrong, they may see your good deeds and glorify God on the day he visits us" (1 Pet. 2:12, NIV, italics added). This particular word good calls us beyond mere morality. Our lives and our actions should be pleasing, inspiring, noble, winsome, eye-catching, fine, excellent, and beautiful. Paul urged believers to live peaceful and quiet lives, lives that were free of anger, antagonism, and discontent (1 Tim. 2:2). He wanted them to care for their own affairs—to mow their lawns, to stay on top of their finances, to discipline their kids—so that their lives would be attractive to outsiders (1 Thess. 4:12). He urged them to adorn, or "make attractive," the teaching about God our Savior (Titus 2:10).
The content of the gospel and the beauty of the gospel cannot be so easily separated. What if beauty was a critical component of the gospel? What if beauty was the door to effective gospel ministry? What if beauty is what catches people's attention and gains a hearing for the gospel? What if the beauty of our lives validates our message and gives weight to our words?
There is no replacement for gospel proclamation. It is God's Word and God's Spirit that bring life-giving transformation. No one will be saved by observing our lives. But it is possible that the ugliness of our lives and the ugliness of our churches could preclude people from listening to the gospel in the first place. Some people may have decided not to attend your church because of your snide political remarks, your angry Facebook posts, and your church's reputation for chronic conflict.
We, like the first-century believers, are seeking to engage an increasingly skeptical and jaded culture. There is a growing chasm between the church and the world. In his book The Church of Irresistible Influence, Robert Lewis suggests that our good works constitute a "bridge of proof" or a "bridge of credibility" to the culture. People often associate the church with high-profile moral scandals, right-wing Republican politics, and "bigotry" against homosexuals. And of course they are offended by the gospel because it confronts their sin and their pride. But the beauty of the church can serve to disarm this antagonism. We are to be God's masterpieces, His works of art (Eph. 2:10). In viewing the church, the world should catch a glimpse of life as it was meant to be lived. Even if they disagree with our message, we should live in such a way that the culture would respect and value our lives (1 Pet. 2:12).
A Growing Reputation
Earlier this year my church received a call from Amy at our local foster care agency, which had had an influx of children with acute needs. Amy was asking for our help. She is a case worker. On multiple occasions, she had witnessed our church family pack a courtroom to celebrate yet another adoption. You see, for all of our faults, our church has developed a beautiful reputation for adoptions of kids with special needs.
I wish I could tell you this was part of a deliberate strategy on our part. But the truth is that our church was moved by the selfless service of a godly single woman in our congregation. Dana Scott is a registered nurse. Our church partnered with her while she served orphaned children at the Bethesda Project in South Africa for several years. But after returning to the States, she has used her nursing skills to care for medically fragile children. Over the last few years, nine of the children she cared for were ultimately adopted by families in our church. Not all of the children are medically fragile. And other children have been adopted as well. One person's selfless obedience inspired a congregation.
Agencies often have trouble placing these medically fragile children because they pose certain challenges. Some of them have experienced abuse. Others were born severely premature or to parents who were engaged in substance abuse during pregnancy. Many of them will experience lifelong disability, requiring ongoing care. Dana's love and concern for these kids inspired us. And as this ministry has developed in our congregation, it has caught the attention of our community, courts, and social service agencies.
Another request came from Olivia's Gift, a local home for adults with severe physical disabilities. Marissa asked if we would consider a ministry to their residents. You see, Marissa had heard about our church from her grandparents. Her grandmother resided at Oxford Manor, an assisted living center in our community. For the last 25 years, our junior/senior high students have conducted monthly worship services at Oxford Manor. Marissa's grandfather called her and said, "The students from that church have such a great ministry with the older residents! You should call that church and see if they would come to Olivia's Gift." So every Thursday night for the last couple of years, we have families and individuals who go to Olivia's Gift and read stories or play music for the residents. We served without any expectation of reciprocity. But after a couple months, the staff started loading the residents into vans and joining us for our Sunday morning worship services. As a congregation, we have many shortcomings and areas of weakness. But by God's grace, we have a growing reputation in our community.
Moving Beyond Mere Orthodoxy
What is the reputation of your church in your community? What are you known for? What if your local congregation ceased to exist? Would your neighbors notice? Would they care? If the residents of your community were asked about your church, what would they say? Perhaps they would think of strong preaching, conservative doctrine, a pro-life stance, and conservative moral convictions. These are all good things. But is your church recognized for its beauty? Does your church have an attractional quality?
I am not suggesting that every church launch an adoption ministry or conduct an outreach to adults with physical disabilities. But I am suggesting that every church should seek to adorn the gospel and develop an attractive and beautiful reputation in its community.
1. Identify the needs in the community and think about how your church could help meet those needs.
Local government is often overwhelmed and underappreciated. Go to the village or township offices and thank them for their work.
Ask them about the major issues that they are encountering and what they would like to accomplish if they had more resources or more staffing.
Meet with the superintendent of the local public-school district or the principal of the elementary school in your neighborhood. Inquire about the issues that families are facing in your community (e.g., drug use, kids with learning disabilities, single parent challenges).
If you don't know already, consult recent census data to identify the blighted neighborhoods and neediest parts of your community. 
2. Develop an action plan. Pick one thing that your church could rally around.
Adopt a local elementary school and provide mentors for at-risk kids.
Adopt a mobile home park and take one Saturday a month to plant flowers, weed flower beds, and pick up trash.
Host a regular parent workshop to help equip parents in your community.
Provide refreshments and bring in competent speakers to outline strategies for navigating technology in the home.
Bring in competent speakers to outline strategies for charting a sustainable course for youth sports (or whatever area of need you identified).
Host a quarterly activity night and provide respite child care to parents of kids with special needs.
If you have mechanics in your church, schedule a quarterly vehicle maintenance day for single moms to have their oil changed. 
3. Be patient.
You will probably not change your church's reputation overnight. You might encounter initial resistance and suspicion from government leaders and school administrators. Some of your attempts might flop. But once people see that you are seeking to serve without any ulterior motive, they will begin to take notice. Unlike that first ArtPrize, people might not be lined up for city blocks to get into your church. But they might start noticing your church for the first time. And while they might stand at a distance, they won't be able to help casting a curious glance in your direction. That is the attractional quality of beauty.
Republished with permission from Baptist Bulletin © Regular Baptist Press.
---
Jeff Burr is lead pastor of Forest Hills Baptist Church in Grand Rapids, Mich. He is a graduate of Cedarville University and Grand Rapids Theological Seminary.
1266 reads