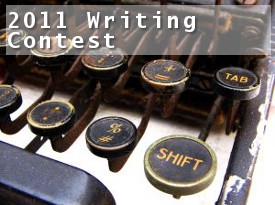 It's that time again! SharperIron is inviting anyone with writing talent to submit an article for our 3rd annual Writing Contest. This year, we'll be selecting up to four winning articles and awarding each a spot on the front page as well as $75 (but you could win a good bit more! See below.) If you submit more than one article, you might even win more than once.
Below, you'll find the usual details, but first, note that a few things are different this year.
Registered users can click the "like this" link on contest articles to give them votes. The "likes" count will be a factor (not the only factor) in choosing the winning submissions.
All contest submissions this year will be tagged "2011 Contest," so you'll be able to view all the contest entries in one place by clicking here.
To encourage writers to submit, we're simultaneously running a "Chip-In" campaign. Donations to the campaign will be divided up among the winners, in addition to the $75 prize. A percentage may be divided among the non-winners as a consolation prize.
The deadline for turning in an article for the contest is midnight, July 15.
Articles should be about 1200 to 1700 words in length and not previously published. They may be on any topic. The topics below are of special interest and are a factor in evaluating winners, but not a major factor. We like surprises, too.
Please include a brief bio with your submission and email it in .doc or .odt format to 2011contest@sharperiron.org.
The contest is open to past writers as well as those who have never written for us before. The topic is completely up to you, but some suggestions follow.
Suggested topics
A solution to a tough ministry problem
The proper role of women in "leadership" in churches
The future of the Christian day school
A commonly misunderstood passage of Scripture
The role of spiritual disciplines in Christian growth
Christian parenting in our times
A local church outreach effort that has been effective
Readers: feel free to suggest additional topics or contest ideas in the thread!
Criteria for judging
Helpful: speaks to an important problem of belief or practice
Thought-provoking: raises good questions to encourage reflection and discussion
Skillful: good writing quality that is clear, concise and doesn't require a great deal of editing (Format matters, too. See Writing for SharperIron. We recommend having a few people proof read your draft before you turn it in.)
Scriptural: attentive to relevant biblical principles and passages (We understand that some articles may focus on application or deal with topics Scripture does not say much about directly.)
Creative: interesting, engaging creative presentation helps
Researched: a bit of interaction with important published work on the topic is not required, but is a plus.
The judging
Judging will be performed by the SI volunteers (editors, moderators, etc.) and maybe an uninvolved reader or two (if you'd like to volunteer, use the contact form to let us know of your interest).
Other details
By submitting an article for the contest, you grant SharperIron the right to publish your article, whether or not it is one of the winners. Some may be published before the end of the contest period. We really wish we could compensate every writer, but will have to select a few that stand out. Please understand as well that not all contest entries will be used—though, judging from the last two years' results, most of them will be.
693 reads