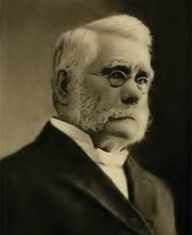 Alvah Hovey was, at various times, both a Professor and President at the Newton Theological Institution for fifty-four years in the latter half of the 19th century. His systematic theology, entitled Manual of Systematic Theology and Christian Ethics, was published in 1877. In this excerpt, Hovey explains his understanding of baptismal generation.1
In the Liturgy of the Church of England for the public baptism of infants, the minister, after baptizing the infant, is required to say, "We receive this child into the congregation of Christ's flock": and still further, "Seeing now, dearly beloved brethren, that this child is regenerate, and grafted into the body of Christ's Church, let us give thanks unto Almighty God for these benefits."
It seems to us evident that the Evangelical or Low Church wing of the English Episcopalians holds a false position, and is losing influence year by year, as compared with the High Church wing, and no less so as compared with the advocates of the Broad Church theory. The language of the Liturgy teaches plainly the doctrine of baptismal regeneration; and those who maintain it have an advantage, in the Church of England, over those who oppose it, — similar to that which Baptists have over those who reject their view of apostolic baptism.
Before considering the passages which are alleged in support of this belief, it will be proper to weigh the following facts, namely : —
In the apostolic age, baptism was preceded by repentance, faith, &c.— (See Acts ii. 37-41 ; viii. 12; xvi. 14, 31-33; xviii. 8 [cf. Matt, xxviii. 19; Mark xvi. 16; Matt. iii. 1-11; Mark i. 4, 5 ; Luke iii. 8.] For the import of the expression "works or fruits meet for repentance," see Acts xxvi. 20, and compare Luke xxiii. 41, and 2 Mace. iv. 25.
Persons were sometimes filled with the Holy Spirit,— that is, baptized in the Holy Spirit, and so endowed with miraculous gifts before baptism (Acts x. 44-48). These gifts, as a rule, presuppose regeneration, and furnish credible evidence of it; hence they were said to justify baptism.
Baptism is described by the apostle Peter as "the answer of a good conscience" (1 Peter iii. 21); but a good conscience is a fruit of regeneration (1 Tim. i. 5, 19; iii. 9 [cf. 2 Tim. i. 3) ; Heb. ix. 14; x. 22 ; xiii. 18).
Administering the ordinance of baptism was esteemed by Paul subordinate to the work of preaching (1 Cor. i. 17, 18, 21). This is very evident, not only from the language found in the verses here cited, but also from the way in which he generally refers to the work of preaching.
This apostle claims to have begotten the Corinthian Christians by the gospel; while he disclaims baptizing them, except in a few instances. — (See 1 Cor. iv. 15; i. 14, 15.). This is decisive.
With these facts before us, we turn to the passages which have been supposed to teach the doctrine of baptismal regeneration (namely John iii. 5 ; Tit. iii. 5 ; Eph. v. 26 ; and 1 Peter iii. 21 ; Acts xxii. 16). On the first three of these texts, we remark :—
If they refer at all to the rite of baptism, they do not prove the doctrine of baptismal regeneration; for it may be truly said that baptism is the symbol of regeneration, — the prescribed expression for it; and no true Christian of the first age could have thought of any substitute for it in acknowledging the change which had been wrought in his soul.
The inward change and the outward expression of it must have been very closely united in the minds of Christians. Each would suggest the other; and forms of speech would be transferred from one to the other. Hence Christ, in his discourse with Nicodemus, virtually said:
To be a true member of my earthly kingdom, you must be born again, ritually and spiritually; you must submit to the rite of baptism, and experience a renovation of heart by the Spirit of God; you must not only confess me openly in the prescribed way, which you are unwilling to do, but must also be the subject of a great spiritual change effected by the power of God (cf. Rom. x. 9 for the same order of thought; it is the rhetorical instead of the logical order).
In the Epistles to Titus and the Ephesians, Paul blends the inward change with the outward expression of it, even as he does also in Rom. vi. 2 sq., and Col. 1. 11, 12. The two he regarded as practically inseparable: true belief in Christ involved the prescribed expression of it, and vice versa.
If this be the correct interpretation of these passages, they agree in sense with 1 Peter iii. 21, and Acts xxii. 16. Prof.Hodge remarks, that, "when any declaration or service is the appointed means of professing faith or obedience, making such declaration, or performing such service, is said to secure the blessings which are promised to the faith thereby professed," ("Way of Life," p. 267).
To understand such language, it is only necessary to bear in mind, that, in the apostolic age, it was, as a rule, indispensable (1) to be baptized in the name of Christ, in order to confess him before men ; and (2) to confess him before men, in order to be saved by him. — (See Matt. x. 32, 33 ; xii. 30 ; Luke xiv. 26, 27, 33.)
By the limiting clause, "as a rule," we design to accept such cases as follow:
those who had not bodily health or strength to be baptized;
those who could not find a suitable person to baptize them;
those who were prevented from receiving it by their parents, and
those who were prevented solely by a distrust of their own piety. Baptism has never been a prerequisite to salvation, except as obedience to the known will of Christ is such a prerequisite.
It is not certain that either of the first three passages refers to baptism. Neither of them contains the word which commonly denotes this rite. It may be that the work of the Spirit in regeneration is characterized figuratively as a cleansing, purifying work by the words " water," " bath," and " bath of water." This is a very obvious and natural interpretation of the passage in Titus; and scarcely less so of the words of Christ in John, and of Paul in his letter to the Ephesians.
Notes
1  Alvah Hovey, Manual of Systematic Theology and Christian Ethics (Boston: 1877), 253-256.
2115 reads