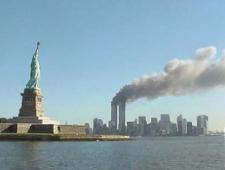 Most likely you remember where you were when you first learned of the terror that came to America's shores on the morning of September 11, 2001.
It is not at all difficult for me to remember, as I first heard of the attacks after teaching a class on the book of Daniel at Maranatha Baptist Bible College, where I was serving as an adjunct professor.1
As I got in my car after class, I remember turning on the radio. First, I tried to listen to the news, but I could not truly comprehend what I was hearing. I remember switching to Dr. David Jeremiah on Turning Point. Ironically, his scheduled message for that day, from his series on the book of Revelation, was entitled—so appropriately—"When All Hell Breaks Loose."
My wife Lynnette was on her way to Indianapolis, where her mother would have open heart surgery the next day. She had thought of flying, but drove instead. As she saw people lined up around the block to purchase gasoline that evening, her mind immediately raced to the events of the future tribulation.
Nearly 3,000 Americans died that day, with thousands more suffering injuries.
And all of our lives were changed.
For just a short time, there was real patriotism and unity in our country—even something of an outward turning to God. For just a season, news updates replaced sitcoms, sporting events became displays of nationalistic fervor, and even the late-night comedians turned somber. If you can believe it, there were chapel services held in public schools all across the country.
And the churches were flooded with people. Throughout America, congregations of every stripe opened their doors for prayer services, and community members poured in.
I have my own story to tell in this regard. I was scheduled to speak at a little country church in central Wisconsin on the Sunday after 9/11. I had spoken there once before that summer, and preached to a tiny crowd. No one even came with a key to open the door until we were already late for our first scheduled meeting.
But on the Sunday following the terrorist attacks, the church was packed! The pews were full. I could not believe it. I felt the weight of delivering a message that would reach that audience—while also secretly wondering what was truly in the heart of each one there that had driven them back to church.
In many ways, our lives were deeply and permanently impacted by the events of 9/11. It changed everything from how we get on an airplane or enter a sports stadium to how we view the world—or, perhaps, even our own neighborhoods.
But as far as the most profound changes go, they were short-lived. Church attendance quickly leveled off. Questions were ultimately raised about the religious influences that had been allowed to enter our schools. The comedians went back to their old routines soon enough.
Fast forward to today, and we know all too well how vulgar our culture has become; how toxic our politics have turned; how our patriotism seems to have fallen on hard times.
Looking back on 9/11, I see not only how it affected our country, and our world, but even more importantly how it was of great significance in further setting the stage for the future fulfillment of Biblical prophecy.
I also believe that 9/11 can illustrate some important truths about the rapture2 and the coming seven-year period of tribulation that follows it. Here are a few of them:
First, both 9/11 and the rapture are immediate events.
The people who boarded the targeted airplanes on September 11, 2001, or who went to work in the World Trade Center, or at the Pentagon, could not have detected that they might have had only a short time left to live.
No one knew with any certainty that the terror attacks were about to unfold. Sadly, nothing would ultimately hinder the deadly rampage.
The rapture is also immediate in the sense that there is no other event that must precede it, and thus no sign that will alert us to Christ's coming. The theological word for this concept is imminence. That means that the rapture can occur at any moment. The Apostle Paul tells us in 1 Corinthians 15:52 that it will happen "in a moment, in the twinkling of an eye." No one will warn us before it occurs—it will strike instantaneously. At that split second, every person on Earth will be in one of two categories—taken to "be with the Lord" (NKJV, 1 Thess. 4:17) or … left behind.
Second, both 9/11 and the rapture are impactful events.
Many suffered greatly on 9/11. Others rose up and answered the call to serve our nation heroically in its aftermath. We are well aware how much 9/11 has affected our everyday lives.
I certainly did not suffer directly from the events of 9/11, yet that day had such a profound effect on my worldview that I subconsciously seem to divide my life around it. I will never forget the events of that fall.3
Likewise, the rapture event will change the world forever. In terms of the sheer impact it will have upon humanity, it will multiply the effect of 9/11 many times over—all the world around.
In an instant, there will be cars without drivers, planes without pilots, and parents without children—perhaps even nations without key leaders. While the rapture is an act of grace for believers, not an act of judgment, yet it will inherently lead to global tragedies for those who are not taken by the Lord. One wonders if there will ever be a recovery from the chaos that will unfold simply as a result of the rapture—even before the seal, trumpet and bowl judgments of the tribulation begin, as they are described starting in Revelation 6.
Third, 9/11 is profoundly illustrative of the events that the Bible prophesies, which will occur following the rapture, during the tribulation.
In that time of tribulation, not just two towers in New York City, or one structure in Washington, D.C., will be struck, but indeed every tall building in the world will collapse.
Isaiah 2:10 says that it will be "the terror of the LORD" which will be unleashed upon the unbelieving world in those days. Notice the results in verses 12, 15 and 17:
For the day of the Lord of hosts
Shall come upon everything proud and lofty,
Upon everything lifted up—
And it shall be brought low….

Upon every high tower,
And upon every fortified wall….

The loftiness of man shall be bowed down,
And the haughtiness of men shall be brought low;
The Lord alone will be exalted in that day,
Zephaniah 1:16 likewise states that "the great day of the LORD" (v. 14) will be:
A day of trumpet and alarm
Against the fortified cities
And against the high towers.
The events of 9/11 transformed international politics in ways that even its masterminds could surely not have planned. Yet, it will pale in comparison to the events of the coming tribulation.
Finally, 9/11, like the rapture, had infinite implications for immortal souls
All believers in Christ who died on 9/11 were immediately "present with the Lord" once they became "absent from the body" (2 Cor. 5:8). For others who did not know the Lord, however, this became a day of terror that went far beyond the earthly tragedy they had suffered. Before our eyes we witnessed the eternal consequences of life and death—heaven and hell.
So it will be on the day of the rapture. For those who know Christ, this will be the moment when they will realize the enjoyment of their eternal destinies. "Thus we shall always be with the Lord" (1 Thess. 4:17). Those who do not believe—unless they yet come to know Him during the awful days of the tribulation—will be left to descend toward their ultimate, eternal doom.
The terror of 9/11 did not merely give us a glimpse into what the tribulation events will be like, but they also moved the world toward them.
In fact, 9/11 should have prepared the country and the culture—to say nothing of the church—spiritually for the fulfillment of prophetic events. It seemed to at first—but this lasted only a few short weeks or months. Instead, these 18 years past 9/11, many seem as if they have been lulled to sleep. But Paul counsels us:
Therefore let us not sleep, as others do, but let us watch and be sober. For those who sleep, sleep at night, and those who get drunk are drunk at night. But let us who are of the day be sober, putting on the breastplate of faith and love, and as a helmet the hope of salvation. For God did not appoint us to wrath, but to obtain salvation through our Lord Jesus Christ, who died for us, that whether we wake or sleep, we should live together with Him. (1 Thess. 5:6-10)
May God help us to learn from the events of 9/11, for His glory, until Christ returns.
Notes
1 This school in Watertown, Wisconsin, is now known as Maranatha Baptist University.
2 The word rapture is a commonly accepted theological term (transliterated from the Latin, rapturo, and translated from the Greek, harpazo—a form of which is used in 1 Thessalonians 4:17 ["caught up"]). I use it to refer to the first phase or aspect of Christ's second coming, in which he will resurrect the bodies of "those who sleep in Jesus" (1 Thess. 4:14) and also catch all living believers up "to meet the Lord in the air" (1 Thess. 4:17).
3 Two weeks after 9/11, I returned to Faith Baptist Theological Seminary in Ankeny, Iowa (from which I had previously graduated), to take a modular course from Dr. John C. Whitcomb on the books of Ezra and Esther. I will never forget the many allusions he made to 9/11 throughout that week of study. It was truly a remarkable experience in my life.
---
Paul J. Scharf (M.A., M.Div., Faith Baptist Theological Seminary) is a church ministries representative for The Friends of Israel Gospel Ministry, serving in the midwest. He also assists Whitcomb Ministries and writes for "Answers" Magazine and Regular Baptist Press. For more information on his ministry, visit foi.org/scharf or email pscharf@foi.org.
665 reads
8053 reads