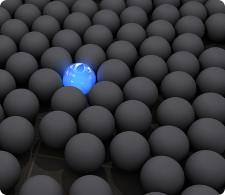 An Exegesis of 1 John 2:2, Continued
(6) Biblical and Theological Context
In the immediate context of 1 John 2:2, John writes to believers so that they will not sin, but if they do, he wants them to understand they have an advocate (1 John 2:1). Jesus is (present tense) a propitiation for our sins—He continues to be a propitiation even today. Immediately after identifying Christ's propitiatory role, John explains the importance and reasonableness of obedience. By obedience we can have assurance of our salvation—we can know by experience (ginosko) that we have come to know (ginosko) Him. Obedience helps to provide assurance, but even when we do sin, and are thus robbed of that component of our assurance, Jesus is still our Advocate (2:1), and the Holy Spirit still abides within us (3:24) as the pledge of our inheritance (Eph. 1:13-14).
Recall John's purposes in writing: so that believers might have horizontal and vertical fellowship (Eph. 1:3), that his joy would be complete (1:4), that believers would not sin (2:1), and that they would know that they have eternal life (Eph. 5:13). He wants believers to understand that they are in Christ, that they should walk like it, and that their position is not conditioned on continuing obedience, but that continued obedience is necessary for their fellowship—both with God and with each other. The immediate context of 1 John 2:2 focuses on Jesus' ongoing and present role as propitiation, an idea that would seem to contradict the propitiation as being a single event.
John 11:52 is a more distant context, appealed to by MacArthur, Piper, and others, as showing that Jesus didn't die for everyone, but just for His children. Such an interpretation is dependent on the assumption that because the verse says that Jesus died for the children of God, that it means that Jesus did not die for those who were not the children of God. This is how MacArthur can assert that Jesus did not die for Hitler or Judas. The problem with this assumption is a logical one. The argument can be presented formally as follows:
Premise 1 Jesus died for the children of God.
Premise 2 The non-elect are not the children of God.
Conclusion: Jesus did not die for the non-elect.
This syllogism contains a conclusion that is also an assumed (unmentioned) premise. That Jesus did not die for the non-elect does not follow from a statement that He died for the children of God. Both MacArthur and Piper depend on John 11:52 to justify the whole of 1 John 2:2 as qualified only to the elect. But not only is the passage distant in context from John's letter, but the assertion that the passage proves Jesus did not die for the non-elect is grounded on nothing but an assumption. Further, that assumption is read back into 1 John 2:2. Finally, this interpretive justification violates the principle that the exegete must deal with the immediate context before invoking distant contexts. In both cases (the ungrounded assumption and the contextual priority problem), this is at best inadequate exegesis.
Summary of Findings
The text and translation of 1 John 2:2 give no indication that the passage is more complicated than it appears. The background and context provide no specific data that would direct us to understand the passage in a non-literal or qualified way. The textual keys and structure of the letter indicate that 2:1-2 and 2:3-6 are different pericopes, with 2:1-2 emphasizing that Christ has a present ministry to believers who sin, and 2:3-6 reiterating the importance of obedience for the nurturing of fellowship. The grammar and syntax indicates a straightforward, unqualified reading. Two lexical keys support the unqualified reading: the propitiation as a present ministry of Christ to believers, and the whole world as unqualified. The Biblical and theological contexts provide no textual evidence that 1 John 2:2 should be understood either entirely in the past tense or as unqualified. In short, there is no exegetical evidence whatsoever to support the Reformed doctrine of limited atonement from 1 John 2:2. In this passage, at least, the indication is that God's grace is provided for all, and is accessible to all. 1 John 2:2 does not deal with how application is made, but John does address that throughout the near context, identifying belief as the means of accessing God's propitiatory grace (3:23, 5:1, 5:5,10, 5:13).
Conclusion and Implications
Limited atonement is a tremendously influential doctrine, in the sense that it impacts other areas of theology significantly. If we draw a limited atonement view of 1 John 2:2 when the passage was not intended to be understood that way, there are several key implications. First, we find ourselves misrepresenting God's character. We say He didn't die for those for whom He did. Now, on the other hand if the limited atonement view is correct, and we argue against it, then we find ourselves equally misrepresenting God's character. The entire point of John's letter is that as we are now eternally, in the present and future, children of God, we should walk like it and continue in fellowship with Him and each other. Misrepresenting God's character is no small problem for our fellowship. It is not just a theological exercise.
Second, we find ourselves misrepresenting God's work in salvation. This has serious implications for the gospel. As Sproul indicated, limited atonement comes with other theological requirements. It is no coincidence that the Reformed position is essentially Lordship salvation, redefining repentance (as from sin, rather than a changing of the mind), and thereby redefining the gospel. Ultimately, the question we have to answer is whether we choose what kind of God we want to believe in, or whether we instead submit to His self‐revelation? Does He have the right as Sovereign Creator to tell us who He is and what He does, or are we entitled to craft Him in the image of our choosing?
---
Dr. Christopher Cone serves as Chief Academic Officer and Research Professor of Bible and Theology at Southern California Seminary. He formerly served as President of Tyndale Theological Seminary and Biblical Institute, Professor of Bible and Theology, and as a Pastor of Tyndale Bible Church. He has also held several teaching positions and is the author and general editor of several books. He blogs regularly at drcone.com.
1293 reads
7983 reads