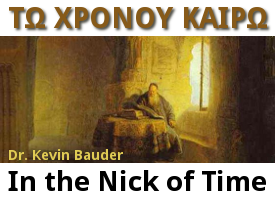 Read the series so far.
After three weeks of my discussing popular gospel-only organizations, a friend wrote to me to remind me that we have been here before. Gospel-only organizations were not invented by evangelicals in the early 21st century, but by fundamentalists in the early 20th century. My correspondent pointed out that, if I express reservations about the odd mixture of diversity and specificity within these organizations today, I should probably register the same reservations about some of the early fundamentalist associations.
The point is well taken. A fundamental is fundamental because of its connection to the gospel. For an organization to claim the name fundamentalist is to claim that it is committed to the clarification and defense of the gospel. Unless the organization adds some other qualifier (e.g., a denominational tag), it may rightly be viewed as a gospel-only organization. Such organizations are almost exactly analogous to The Gospel Coalition or Together for the Gospel.
For example, in 1919 W. B. Riley organized the World's Christian Fundamentals Association. An early example of non-denominational fundamentalism, the WCFA prided itself upon the defense and propagation of the fundamentals. Yet from the beginning, the WCFA doctrinal statement spelled out a strong commitment to premillennialism.
The WCFA never made an issue out of denominational distinctives because those distinctives are not essential to the gospel, but it did make an issue out of premillennialism. This resembles the puzzling combination of diversity and specificity within present day gospel-only organizations. Only the issues are different.
1865 reads