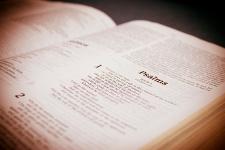 Read Part 1.
Let us consider the full import of Christ's words in John 17:17:
Sanctify them by Your truth. Your word is truth.
Jesus is praying to the Father regarding the sanctifying of His disciples. He tells the Father "Your word is truth." This "word" is the same "word" which will sanctify them. They have kept it (v.6) as it was given them (v.14), but where is this word? I maintain it is Scripture (v.12), and this text associates the word with God's own holy and truthful character. There is no room for human frailty.
This text also separates Jesus from the Scripture. Jesus is going away, but the word of the Father must now keep His disciples. Thus, it is a mistake to too closely equate Jesus the Word with the Scriptures. There does exist a close connection between the two, but we cannot push the association too far. Indeed, we cannot push it even as far a personification. The Scriptures are the written product of the Divine revelation, but they are a product all the same.
537 reads