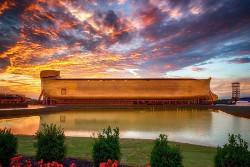 From Dispensational Publishing House; used by permission. Read Part 1.
Answers in Genesis is billing the Ark Encounter as being, "Bigger Than Imagination."
At 510 feet long, 85 feet wide and 51 feet high, this slogan is no exaggeration. Of course, most people who visit the Ark will hope to see more than just a sizable structure. What will they find if they come?
Over the course of Tuesday and Wednesday, I spent a total of about five hours inside the Ark. Here are some general observations regarding the things that I saw as I toured this gigantic structure.
The Ark Is Immense
The dimensions of the Ark were arrived at by using the Hebrew long cubit of 20.4 inches.1 The result is that the Ark is "the largest timber frame structure in the world."2
According to the Ark Encounter website: "The Ark had the same storage capacity as about 500 standard semi-trailers. A standard livestock trailer holds about 250 sheep, so the Ark had the capacity to hold at least 120,000 sheep."3
2720 reads