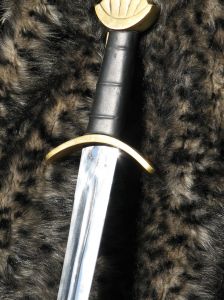 Read Parts 1 and 2. 
Continuing the series on demon-battling, we consider the believer's divine weapon.
As stated earlier, the battle against Satan is primarily a defensive one,1 yet there is an avenue for the Christian to attack. However, as Chuck Lowe cautions, "There is a battle to be fought, but our role is neither to win some spectacular victory, nor even to launch an all-out offensive. Our function is primarily, if not exclusively, defensive."2
Paul exhorts the Ephesians, who have put on their armor, to take up "the helmet of salvation, and the sword of the Spirit, which is the word of God" (Eph. 6:17). These last two instruments of war constitute the final piece of the warriors equipment (i.e. the helm) and the offensive weapon. The sword spoken of here is a short sword, much like a dagger which was used to strike hard and fast at close range.3 The picture Paul paints is one where the battle is fought at close range with viciousness.
However, the battle is not ours to fight. Paul informs the saints of two offensive plans of attack. In both plans, God is the primary actor in the battle. First, they attack with the sword, which is God's word and contains all his promises. Second, they attack by praying at all times in the Spirit. As Christians, we have the impenetrable armor of God and divine weapons of war.
This whole passage sounds off on a triumphal note. There is no hint that the believer who has put on the new man (Eph. 4:24) and is controlled by God's spirit (Eph. 5:18) has to be anxious about Satan or demons controlling, or in someway taking them over.
1373 reads